true
Meet the Robinsons, the latest feature-length cartoon from the Walt Disney studio, is a time-warp story about a boy who finds himself caught between the past and the future—and that pretty much sums up where the studio itself is these days.
This is the third computer-animated film to be made by Disney since the studio abandoned hand-drawn animation altogether a few years ago. (The first two were the moderately successful Chicken Little and the huge flop The Wild.) It's also the first Disney cartoon to come out since the studio merged with Pixar and handed the reins of the animation department over to Toy Story director John Lasseter, who has made no secret of wanting Disney to revive some of its older traditions—including making short cartoons and, ironically enough, drawing cartoons by hand.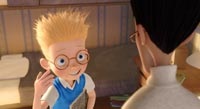 As a result, for all its cutting-edge technology, Meet the Robinsons is peppered with self-conscious nods to the studio's past. The film is preceded by Boat Builders, a 1938 short in which Mickey Mouse, Donald Duck and Goofy try to build a ship using a do-it-yourself kit; the way the components unfold and snap into place prefigures the way buildings sprout up instantaneously in Meet the Robinsons' more futuristic setting. (By the way, it is delightful to see such a vintage cartoon on the big screen, and to hear kids laugh at gags that are probably older than their grandparents.)
Then the film itself begins, and we see that the new Disney logo begins with a series of hand-drawn sketches that evolve into a clip from Steamboat Willie, the 1928 cartoon that got Disney off the ground in the first place. And finally, the film ends with a title card bearing an inspirational quote from Uncle Walt himself.
So there is a strong sense around Meet the Robinsons that the folks at Disney are trying to find their bearings. Which leaves the film itself—well into production before Lasseter took over last year—looking kind of lost.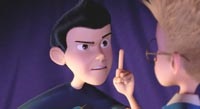 The story concerns Lewis, an orphan on the cusp of adolescence (which may explain why his voice is credited to two young actors, Daniel Hansen and Jordan Fry, instead of just one—did someone's voice break in mid-production?). The boy is also a prodigy, an inventor of gizmos that, so far, have not been all that successful. However, Lewis is on the verge of creating a memory-scanning device out of everyday components, and with this machine, he hopes to retrieve any memories he might have of the mother who left him on the orphanage's doorstep when he was just a baby.
But first, he has to take his invention to the science fair. There, his efforts are interrupted by two people: a boy named Wilbur Robinson (Wesley Singerman), who claims to be a time cop from the future; and a dastardly, extremely neurotic, moustache-twirling villain wearing a cape and a bowler hat, who is known simply as Bowler Hat Guy (voiced by director Stephen J. Anderson).
Bowler Hat Guy is emblematic of all that works and doesn't work in Meet the Robinsons. The film is inspired by William Joyce's book A Day with the Robinsons, and on a certain level it retains the book's cheerful, flamboyant absurdism. Bowler Hat Guy may have been invented for the film, but when he sends a mind-controlled dinosaur to capture Lewis, or when he proposes turning Lewis into a duck just to stop him from thwarting his evil plan, he strikes just the right bizarre tone.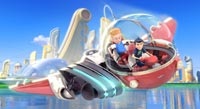 But the character is also driven by a manic energy that simply never lets up, and after a while you get the feeling that the filmmakers are simply trying too hard to be strange, to be "out there", to be always catching you off-guard with weird and completely unexpected quips or character details (like the fact that Bowler Hat Guy keeps a checklist of his evil schemes in a girly, unicorn-decorated notebook). One of the judges at the science fair that Lewis attends is a woman who has covered her arm in "caffeine patches", each of which has the potency of twelve cups of coffee. Meet the Robinsons suffers from the same sort of over-stimulation.
That said, there is still a fair bit here to enjoy. The film does make room for more subtle forms of humour, especially where Lewis's sleep-deprived orphanage roommate Goob (Matthew Josten) is concerned. And when Wilbur takes Lewis into the future, it is truly a sight to behold—a retro-futuristic wonder full of flying vehicles, Art Deco buildings, elaborate topiary gardens, and jazzy singing frogs. There is also a cute gag involving a character's alleged resemblance to a certain celebrity (who is, in fact, voiced by said celebrity in question).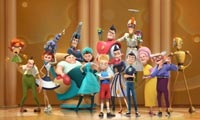 The film also imparts a serious lesson or two about how we all need family, and how we all need to take responsibility for our lives. When Bowler Hat Guy declares that he would much rather blame other people for his problems, he has already been made to look so pathetic that no one could possibly want to follow his example.
On the other hand, there are elements in this film that could leave kids confused or screaming. The storyline is a convoluted yet oddly predictable mess, which may be par for the course where time-travel stories are concerned, but probably also reflects the last-minute interventions of Lasseter and company. The third act also turns extremely dark, in a way that brings to mind the more nightmarish aspects of The Matrix, the Star Wars prequels, and the middle Back to the Future movie.
So Meet the Robinsons might be a little much for the kids. But it also doesn't have much for the adults. (There may be something here for 3-D buffs—the film is being shown in that format in hundreds of theaters, the widest release ever for a 3-D movie—but since the screening I was invited to was in simple 2-D, I could not say.)
Like so many other Disney films of late, it is ultimately forgettable, and it is noteworthy mainly as an historical footnote during a time of transition at the studio. One line the characters use a fair bit in Meet the Robinsons is "Keep moving forward!" It's an odd thing to hear in a film that spends so much time looking to the past. But presumably it is also the studio's way of letting us know that better movies are around the corner.
Talk About It
Discussion starters
Lewis says, "All it takes is some imagination and a little science to make the world a better place." Does the movie share his optimism? What are the good and bad effects of imagination and science, as depicted in the film? Point to specific scenes.
Why does Bowler Hat Guy blame other people for his problems? Is he justified at all? Note how, in the flashback, people approach him and he ignores them.
How does the movie explore the difference between "moving forward" and "letting go"? Is moving forward ever a bad thing? Is not letting go ever good?
The Family Corner
For parents to consider
Meet the Robinsons is rated G. An orphan wonders why no one will adopt him and why his mother left him on the orphanage's doorstep. There is some slapstick violence (e.g., a person with allergies gets an emergency injection, a bunch of fire ants land on a person and send the person running away in agony) as well as violence of a more serious sort (e.g. a robot is suddenly stabbed through the torso from behind by a claw, machines enslave humanity in one possible future).
Copyright © 2007 Christianity Today. Click for reprint information.
What other Christian critics are saying: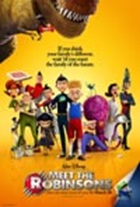 Browse All Movie Reviews By: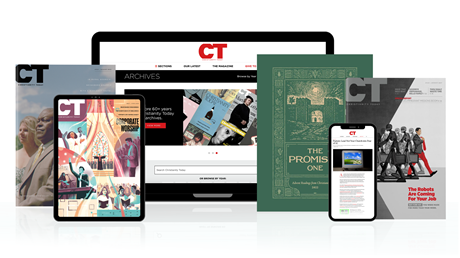 Subscribe to Christianity Today and get access to this article plus 65+ years of archives.
Home delivery of CT magazine
Complete access to articles on ChristianityToday.com
Over 120 years of magazine archives plus full access to all of CT's online archives
Subscribe Now
Meet the Robinsons
Meet the Robinsons