true
Jehovah's Witnesses are America's favorite punch line, says Joel P. Engardio, co-producer of Knocking, a documentary on the 7 million-member sect, which, he says, spends 1.3 billion hours per year knocking on doors.
The film, which airs tonight on PBS's Independent Lens, begins with the sound of knocking, followed by a deep sigh. Is it the sound of apprehension? The dullness of routine? Weariness of the present evil age?
And then come the jokes—clips from The Simpsons and Letterman.
But Engardio is not joking. His mother converted when he was a child, and he has observed the Witnesses at close range, although he himself never became a member—he chose journalism over fundamentalism, he says.
Engardio helps viewers to get past the joke by following the stories of two men: one an aged survivor of the Holocaust and one a 20-something with a rare disease.
The young man, named Seth, has a rare genetic disorder that is attacking his liver. Eventually, he will need a liver transplant, and that is nearly impossible because Witnesses refuse blood transfusions. Baylor University Medical Center and Texas Medical Center both turn him down. Indeed, he can't get a donor organ through the usual channels. The committees that allocate organs for transplant won't assign him one because of the extremely low chances for a successful surgery.
Eventually, his father decides to become a live donor, and University of Southern California Hospital agrees to let him be the subject for an unproven and highly experimental "bloodless" surgical technique.
The old man is a Jew named Joseph. After surviving six concentration camps, he converted to the Witnesses, in part because he saw how their faith held up under the Nazis.
'Kind of like' a cult
Both ...
1
Fundamentalism and Freedom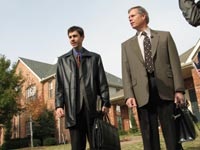 This slideshow is only available for subscribers.
Please log in or subscribe to view the slideshow.
Fundamentalism and Freedom