Reviews

|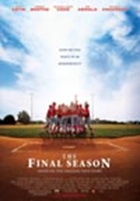 I had a friend whose grandparents were in a seniors Sunday school class entitled "Finishing Well." I thought this was a rather condescending (or at least, pessimistic) name for a class of elderly people—especially when I heard that the teacher of the class was a vigorous young forty-year-old! But the whole "finishing well" concept is ubiquitous in Christian teaching, and for good reason. 2 Timothy 4:7 ("I have fought the good fight, I have finished the race …") is probably the most oft-quoted passage for encouraging Christians to persevere in the face of ending or change. It's also an inspirational topic for cinematic storytelling, and The Final Season is a perfect example.
Based on a true story and directed by David Mickey Evans (The Sandlot), Season tells the remarkable tale of the Norway (Iowa) High School baseball team. Even though the school contained a mere 100 students, it managed to win 19 state championships in baseball in a 22-year span. But in 1991, the state government announced that Norway was one of several tiny rural schools that would be closed and merged with nearby larger schools—a change that would abruptly end the dynasty forever.
Norway is a town that lives and breathes high school baseball, in the endearingly personal way that Odessa, Texas loves high school football in Friday Night Lights. For these little towns, the high school, with the unspoiled innocence and vitality of sports glory, is often the center of culture. In Norway, it's not uncommon to see barn walls painted with quips like, "On the 8th Day, God created baseball." Nor is it out of the ordinary for a couple hundred townsfolk to show up for the baseball team's afternoon practice.
Thus, it is a huge blow to the town when ...
1