Reviews

|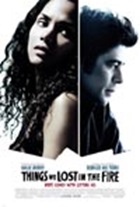 My brother-in-law died this year. His name was David, and he wasn't far in age from David Duchovny, whose character Brian is killed in Things We Lost in the Fire. Like Brian in the film, David's death was both unexpected and sudden—there was no chance for goodbyes. Brian's wife Audrey is played by Halle Berry, who is close in age to my wife Suzanne, David's younger sister—who happens to have the same name as the film's director, Danish filmmaker Susanne Bier.
I can't really imagine what it would have been like to watch Things We Lost in the Fire last year, or the year before. It's one thing to bury a grandparent or even a parent. An immediate family member at one's own stage in life—one young to die—is very different.
Death puts life in perspective. Brian's death is unrelated to the titular fire; the fire occurs years before the events depicted in the film. The point of the title is that the things that were lost in the fire—which to Audrey seemed at the time so important—were just things. "We still have each other," she remembers Brian reminding her even then (I keep starting to type David). Yes, they did, until they didn't. It's strange how that happens.
Death is not a single traumatic event. Like a wedding, it is a thousand mundane tasks. There are distant family members, long-neglected friends, acquaintances and business partners to be notified; arrangements to be made, flowers to be ordered, a large gathering to be prepared for; and always all the minutiae of ordinary life to be attended to.
E-mail and voicemail continues to trickle in from people who haven't heard, like an old college buddy of Brian's who writes on the day of the funeral to chat about the Sonics' new power forward. "What ...
1