Campus Crusade's early years were successful enough that other university ministries, most notably InterVarsity Christian Fellowship (IVCF), observed Crusade's rapid growth with great interest. IVCF had expanded from its roots in Great Britain to Canada and the United States in the late 1920s and 1930s, as the precipitous decline of both the YMCA and the Student Volunteer Movement created an opening for a new evangelical campus ministry. IVCF reasserted evangelical verities, including the inspiration of Scripture, the deity of Christ, and his vicarious sacrifice. Given the movement's British background, however, IVCF was further removed than Crusade from the subculture of American fundamentalism and more interested in helping students approach Christianity from intellectual and academic perspectives. IVCF grew quickly during the 1940s and established chapters on many large American universities in the West, Midwest, and Northeast. Under the leadership of C. Stacey Woods, IVCF balanced a variety of objectives: evangelism, discipleship, apologetics, and leadership training. Evangelism and missions, however, were paramount among IVCF's early priorities. The organization declared the academic year 1950-51 "The Year of Evangelism" and brought evangelistic speakers — including Billy Graham — to campuses across the country. In 1951, InterVarsity attracted sixteen hundred collegians to its triennial foreign missions conference at the University of Illinois-Urbana.
Since InterVarsity was active at both UCLA and USC, the established IVCF chapters took careful note of Crusade's well-publicized results. According to Bright's later recollection, some IVCF students "joined us on evangelistic team meetings in local fraternities, sororities, and dormitories, with the thought that they would make contacts and bring into their fellowship the students who responded to the gospel and help follow them up." Bright in turn was impressed by an evangelistic campaign that IVCF organized at USC, which included lectures as well as meetings in fraternity houses. However, a "terrific clash" occurred between Bright and Mel Friesen, the IVCF staff member at USC. Many years later, Bright wrote that "the students associated with InterVarsity were soon asked by their local director not to be involved with us" because he "felt that we were competitive." Moreover, he explained that this lack of cooperation "forced us into a totally different posture" and caused Crusade to begin its own "follow-up work." The clash between Friesen and Bright set the tone for subsequent interactions.
In the spring of 1951, Stacey Woods and Bright tried to establish a more positive relationship. After Bright visited Woods's home in Geneva, Illinois, Woods reported that he found Bright a "smooth operator" but a "charming person." Furthermore, he optimistically suggested that "the difficulty between Mel [Friesen] and Bill Bright is not necessarily … a national difficulty or a difficulty that will apply to all InterVarsity staff, but may have something to do with Mel himself." Woods predicted that Bright "will make a big impression across the United States." Evidently both Bright and Woods believed IVCF and Crusade could collaborate, with Crusade spearheading evangelistic missions and IVCF incorporating converts into local chapters. "He suggested," wrote Woods, "that on quite a number of the campuses he believed that IVCF would be able to take care of this follow-up program and there would be no need for them to do anything of a permanent nature."
Despite these overtures, tensions mounted between the two evangelical campus ministries as Crusade expanded nationally. Crusade staff member Gordon Klenck remembers an encounter in which Woods encouraged him to cease Crusade work at the University of California at Berkeley. Bob Kendall recalls the IVCF faculty adviser at Michigan State informing him that he "had no business coming in there," complaining that he had not "checked with them first." These local encounters mirrored a budding conflict between Bright and Woods. "We do not have one instance," Woods complained in 1953, "where he [Bright] has ever kept to any agreement that he had either with Mel Friesen or with me." In particular, Woods asserted that Crusade "seemed very often to go to our students and try to win them away to his operation from InterVarsity." Furthermore, Woods claimed that Bright had agreed to keep Woods abreast of his expansion plans and to explore circumstances in which IVCF students could participate in Crusade's evangelistic teams. Woods also took umbrage when Bright talked of sending Crusade staff to "unreached campuses," some of which had established IVCF chapters. In Woods's opinion, Bright's stated willingness to cooperate "was nothing more than hot air." "He had no intention … of so doing," Woods concluded, "although one must refrain from judging motives." IVCF also criticized Crusade's methodology. In a 1958 IVCF manual, Charles Hummel insisted that an IVCF student leader "must not be a recent convert" and lamented that "how often today a Christian group chooses its leader primarily because of personality, prowess as an athlete, popularity, effectiveness in public speaking or genius for organization." As opposed to Crusade's willingness to send its staff on evangelistic blitzkriegs, Woods warned against "a sudden, brief evangelistic campaign for a month or two." IVCF's complaints and criticisms irritated Bright. IVCF regional director James Nyquist reported in 1960 that Bright "thought Stacey [Woods] was dishonest and critical of CCC and that he never had been [critical] of IVCF."
Despite occasional attempts at reconciliation, the relationship between Crusade and InterVarsity remained stony into the 1960s. When Charles Troutman succeeded Woods as IVCF's national secretary in 1961, he sent a conciliatory letter to Bright: "I am anxious to do everything I can that our energies may be directed toward the enemy and not against one another." "Screwtape [C. S. Lewis's personification of the Devil] must be delighted," he allowed, "at the way we pull strips off one another." Bright responded in kind. In a 1961 form letter to Crusade staff and supporters, Bright called IVCF "obviously a work of God" and emphasized that "there is no other honest attitude a Christian can take but to thank God for InterVarsity." He did, however, insist upon Crusade's right to expand to campuses with IVCF chapters and delineated some differences between the two organizations. "I.VC.F." Bright asserted, "is primarily a Christian fellowship with an evangelistic program," whereas "Campus Crusade for Christ is a Crusade, with a strong follow-up program." Such statements rankled IVCF because of the strong implication that IVCF was less than fully committed to evangelism.
Nevertheless, better relations briefly seemed possible. Paul Little, a top ICVF official, attended a Crusade staff training conference in 1961, and Bright planned to participate in IVCF's triennial missions conference. Troutman, however, soon abandoned efforts at intra-evangelical detente. In 1962, he referred to Crusade as "an open competitor of InterVarsity> in that they seek to establish another group on campus and generally begin their work through IVCF students." Troutman, who asserted that Crusade "represent[s] the attitude expressed in this country by the ultra-right-wing fundamentalist," alleged that Crusade staff workers "gain enthusiasm by distorted and inflated stories of campus activity." John Alexander, who succeeded Troutman as IVCF's president in 1965, concluded in an internal memorandum that it "is impossible for CCC and IVCF to cooperate on campus and observed that whenever "CCC opens a work on a campus, attendance at IVCF functions drops."
Ultimately, poor relations persisted between Crusade and InterVarsity because the two groups competed in the same religious marketplace. According to Troutman, denominational ministries perceived ICVF as a competitor when IVCF began expanding its work in the 1940s. Ironically, IVCF reacted similarly to Crusade's advent. Although only a small percentage of students became active in either IVCF or Crusade and the two organizations often targeted different groups of students, IVCF as the established group sensed a competitive threat. During the years when, according to ICVF long-term staff member and historian Keith Hunt, "fraternity and sorority life reached its heyday" on the campus, Crusade intelligently targeted the Greek system and athletic teams, and Crusade's reports of evangelistic success impressed supporters and helped Crusade recruit additional staff. Although ICVF also grew during the 1950s and achieved considerable success with its triennial foreign mission conventions in Urbana, Illinois, Stacey Woods's correspondence reveals an abiding concern that Crusade's publicity would reflect poorly on ICVF and thus hurt both student membership and financial support. Just as companies selling similar products to the same market view each other as rivals, Crusade and IVCF developed a relationship marred by rancor, suspicion, and jealousy.
Campus Crusade's growth also sparked concern from mainline Protestant campus ministers, who sometimes communicated with each other about how to respond to the new ministry's presence. Jim Shields, the director of Methodist Wesley Foundation at the University of Oklahoma, wrote an inquiring colleague that Crusade exhibited a "kind of self-righteous which considers everyone who has not had 'their kind of religious experience' to be 'unconverted.'" Many mainline campus ministers complained that Crusade did not work cooperatively with their organizations. At the University of Miami (Fla.), the directors of four Protestant ministries objected that Crusade recruiting members of other religious groups violated student privacy by witnessing in dormitories. Their report concluded that the "churches of this campus do not desire the services of Campus Crusade for Christ and feel that the university has the right and responsibility to regulate the entrance of religious clubs to the campus." Crusade staff recall substantial animosity from Protestant campus ministers. "They were all very liberal," says Jim Craddock of the denominational tries at the University of Oklahoma, "[and] very much opposed to Campus Crusade." Jan Lindsey encountered stiff opposition at Southern Methodist University. "I had to go and speak before a faculty committee to why I felt Campus Crusade was needed on the campus," recollects Lindsey, who remembers the hostile presence of "the school chaplain" and "several other bigwigs" at the meeting. Mainline ministries lobbied the administrations of several universities to block Crusade's access to campus. In 1961, Bright reported that "[o]rganized opposition by religious groups which deny the basic doctrines of the Christian faith is becoming more frequent."
As Bright's comment suggests, substantive disagreements lay beneath the competition between Crusade and mainline Protestant ministries. Mainline campus groups varied widely in terms of their theology and approach to campus ministry, but on average, mainline Protestant campus ministers were far more theologically and socially liberal than the typical Campus Crusade staff worker. A 1963 survey found that only 8 percent of denominational campus ministers considered the Bible "an infallible revelation of God's will," and a majority believed their own denominations were too socially conservative. Jim Shields observed that Crusade's approach to biblical study "is pretty far off from what most 'main-stream' Protestant groups hold to in biblical interpretation," and numerous mainline campus ministers criticized Crusade's lack of emphasis on social action. Similarly, the Presbyterian Synod of Arkansas issued a 1966 report describing the theological inadequacy of Crusade's methodology. "'Evangelization,' 'witness,' and 'mission' are no longer adequate words," the report maintained, "for they suggest a Christian behavior of speaking before listening, of calling people away from their natural communities into a Christian grouping, and of a preoccupation with the soul at the expense of the whole of life." By contrast, evangelization, witness, and mission comprised Crusade's core principles.
Both Crusade and IVCF represented the intrusion of a very different religiosity into a campus religious marketplace previously dominated by mainline denominational ministries. By the early 1960s, four evangelical parachurch organizations were active on many large campuses. The Navigators, originally a ministry to sailors, increasingly sent its staff members to campuses at which they primarily engaged in one-on-one discipleship with Christian students. The Fellowship of Christian Athletes (FCA), a campus organization founded in 1954 by Don McClanen with the assistance of Donn Moomaw and Louis Evans Sr., began witnessing to and forming Bible studies among college athletes. The unregulated world of parachurch evangelicalism spawned competition, between evangelical and mainline ministries, between IVCF and Crusade, and later between FCA and Crusade's own Athletes in Action ministry. At the same time, that sometimes rancorous competition caused evangelical ministries to fill different niches, and the combined efforts of Campus Crusade, IVCF, the Navigators, and FCA reintroduced an aggressive evangelical presence onto many American campuses.
From Bill Bright and Campus Crusade for Christ: The Renewal of Evangelicalism in Postwar America by John G. Turner. Copyright © 2008 by the University of North Carolina Press. Used by permission of the publisher. www.uncpress.unc.edu.
Related Elsewhere:
An review of the book is also new on our site today.
Bill Bright and Campus Crusade for Christ: The Renewal of Evangelicalism in Postwar America is available from ChristianBook.com and other retailers.
Our previous articles about Bill Bright include:
Weblog: Campus Crusade for Christ Founder Bill Bright Dies at 81 | Former "happy pagan" went on to form one of the largest and most efficient parachurch ministries in the world. (July 1, 2003)
Bill Bright's Benediction | "As long as I have breath, I will praise and serve the Lord," the evangelist wrote earlier this month. (July 1, 2003)
Bill Bright's Wonderful Plan for the World | Evangelicalism's power couple closes in on their radical mission. (July 14, 1997)
Bright Unto the End | In the face of retirement and death, the founder of Campus Crusade says his spirit still soars. (October 1, 2001)
CT Classic: 'I'm Only Doing What God Told Me to Do' | The founder of Campus Crusade for Christ talks about America's moral disintegration, Christians in politics, and his hopes for the "greatest spiritual awakening in the history of the world." (September 24, 1976)
CT Classic: Campus Crusade Into All the World | Bill Bright leads a spiritual revolution. (June 9, 1972)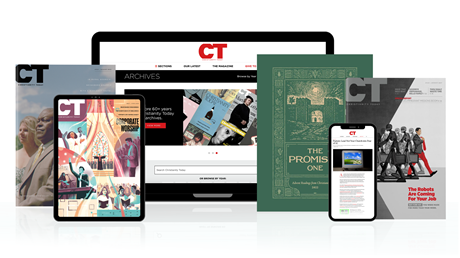 Subscribe to Christianity Today and get access to this article plus 65+ years of archives.
Home delivery of CT magazine
Complete access to articles on ChristianityToday.com
Over 120 years of magazine archives plus full access to all of CT's online archives
Subscribe Now
Open Competitors
Open Competitors