true
Many young couples do it: Get a dog to give their parenting skills a test drive. John (Owen Wilson) and Jenny (Jennifer Aniston) Grogan, a 20something newlywed pair of newspaper reporters, get their Labrador retriever mainly because John's not quite ready to become a dad. So he surprises Jenny with a puppy for her birthday one year, hoping it will buy him some time. And the adventure begins.
We learn a lot about what's to come in the film from an opening scene you likely saw in the previews: a young boy frolics with his sweet dog in an open field while a voiceover says, "There's nothing like the experience of raising your first dog." But that's not the Marley or the Me referred to in the title. That's the dreamy ideal that gets quickly forgotten when Marley chews up half the car seatbelt on the way home from the puppy farm. As that opening scene unfolds, Marley bounds over the boy and his dog with John chasing him close behind, no doubt desperately trying to prevent Marley from eating the boy and his dog and every inch of waving grass in this lovely pastoral scene. "That's Marley, the world's worst dog," John's hangdog voiceover tells us, then adds, "Or so I thought."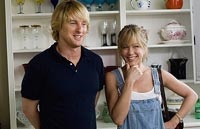 Most of the film focuses on the "world's worst dog" part. Marley often grabs household items in his mischievous mouth—a bra, a necklace, a turkey leg—and runs out the front door with them, his owners in hot pursuit. He eats pillows. He eats the floor. He eats the drywall. He eats actual dog food three times a day. He gets kicked out of obedience school (Kathleen Turner makes a funny cameo as the frizzy haired, fanny-pack-wearing instructor). He terrorizes the dog sitter when the Grogans take a trip to Ireland. Basically, Marley's a big, furry, misbehaving bundle of unrestrained energy.
But, Marley also provides John great fodder when he gets assigned a temporary gig as a columnist at the newspaper he writes for. An aspiring reporter, John is initially disappointed by the "fluffy" assignment. His reporter buddy Sebastian (Eric Dane) is jetting off to Columbia to cover the drug trade, while John is penning stories about his unruly pet. But then John realizes—with the help of his amusingly cantankerous editor Arnie (Alan Arkin)—that he's a really good columnist.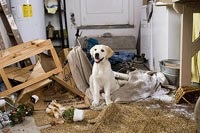 Eventually the Grogans decide to have kids. Can they really be that much more difficult than Marley? As John and Jenny enter the toddler years, they quickly realize that they can be more difficult. Or perhaps just a different kind of difficult. We watch this once fun-loving couple grow frazzled, as Jenny wrestles to balance work and family, John grows dissatisfied with his job, and their marriage takes a lonely backseat to everything and everyone else. And Marley manages to eat, slobber, and poo right in the middle of all the drama—alternately adding to and alleviating the tension.
Many people will be familiar with this funny and poignant family story from the bestselling book Marley & Me, penned by real-life columnist John Grogan. (In fact, real-life John and Jenny make a cameo in the obedience school scene.) The film stays true to the book, and has the usual perks (well-developed, believable characters) and drawbacks (a rushed pace from trying to cram pages and pages of story into less than two hours) of transforming a book to the big screen.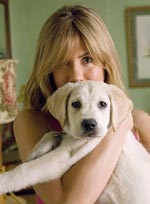 Owen Wilson seems an unlikely pick for a family-oriented wordsmith. But he brings depth and subtlety we've rarely seen from him on screen. (Maybe he decided to let the dog be the spaz this time out.) Jennifer Aniston is her usual gorgeous leading lady, with moments of fun-loving cuteness and other moments of neurotic ranting. Wilson and Aniston portray likable characters and a likable couple with good, believable chemistry. If there's any drawback to their performances it's that they're too pretty, too likable. And they don't seem to age at all over the ten-year-plus span of the movie.
But then, the "too pretty" criticism could be applied to the entire film. There's a kind of modern-day Normal Rockwell sheen over the entire production, even when the Grogans are yelling at each other or Marley is pooping out Jenny's necklace he ate. A smidge more realistic messiness (well, maybe not so much on the necklace incident) would have been great. Especially since there are some messy moments captured in the film. This isn't just a crazy-dog-rules-the-household story. There are losses, struggles, jealousies, and longings portrayed here that elevate the film above the typical comedy.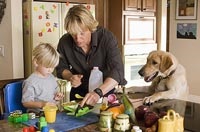 And, delightfully, this is an unabashedly pro-family film. Yes, we see John and Jenny struggle in their marriage, but we also see them work through these tough patches. There are some poignant conversations where Jenny especially wrestles with her life choices and their consequences. But through it all there's a sense of this couple consciously choosing each other, choosing their family—including their crazy dog.
The ending voiceover about the role a dog can play in a family and in a life will have all the pet-owners in the audience openly weeping. I've never even owned a dog and I was teary. The producers were wise to release Marley & Me on Christmas Day. It's a fun, cinematic Currier and Ives experience for the whole family that will leave you hugging on Dad and Grandma—and eager to return home to hug on your own Marley or Rover or Rex, realizing that even the "world's worst dog"' has a way of warming your heart and enriching your life.
Talk About It
Discussion starters
Have you ever had a pet? How did he/she impact your life?
At the outset of the film, Jenny is an uber-planner. When do you think she stops living by this carefully constructed plan—and why? Have you ever lived by such a detailed outline? As a Christian, what have you learned about the wisdom or lack thereof of living by such a plan?
John constantly surprises himself by what he accomplishes in life. Have you ever accomplished something that surprised you? What did you learn about yourself in the process?
At one point, Jenny says she gave up so much of what made her who she is for their family, a feeling she's afraid to admit aloud. Though she doesn't regret her decisions, she still wrestles with some of these identity issues from time to time. Have you ever felt that way about your identity and your family? What thoughts or conclusions have you made from that wrestling?
The Family Corner
For parents to consider
Marley & Me is rated PG for thematic material, some suggestive content, and language. The language is mild, and the suggestive content involves implied sex between married John and Jenny as well as between Marley and a table leg, a pillow, and the obedience school instructor's leg. There are a few family squabbles that get resolved well—and could provide good fodder for conversation about real-life disagreements and struggles. SPOILER ALERT: This is no surprise to anyone who's read the book, but parents of young kids should be forewarned that Marley dies at the end of the movie. He's old and has lived a long, happy life. But the kids in the family are all around grade-school age when it happens, and they participate in his funeral. This could be helpful and instructive for kids who have experienced loss, but could also be traumatic for younger, more sensitive children.
Copyright © 2008 Christianity Today. Click for reprint information.
What other Christian critics are saying: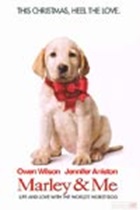 Browse All Movie Reviews By: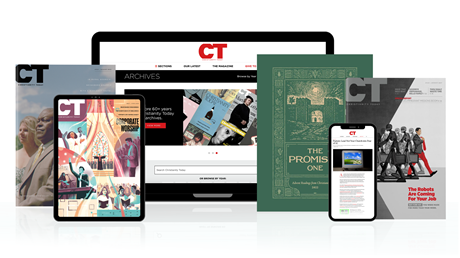 Annual & Monthly subscriptions available.
Print & Digital Issues of CT magazine
Complete access to every article on ChristianityToday.com
Unlimited access to 65+ years of CT's online archives
Member-only special issues
Subscribe
Marley & Me
Marley & Me