Sir John Templeton, the American-born investor and philanthropist who devoted his later life to funding the scientific study of religion, died Tuesday, July 8, at Doctors Hospital in Nassau, Bahamas. He was 95.
The John Templeton Foundation, his charitable organization, said the cause of death was pneumonia.
Once called "arguably the greatest global stock picker," Templeton founded a prize for "progress toward research or discoveries about spiritual realities" in 1972. He sought to make the million-dollar Templeton Prize the world's largest annual award bestowed upon an individual, always exceeding the monetary value of the Nobel Prize.
In 1987, Templeton, a Presbyterian, set up an eponymous foundation dedicated to exploring what he called the "big questions" of science and religion: God's plan, man's faith, and the order of the universe.
"Scientific revelations may be a goldmine for revitalizing religion in the 21st century," Templeton once said.
Focusing on what he called a "humble approach" to theology, Templeton also wrote, co-wrote, or edited two dozen books, several of which incorporated ideas from many world religions.
John Templeton was born Nov. 29, 1912, in Winchester, Tennessee — a few towns away from the site of the infamous 1925 Scopes Monkey Trial that pitted Darwin's theory of evolution against religious faith. The tensions of that trial long remained with the then-12-year-old Templeton.
After working his way through Yale University, Templeton won a Rhodes Scholarship and studied law at Oxford. He postponed his return to the United States to travel throughout Europe and Asia, gaining business experience in foreign markets and earning the nickname the "Marco Polo of the Class of 1934."
Following a brief stint with a Wall Street brokerage firm, Templeton accepted a job with an Oxford classmate's oil company in Texas, before striking out on his own.
At the outbreak of World War II, he made good on his motto of finding value in places others had shunned. Convinced that failing companies would bounce back during wartime, Templeton scored early success that led to the establishment of his enormously profitable mutual fund, Templeton Growth, Ltd., in 1954.
He commenced annual meetings with a prayer, not pleas for financial gain. While some questioned whether business acumen and a religious outlook could go hand in hand, Templeton never saw a conflict between the two.
"Competitive business has reduced costs, has increased variety, has improved quality," he said in 1999, adding that it "has been a blessing to the poor. There has never been a better way to teach ethics than competitive business."
If a business is not ethical, "it will fail, perhaps not right away, but eventually," he said.
Long associated with the Presbyterian Church (USA), Templeton lent his professional expertise to the church's clergy pension fund for more than three decades and served on the board of Princeton Theological Seminary for 42 years.
"I have no quarrel with what I learned in the Presbyterian Church," he once said. "I am still an enthusiastic Christian. But why shouldn't I try to learn more? Why shouldn't I go to Hindu services? Why shouldn't I go to Muslim services? If you are not egotistical, you will welcome the opportunity to learn more."
His passion for continuous learning spurred him to establish the Templeton Prize, meant to extol spiritual discovery to the same degree as research in other fields.
Today worth more than $1.6 million, the Templeton Prize has been awarded to Mother Teresa, theoretical physicist Paul Davies, Russian author Aleksandr Solzhenitsyn, and American evangelist Billy Graham.
Michal Heller, a Polish cosmologist and Roman Catholic priest whose work connects theology and physics, won the award in 2008.
Templeton began his foundation for the scientific study of faith in order to broaden his philanthropy. The same year, 1987, Queen Elizabeth II knighted him for his good works. He became a British subject in 1968, after moving to Lyford Cay, Bahamas, in the late 1950s and renouncing his U.S. citizenship.
The West Conshohocken, Pennsylvania-based Templeton Foundation doles out money even more lavishly than the Templeton Prize: about $40 million annually to more than 300 projects, books, and college courses that investigate the scientific basis of religion.
"I formed charity foundations … so that, within a century, humans will know a hundred times more about divinity and spiritual principles as any human has known to date," Templeton said in 2003.
High-profile initiatives have included a study on the healing benefits of prayer, overseen by a researcher from Harvard Medical School; an investigation into the development of purpose among young people; the Stanford Forgiveness Project; and the Templeton Religion Reporter of the Year award through the Religion Newswriters Association.
In February, the Templeton Foundation announced that it will donate $4 million to researchers at Oxford University to investigate the origins of belief in God.
While some critics questioned the subjects and methods of Templeton-funded projects, even skeptics acknowledged the caliber of many of the studies, and several grantees praised Templeton for his hands-off manner.
After selling the Templeton Group in 1992, Templeton focused his energies on his foundation, though he ceded the presidency to his son, John M. "Jack" Templeton Jr. Despite his official retirement, Templeton continued following the financial markets from his relatively modest estate in Lyford Cay, making $100 million in just one day in 2000.
In addition to his son Jack, Templeton is also survived by another son, Christopher. His daugher, Anne Templeton Zimmerman, died in 2005, and his stepson, Malcolm Butler, died in 1995. His first wife, Judith Folk, died in 1951. Templeton's second wife, Irene Reynolds Butler, died in 1993.
Related Elsewhere:
The John Templeton Foundation has an obituary as well as more information about its grants, award winners, and the Templeton Prize.
Christianity Today reported on what Jack Templeton's leadership over the foundation could mean in "The $1 Billion Handoff."
The Templeton Foundation Press has a catalogue of books on science and religion, including ones by Sir John Templeton and Jack Templeton.
CT articles on Templeton award winners include:
The Dick Staub Interview: John Polkinghorne | The 2002 Templeton Prize winner sees the Bible as "the laboratory notebook" of the Holy Spirit. (Nov. 4, 2002)
Bottom-Up Apologist | John Polkinghorne—particle physicist, Gifford lecturer, Templeton Prize–winner, and parish priest. (May 24, 2002)
Examining Peacocke's Plumage | The winner of the 2001 Templeton Prize for Progress in Religion rejects everything resembling Christian orthodoxy, but that doesn't stop him from co-opting the language. (March 12, 2001)
Physicist Wins Templeton Prize for Progress in Religion | Freeman Dyson, "midwife of quantum electrodynamics," futurist, and popularizer of science, honored for work on responsible science. (March 20, 2000)
Physicist Wins Religion Award | A physicist-theologian who has studied the religious implications of the Big Bang theory has been awarded the 1999 Templeton Prize for Progress in Religion, the world's richest annual prize. (April 26, 1999)
Bright Wins Religion Award | Campus Crusade for Christ International founder and president Bill Bright is the 1996 winner of the Templeton Prize for Progress in Religion, the world's largest annual award, valued at $1,070,000. Investor John Templeton, 83, awards the prize "to a living person who has shown extraordinary originality in advancing humankind's understanding of God and/or spirituality." (1996)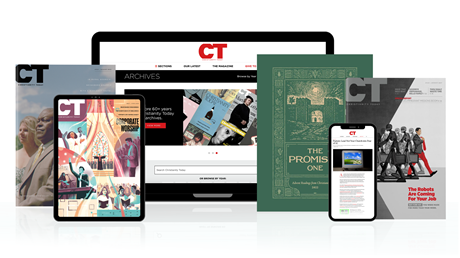 Annual & Monthly subscriptions available.
Print & Digital Issues of CT magazine
Complete access to every article on ChristianityToday.com
Unlimited access to 65+ years of CT's online archives
Member-only special issues
Subscribe
Philanthropist Sir John Templeton Dies at 95
Philanthropist Sir John Templeton Dies at 95