"Author Unknown" once asked Jesus why there was only one set of footprints in the sand during life's most perilous moments.
Now a federal court on Long Island is trying to decide just whose footprints were next to Jesus' during the better times.
Basil Zangare of Shirley, New York, claims they belonged to his late mother, Mary Stevenson, and that she's the "author unknown" whose "Footprints in the Sand" poem is depicted on countless posters, coffee mugs, and pocket cards.
Zangare filed suit on May 12 in federal court, claiming his mother penned the famous words in the 1930s and registered them with the U.S. Copyright Office in 1984.
"My client wants to preserve for all time the knowledge in the public that his mother wrote this poem," said Zangare's lawyer, Richard Bartel, who is based in Remsenburg, New York.
Not so fast, says the lawyer for Canadian traveling evangelist Margaret Fishback Powers, one of the women named in Zangare's suit.
"In a nutshell, it's baseless," said Powers's San Francisco attorney, John A. Hughes.
Hughes said Zangare waited too long to sue and, besides, the registration of a copyright doesn't prove absolute authorship. Powers, who lives in Coquitlam, British Columbia, is the only one with a registered trademark for "Footprints" and "Footprints in the Sand," he said.
"She wrote it at Thanksgiving in Canada at a religious retreat in 1964," said Hughes of Powers, who has numerous "Footprints" products on the market.
He hopes the case will be dismissed before "witnesses of an event that happened in rural Canada in 1964" have to be tracked down.
Meanwhile, Carolyn Joyce Carty, the other woman named in Zangare's suit, said she has not yet been served with the suit.
"I am devastated at any remarks that have been made about my authorship," she said in a response to e-mailed questions.
On her website, Carty claims to have written the poem in 1963 when she was six years old and inspired by poet Henry Wadsworth Longfellow.
The proof of who wrote the poem could actually be lost in the mail. In a probate settlement after Stevenson's death in 1999, Hughes said, an alleged "original document" of her writing was lost in an overnight delivery several years ago.
Bartel said he's trying to track that document down. "Everything is someplace," he reasons.
The poem continues to sell, so much that Zangare suggests the two women he's suing have earned more than $1 million each from sales. Powers's attorney said her "significant but not staggering" revenues on the poem are confidential.
Zangare's lawyer says he mostly grants permission for use of the poem at funerals and in yearbooks, and calls the son's profits on occasional product licensing "minimal."
Carty, for her part, said Zangare is making assumptions about her income: "I have not been paid any royalties by anyone who has promoted my poetry."
But distributors of the myriad of products with the poem, or portions of it, often stay out of the controversy altogether, declaring the author as "unknown" or "anonymous" or simply not listing one at all.
"It probably doesn't have the popularity that it had 20 years ago, but it has become something of a standard," said Jim Potts, president of Dicksons, a Seymour, Indiana-based Christian gift company that includes six pages of "Footprints" products in its online catalog. Dicksons uses "Author Unknown" on some "Footprints" merchandise.
Potts said it's sad "Footprints" has become the source of litigation rather than inspiration.
"At times we think we're strong enough that we did walk through the proverbial storm alone," he said, "and then we realize … not really."
Related Elsewhere:
NPR reported on the popularity of the poem and the confusion over its ownership.
Zangare and Carty's dueling websites have more about their versions of the poem's origin.
The three versions of "Footprints" are side-by-side at WowZone.com.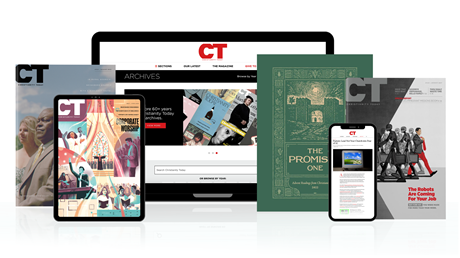 Annual & Monthly subscriptions available.
Print & Digital Issues of CT magazine
Complete access to every article on ChristianityToday.com
Unlimited access to 65+ years of CT's online archives
Member-only special issues
Subscribe
'Footprints' Forensics
'Footprints' Forensics