true
It would be flattering a movie like 10,000 B.C. to suggest it has anything in common with Mel Gibson's Apocalypto, but, well, it does. Both movies concern men from primitive hunter-gatherer tribes who are captured and enslaved by warriors from an oppressive urban society, and both movies feature ominous prophecies and key sequences set at pyramid-like temples. But where Apocalypto is deeply informed by its director's obsessions with the nature of religion, family, masculinity, violence, and so on, 10,000 B.C. feels like a lame, generic pastiche of ancient heroic tales.
You can get a sense of how derivative and half-baked this movie is from watching one of the early trailers, which boldly proclaimed: "Before everything we know, lies a legend never told." It certainly sounds like the sort of thing you're supposed to say in trailers for movies of this sort. But, as an online acquaintance of mine pointed out, the moment you think about that sentence, it ceases to make any sense. For one thing, how can something be a "legend" if it has "never" been told?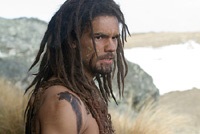 As with the trailer, so with the film, which piles on various elements that will look and sound familiar to anyone who has read an ancient myth, listened to an interview with the late Joseph Campbell, or watched a Ray Harryhausen film. The problem is not that the film has prophecies, or heroic journeys, or people and animals staring meaningfully into each other's eyes, or clairvoyant mystics who can see what's going on from hundreds of miles away. The problem is that these and other elements are cobbled together in a way that doesn't seem to follow any sort of internal logic.
And it's not just the story that is cobbled together. The world of this film is populated by cultures and animals that seem "historical" enough but almost certainly never occupied the same geographic space at the same time. To cite just one example, the sabre-toothed tiger, or smilodon, lived in North and South America and is believed to have gone extinct around 10,000 B.C., if not earlier, so the fact that such creatures form a significant part of this film does not stretch credulity too much—but the film also features entire tribes of people who are distinctly African in appearance. So on which continent, exactly, is this movie supposed to be taking place?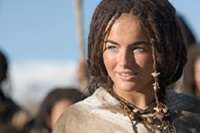 The tribe at the heart of this movie is played by actors from a wide range of ethnic backgrounds—kind of like how The Nativity Story featured Iranians, Irishmen, New Zealanders and Guatemalans as first-century Jews, all of whom spoke English in a sort of fake-foreign accent. The "hero" of this film is D'Leh (Sky High's Steven Strait), a woolly-mammoth hunter who has grown up under a cloud of shame ever since his father mysteriously left the tribe for seemingly cowardly reasons. D'Leh is smitten with Evolet (Camilla Belle), a pretty girl with blue eyes—unusual even to these characters, apparently—who has lived with D'Leh's tribe ever since her own people were wiped out by "four-legged demons," i.e., men on horseback.
One day, however, those horsemen return and carry her off, along with many of D'Leh's tribesmen, and so it is up to D'Leh to try to rescue them, with help from his mentor and surrogate father figure Tic'Tic (Maori actor Cliff Curtis). Meanwhile, the tribe's mystical matriarch, who simply goes by the name Old Mother (Jamaican actress Mona Hammond), stays home and "watches" everything that happens to them from afar, because she has the magic ability to see stuff like that in her mind. This results in unintentional humor, as the film keeps interrupting the action and cutting to close-ups of Old Mother's boggled eyes, hundreds of miles away.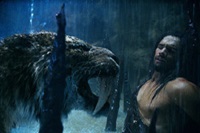 At nearly every step of the journey, the film falls back on tired clichés, and in such a lazy way that the filmmakers themselves seem to be tired of them. Lots of movies—such as the recent Rambo sequel—have included a scene in which the hero arrives and rescues the girl just as she is about to be raped, but most movies try to generate at least a little tension, to convince you that anything could have happened and the hero arrived not a moment too soon. But in 10,000 B.C., the bad guy just sort of arbitrarily walks up to the girl and puts his hand on her mouth because, well, it's time for the hero to show up, and the bad guy has to be doing something. Instead of thinking about what a relief it is that the hero got there in time, you think about what a coincidence it is that the villain decided to act at that moment.
The film lacks anything resembling a satisfying payoff in other areas, too. There is a strong hint that the figure who lives within the temple and claims to be a god—he is called "the Almighty"—might have come from Atlantis. But when this god-figure finally faces D'Leh and his people, the confrontation is resolved all too quickly, and underwhelmingly, and the hints about his past are ignored entirely.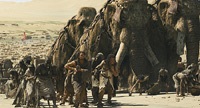 Beyond the plot, the film is disappointing on technical and artistic grounds, too. The computer-generated mammoths are a sight to behold, but the sabre-toothed cat seems fake; and when D'Leh and his allies start a mammoth stampede on the temple's construction site, the film relies too much on sweeping aerial images that, instead of impressing us, detach us from the action on the ground. (Peter Jackson used computer-generated aerial shots to give us a sense of the scale of the battles being fought in Middle-Earth, but he didn't skimp on the live-action stuff.)
The film is directed by Roland Emmerich from a script he wrote with Harald Kloser—a composer with a couple decades' experience who has never dabbled before in any other aspect of filmmaking apart from the soundtrack—and at times it brings to mind bits of Emmerich's earlier films, from the sand-strewn settings of Stargate to the laughably anachronistic dialogue of The Patriot. The disappointing thing about 10,000 B.C. is not that an Emmerich film is cheesy, or that a film set in prehistoric times is so obviously unhistorical; that much is to be expected, and possibly even enjoyed. It is that a film promising spectacle and action fails to deliver all that much of either, and ends up being so dull it can't even be enjoyed for its camp value.
Talk About It
Discussion starters
D'Leh worries that he does not "deserve" to be called courageous for killing the mammoth, because he killed it partly by accident. What would you have said to him? Do you think he showed any courage during the hunt? Enough to feel proud of?
Tic'Tic says, "A prophecy has many faces, many ways of coming true." Do you agree? What sorts of prophecies can come true in only one way? What sorts allow for a range of possible fulfillments? Can you find examples of both in the Bible?
Tic'Tic says at one point that one kind of good man "draws a circle" around himself that includes his family, and another kind draws a bigger circle that includes other people, and so on. What do you make of his analogy? Is it possible to draw the circle too narrowly, or too tightly? Is it possible to draw the circle too big? What if you look at the outer circles so much you lose sight of the people in the inner circles?
The Family Corner
For parents to consider
10,000 B.C. is rated PG-13 for sequences of intense action and violence (lots of fight scenes with sticks and spears and occasional swords, most of it bloodless). As befits a tale set in pre-biblical times, the hero's tribe is pagan, venerating its dead "fathers" and following the guidance of an "old mother" who has prophetic visions. The villains, meanwhile, worship a man who lives in a temple and claims to be a god.
Copyright © 2008 Christianity Today. Click for reprint information.
What other Christian critics are saying: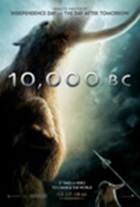 Browse All Movie Reviews By: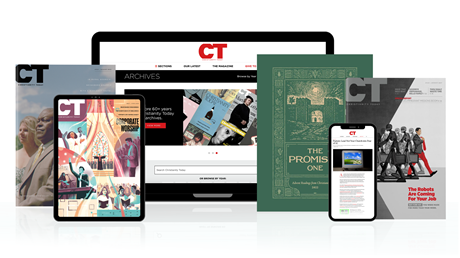 Subscribe to Christianity Today and get access to this article plus 65+ years of archives.
Home delivery of CT magazine
Complete access to articles on ChristianityToday.com
Over 120 years of magazine archives plus full access to all of CT's online archives
Subscribe Now
10,000 B.C.
10,000 B.C.