Billy Graham may be celebrating his 90th birthday today, but he's not done learning yet. The world-famous evangelist will use the Internet for the first time this week when he sends an e-mail reply to a supporter.
"We're helping him write it, but he's going to push the button," said Graham's son Franklin, who has received more than 100,000 letters through the Internet to give to his father for his birthday. "He was asking me the other day, 'How does it work?' And I said, 'I don't know, but I know it does.'"
Graham preached in person in more than 185 countries to over 215 million people during his more than 70 years of ministry. He prayed with every American President from Harry Truman to George W. Bush.
Graham now uses a walker, his hearing is failing, and macular degeneration is deteriorating his eyesight. But his children say his mind is still very sharp, and as he reaches his 90th birthday, he has one birthday wish: to turn 91. In age, Graham is still behind gospel singer George Beverly Shea, who regularly sang at Billy Graham crusades.
"Bev Shea turns 100 in February, so I think Daddy's trying to catch up to him," Franklin Graham told Christianity Today. "I try to tell him from time to time, 'Dad, let's go for a walk,' and he will look at me a little bit disgusted and say, 'You wait until you turn 90.'"
The last time Graham preached publicly was in 2006, when he accompanied Franklin to a festival in Baltimore. Graham is now working on a book about aging, but has been set back by his health. He spent a night in the hospital last month after falling when trying to pet his dog, Sam.
"He has said several times, 'Franklin, I wish I had the strength to do one more crusade,'" his son said. Family and old friends such as singer Bill Gaither visit Graham in his home in Montreat, North Carolina, where a nursing staff takes care of him around the clock.
The aging evangelist sticks to a pretty strict routine. He wakes up early to a cup of coffee before going back to bed to rest more. He eats something simple for lunch, like a peanut butter and jelly sandwich. He stays engaged with current events as he watches television news, reads newspaper headlines, and asks the staff to read stories aloud.
Before the first presidential debate, President-elect Barack Obama was scheduled to meet with Graham, but the meeting was canceled due to health concerns that week. Franklin Graham said that although his father is praying for and would like to meet Obama, his role as counselor is ending.
The longtime registered Democrat voted by absentee ballot. Billy Graham once knew John McCain's father and briefly met with the 2008 Republican presidential candidate in July. Although his children would not say whom he voted for, his daughter Gigi Graham said he was fond of vice presidential candidate Sarah Palin.
"He's a typical man. I don't care if he's 90 years old, he thought that she is so pretty," Gigi Graham said. "He loves a pretty woman."
More than 100 children, grandchildren, and great-grand-children will join him today for the big bash. The woman who used to take care of Graham's mother is bringing his mother's recipes to bake coconut and pound cakes. The staff blew up 90 balloons and had Graham blow out two candles — a 9 and a 0 — for a small celebration yesterday.
But even during birthday celebrations, Graham often thinks of his late wife, Ruth Graham, who died last year at 87 after more than 60 years of marriage.
"Even today, he had her picture right in front of him and said, 'So often, I think she's going to walk out of that picture. I miss her so much,'" Gigi Graham said. "I said, 'I know, Daddy.'"
Graham still visits his wife's grave at the Billy Graham Library in Charlotte, but his family wants to focus on partying.
"Right now we just want to get around him and love him, have a meal together, share some laughs and memories," Franklin Graham said. "Of course, he misses my mother, and he knows he's not going to be on this earth much longer. He's looking forward to the time when he can not only be reunited with his wife but also stand in the presence of the Lord Jesus Christ, whom he has served all his life."
Related Elsewhere:
Christianity Today has a special section on Billy Graham, including sermons, interviews, and articles about Graham.
Other news stories on Billy Graham's birthday include:
Billy Graham at 90 | The preacher to Presidents has good days, but others when he doesn't stir from his bed. I know how to die, Graham has told friends, but nobody ever taught me how to grow old. (The Charlotte Observer)
At 90, Billy Graham remains 'America's pastor' | For the past few months, people from around the world have been leaving personal messages for the elder Graham at billygraham90.com. (CNN)
Graham will spend 90th birthday at home, surrounded by family | Evangelist Billy Graham has traveled the globe and dined with Presidents, but he'll spend his 90th birthday today in much simpler fashion — surrounded by dozens of family members and dining on two of his favorite cakes. (Asheville Citizen-Times)
Evangelist Billy Graham at 90: The man frail, the legacy strong | Evangelist Billy Graham, who turns 90 on Friday, is frail from multiple falls and ailments, far from the strapping revivalist who roamed the globe for six decades. (USA Today)
Son: Billy Graham's work with presidents is ending | Franklin Graham said Friday as his family gathers to celebrate the preacher's 90th birthday that his father is praying for President-elect Barack Obama. (Associated Press)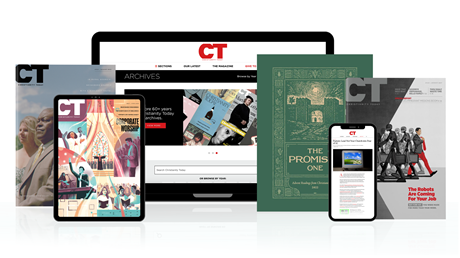 Subscribe to Christianity Today and get access to this article plus 65+ years of archives.
Home delivery of CT magazine
Complete access to articles on ChristianityToday.com
Over 120 years of magazine archives plus full access to all of CT's online archives
Subscribe Now
Billy Graham Turns 90
Billy Graham Turns 90