Sheltered in a Chicago-area Starbucks one afternoon, Tahir* is dreading the commute home. "My home situation is like a time bomb," he sighs, describing the tense stand-off between his Christian faith and the Palestinian Muslim family that considers him a traitor.
Following the 9/11 terrorist attacks, anti-Arab sentiments initially angered Tahir and made him a more devout Muslim. But they also inspired an intense search of the New Testament, which slowly began to convince him of its truths. As Tahir's new faith took shape, his family became ashamed. Things exploded during a dinner-table debate at which Tahir's brother-in-law told Tahir's wife, "If he's no longer Muslim, your life with him is a sin!"
Today, as Tahir tries to quietly model Christ to his children, his wife warns that she will enroll them in a mosque or flee to Palestine: "Just because you sold your soul to the Devil doesn't mean you're taking the kids with you." Tahir's father has disowned him—"You are no longer my son"—and has threatened to recruit Fatah strongmen to beat him.
Like Tahir, many Christians from Muslim backgrounds are at once cultural and spiritual refugees, even as they settle into American addresses. They are struggling to reorient themselves in a new land and a new Christian identity while bearing the weight of their Islamic heritage.
Some seek an adoptive home in American evangelical churches, where they hear leaders preach about the missional "10/40 window" in North Africa and the Middle East. But not many evangelicals see the Muslim enclaves and seekers in their own backyards. Feeling alienated and misunderstood, these new converts sometimes leave American congregations.
Increasingly, though, these new Christians are finding community in a movement of "Muslim-background believers"—mostly in reclusive urban groups of 10 to 20 believers. Last fall, their leaders convened at conferences and summits in Toronto, Detroit, Indianapolis, Atlanta, Dallas, and Washington, D.C.
They are emboldened by books and videos by former Muslims. The sons of a martyred Iranian pastor directed the award-winning 2007 documentary A Cry from Iran. Last year, an anonymous YouTube posting unveiled a who's who of 100 video testimonies and 50 web links to the ministries of Muslim-background believers.
Despite these resources, many of their fledgling fellowships are fraught with growing pains, leadership squabbles, and ethnic tensions—especially in more diverse Arab and Asian groups. A new Chinese Christian, for example, can explore his or her faith in a familiar ethnic community. But a Muslim-background believer often faces the culture shock of segregation and of a sudden minority status within fellowships of rival Muslim nationalities.
Although Iranian churches have sprung from the same rocky soil, they are more established in the U.S. When the U.S.-backed Shah fell in 1979, pastor Hormoz Shariat was a Muslim student revolutionary chanting "Death to America!" in Tehran's streets alongside his young American bride, Donnell, a Muslim convert. Today, the couple's church of 300 in Silicon Valley is believed to be the world's largest gathering of Muslim-background believers. Arab Muslims generally do not reflect this Iranian receptivity to the gospel, where often the domino effect of one new believer turns an entire family to the Christian faith.
"In Arab countries, people see Islam as the answer," Shariat says. "But in Iran, they now see Islam as the problem."
Desperate for community, Tahir first located an Arab church in Chicago, only to find that some Arab Christians looked on the few Muslim-background believers with suspicion. "I was still a Muslim in their eyes, a second-class believer," Tahir recalls.
He was surprised to then discover a small multicultural fellowship for believers raised in Muslim cultures: "And I thought I was the only lunatic." For Tahir the group was a spiritual homecoming, albeit a tenuous one; it has disbanded three times in the last ten years amid discipline issues and leadership infighting.
Muslim cultures are highly communal, which can breed the clannish division and shame-and-honor system at work in the Sunni-Shiite, Hamas-Fatah, and Iraqi Kurd rivalries. "The same thing happens in fellowships of Muslim-background believers. It's indicative of the culture," says Roy Oksnevad, director of Muslim ministries at Wheaton College's Billy Graham Center. Last year, Oksnevad helped reorganize the Chicago group with a leadership team that includes Western missionaries.
In New York City, more than ten groups have folded in one generation, including the breakup two years ago of a rare Arabic-speaking fellowship. But leaders see momentum building among the 200 known Muslim-background believers loosely connected by the Jesus for Muslims (JFM) network. JFM includes an English-speaking fellowship, an embryonic West African group, an expanding Turkish group, and pockets of Indonesians, West Indians, and Bangladeshis.
Besides leadership training, the network's biggest need is social support for immigrants stranded between Muslim and mainstream society. Last September, JFM opened a transitional safe-house to shepherd persecuted Muslim-background believers through Bible studies and employment counseling. "We had some [who had been] sleeping in their cars and on people's couches," said executive director Fred Farrokh. "Christians talk of finding identity in Christ. But for Muslims, finding Jesus requires a loss of identity. Leaving Islam is [viewed as] an act of treason."
Most new converts have no access to fellowships. Like Samir in Kansas City, they are loners. Their sanctuary is cyberspace. Their stories, usually told anonymously, reverberate on websites like MuslimJourneyToHope.com and Answering-Islam.org. Samir helps manage the latter from his basement, tap-tapping words of counsel to Muslim seekers in closed countries. As an apostate, he's a target of fanatics—"I'd have beheaded you. Wait for your death; it will come from a source you don't know"—and a lifeline for isolated believers in America: "An ex-Muslim is always an ex-Muslim! I'll never get the new identity in Christ the Bible speaks of."
Samir knows this gridlocked psyche. Once a Muslim proselytizer and Sunni spy for Saddam Hussein, he's now a Christian missionary who also trains U.S. Army officers in Islamic culture. He is the only Muslim-background believer in his American church, but he is discipling a fellow Iraqi Christian who lost his gas station job when his Muslim employer learned of his conversion. "They are accustomed to community," Samir says, "but now they live on their own islands."
Surrogate Tears
Some Muslim-background believers look at American churches as surrogate families. But like Gentiles in the first-century Jewish church, many still feel marginalized and ostracized. Some are placed on a celebratory "ex-Muslim" pedestal, only to find that American churches are often unable to make a relational investment in their complex lives, which include divided marriages, disoriented bicultural children, financial woes, religious persecution, and tangled immigration issues.
Roughly two-thirds of the estimated three million Muslims in the U.S. are foreign-born, and the rate of immigration from Muslim countries has surged to a post-9/11 high. Now more than ever, the hijab-covered woman once viewed through a CNN lens is as close as the grocery-store checkout line. Though overlooked by many American churches, Farrokh says, "These [immigrants] are a valuable resource. We need to appreciate the potential of those who have counted the cost." The delicate balance, Oksnevad advocates, is to nurture Muslim-background fellowships with their own identity and autonomy, while inviting them to come under an American church's stabilizing support. "Our cultures need each other," Oksnevad said. "Often, believers from Muslim backgrounds just want somebody to walk with them."
That's plenty evident during the lively, intimate communal meal that follows every gathering of the Chicago group in a suburban church basement. In Islamic culture, this hospitality ministry is more central than the sermon or worship, group leaders say.
"Islam is a total way of life," says J. Dudley Woodberry, an Islamic scholar and professor at Fuller Theological Seminary in Pasadena, California. "For Americans, religion is part of our culture. For Muslims, culture is part of religion."
Woodberry encourages American churches to sensitize themselves by inviting mature Muslim-background believers to address their congregations, and by hosting training courses such as "Encountering the World of Islam," which originated with the U.S. Center for World Mission.
Many believers are not ready to re-engage the Muslim world they left, especially on their own. "Some want to live in a [Christian] cocoon. I want to break out of it," says Hakim, who was a Muslim Brotherhood sniper in the war zone of 1970s Beirut. Now a seminary student in Chicago, Hakim is trying to plant an Arabic-speaking church of Muslim-background believers.
His training ground is the foyer of a suburban college, where he's guarding a booth piled with apologetics material in Arabic. Stationed 20 feet away are Muslim Student Association tables festooned with signs like, Jesus Is a Muslim! A bearded young man casts wary glances Hakim's way. A week earlier, Hakim helped register a small "Muslims for the Messiah" student group. The mere presence of a new Christian booth ignited a boisterous confrontation.
Bilateral Relations
It's a bit sunnier in California, the adopted home of Iran's diaspora and about 15 Iranian churches. They represent about 9,000 Iranian Muslim-background believers in America, the only nationality cohesive enough to track, says Abe Ghaffari of Iranian Christians International in Colorado.
Missiologists say Persians have never identified as strongly with Islam as their Arab Muslim conquerors. While some studies estimate 500,000 to 1 million Iranian Muslim-background believers worldwide, Ghaffari counts fewer than 300,000—most of them isolated "secret believers." But even Ghaffari is stunned by how Iran's house-church movement of 50,000 has doubled in the last five years. "This is historic," he says.
But it is not easy to develop even an Iranian church. Pastor Shariat came to Christ as a Ph.D. student in Southern California, where he tried to start an Iranian house church in the early 1980s. Eight tries, eight failures. "It was heartbreaking," he says. "We've since learned to address things like competition and gossip very early on in the discipleship process. But we still have problems."
He left his career as a Silicon Valley scientist to shepherd a thriving Bible study into a church that suffered two splits in the first ten years. Caught between several rival church factions, Shariat was voted out of the pastorate temporarily. "I wanted to quit," he said.
This decade, however, Iranian Christian Church (ICC) has planted four churches, converted a warehouse into a $5 million church building and studio, and launched an international television ministry. A team of eight ICC phone counselors now handles 1,000 calls each month, which tripled after the Mohabat channel morphed into a 24-hour network in 2006. Translated as "agape love," mohabat is an unusual Farsi-Arabic word.
"Deep in their hearts," Shariat says, "Muslims hope God is really like that."
Christopher Lewis is a freelance journalist in Kansas City, Missouri.
*Many of the names in this article have been changed to protect those featured.
Related Elsewhere:
Muslims who convert to Christianity tell their stories on websites like MuslimJourneyToHope.com and Answering-Islam.org.
MBB is a network for Muslims who convert to Christianity.
Previous articles on Islam are available on our website.
Christianity Today previously wrote on Muslims who convert to Christianity.
Have something to add about this? See something we missed? Share your feedback here.
Our digital archives are a work in progress. Let us know if corrections need to be made.
This article is from the September 2008 issue.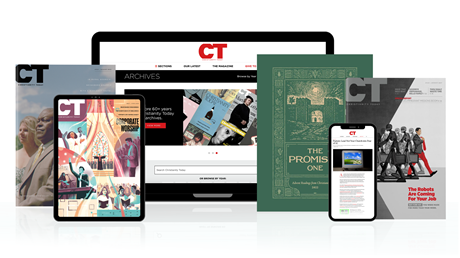 Subscribe to Christianity Today and get access to this article plus 65+ years of archives.
Home delivery of CT magazine
Complete access to articles on ChristianityToday.com
Over 120 years of magazine archives plus full access to all of CT's online archives
Subscribe Now
Looking for Home
Looking for Home