true
There's only one thing you can be sure of after leaving The Imaginarium of Doctor Parnassus, and it's this: Tom Waits makes an excellent devil.
The wild, wooly, fanciful tale takes place somewhere between the glorious imagination of Doctor Parnassus—which can be strangely manipulated by the entrant's own imagination—and the dingy, crass modern London underbelly. Perhaps most notable as Heath Ledger's final film (he died in New York in January 2008 following the first round of shooting), Imaginarium manages, impressively, to seamlessly blend Ledger's performance with the three actors who stepped in to finish the role: Johnny Depp, Jude Law, and Colin Farrell. If Ledger's ghost didn't hang so heavily over the film, you probably would never know that Gilliam didn't plan it that way, which may simply be a testament to his frenzied imagination.
Speaking of Gilliam: he's had a rough go of it lately, not having made a good movie in a decade. This is an improvement on that record. There's a lot of the more hallucinatorily imaginative Gilliam here (with elements that echo previous work all the way back to Monty Python), a fact that will please the devoted but confuse the uninitiated. Imaginarium is a crazy (at times disorientingly so) trip through reality, dream, and nightmare, with an old-fashioned dash of a battle for souls.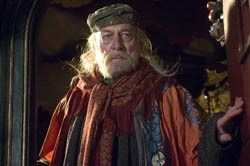 Doctor Parnassus's Imaginarium is a traveling show, consisting of the Doctor himself (Christopher Plummer), his sidekick Percy (Verne Troyer, aka "Mini-Me"), a boy he rescued from the streets named Anton (Andrew Garfield), and his beautiful almost-sixteen-year-old daughter, Valentina (Lily Cole). They are a motley anachronism, dressed in colorful rags, traveling in a gypsy wagon, stopping outside nightclubs and hardware stores to invite bystanders to pay five quid and enter the mind of Doctor Parnassus.
Parnassus is, in fact, an unhappy old man, many hundreds of years old and fond of strong drink, who made a deal with Mr. Nick, the devil himself (Waits), to gain eternal life in exchange for what he wants most. But Parnassus's imagination—accessible through a flimsy mirror-like door—is a kind of Wonderland that adapts itself to what the entrant wants most.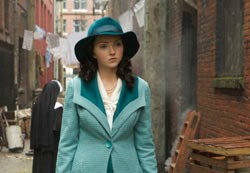 Valentina just wants to get away and live the normal, beautiful life she sees in magazines. But one day they stumble across a body swinging beneath a bridge, and so they rescue the man, who turns out to be Tony (Ledger). Tony can't remember his identity, but it starts to come back when he sees his picture on the front of a newspaper next to a headline about a disgraced children's charity director.
Taking cover by joining the troupe, Tony suggests they update the show to get a better audience and earn some money—a suggestion Parnassus likes, as he's made a bet with Nick. Whoever gets five souls first gets Valentina. The games begin.
Gilliam's talent for taking a simple image and stretching it to its limit is in fine form here: people who turn out to be machines, sky-high stilts, explosions, giant hot-air balloons, oceans with swimming nymphs, visions of paradise that bump rudely into smoldering garbage dumps. It's not being shown in 3-D, but if it was, it might be hysteria-inducing.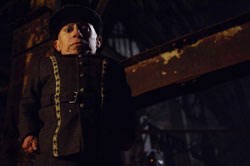 One can only imagine the range of emotion the cast experienced as they made this film, between the zany plot and the untimely death of Ledger. Unfortunately, his performance, while perfectly good, is lost in the whimsy (as is everyone else's). His Joker in The Dark Knight will ultimately be remembered as his last great performance. This cast is filled with mostly great actors whose acting serves the plot; perhaps regrettable, but certainly inevitable. The great standout is Waits, whose demeanor and gravelly voice deliver a pitch-perfect Nick.
There is some meaning behind this madness. At the outset, Parnassus tells the devil that the world's existence is dependent on he and his fellow monks (yes, there are many twists in this tale) telling the "eternal story." "We are ordained for this task," he says, to which Nick scoffs, "It's amazing to me that you can believe something that can be so easily disproved." He tries to prove Parnassus wrong, who simply points out, "You can't stop stories being told."
But the main difficulty some viewers may have is that it does not spend much time constructing a mythology for itself, and when it does, it's constantly interrupted. We never really know why the devil is so intent on stringing Parnassus along. Doesn't he have anyone else to bug? Is Parnassus more important than he seems? After all, someone mentions that "he doesn't want to rule the world; he wants to world to rule itself." And Tony tells Parnassus that his old show is too boring, too broken down, for "the right audiences." They must change the style! Go to the right audience! Be bold and colorful! Don't tell them they'll experience someone else's mind—tell them they'll be purified! "People want modern!"
Sound familiar?
Biblical and mythical references scattered about willy-nilly imply that Parnassus is less of a magician and more of a god fallen from grace. But obviously we're not meant to think too hard about any of this: The Imaginarium of Doctor Parnassus beckons us to grab our armrests and enjoy it for what it is.
Talk About It
Discussion starters
Who do you think Doctor Parnassus really is?
The devil, as played by Tom Waits, is a sophisticated, rather friendly person. What does 2 Corinthians 11:14-15 say about Satan's appearance? How does that gibe with the devil's depiction in this film?
Tony is obviously experiencing some degree of guilt for his wrongdoing. Have you ever done something wrong, then tried to cover it up? What happens when we do this? How can we set things right?
The Family Corner
For parents to consider
The Imaginarium of Doctor Parnassus is rated PG-13 for violent images, some sensuality, language and smoking. Valentina poses as Eve, naked, but with hair covering the appropriate areas; later she reclines suggestively with her undergarments showing. There is some suggestive talk, and sex is implied but not shown. Some of the fanciful images could cause nightmares in children and the impressionable. The bad language includes several obscenities.
Copyright © 2009 Christianity Today. Click for reprint information.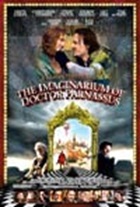 Browse All Movie Reviews By: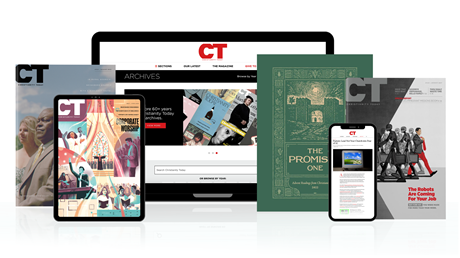 Annual & Monthly subscriptions available.
Print & Digital Issues of CT magazine
Complete access to every article on ChristianityToday.com
Unlimited access to 65+ years of CT's online archives
Member-only special issues
Subscribe
The Imaginarium of Doctor Parnassus
The Imaginarium of Doctor Parnassus