Washington — President Obama signed an executive order yesterday establishing a new faith-based initiatives office, setting out four specific priorities and creating a new advisory council.
The office will focus on reducing poverty, reducing the need for abortion, encouraging responsible fatherhood, and working with the National Security Council to foster interfaith dialogue around the world. Evangelicals on the 25-member advisory council include president of World Vision Richard Stearns, former president of the Southern Baptist Convention Frank S. Page, Florida megachurch pastor Joel C. Hunter, and president of Sojourners Jim Wallis.
Just a few hours after Obama signed the executive order, Christianity Today sat down with the office's new director, Joshua DuBois, a 26-year-old Pentecostal minister who handled religious affairs in Obama's campaign.
How were the four issues outlined in the executive order chosen?
The President picked them. These are priorities that are close to his heart and areas where faith-based community groups can really have a significant impact. These are some of the things he thinks we need to accomplish in our country and across the world, and he decided to do it.
Have you picked the whole advisory council?
Not yet. We still have to pull out 10 more names, and we're looking forward to doing that pretty quickly.
How did you pick the 15 already on the council?
These are folks who are at the top of their fields — both religious and secular that really represent diverse backgrounds and a range of political perspective. They're serving for one-year terms. So there will be a lot of folks over the course of this term — and God-willing, the next term as well — that will be able to plug into this. The council also allows you to form taskforces that are outside the 25 members, so we'll be able to engage a lot of people.
I know Saddleback pastor Rick Warren was involved in the inauguration. Was he on the list to be asked to join the council?
We're not excluding Pastor Rick from anything, so we look forward to working with him just generally.
Do you have any information about your budget yet?
No, a lot of those decisions are based in the agencies. We run the White House office, which is a lot smaller, and then you have Senate faith-based initiative and 11 agencies. Those budgets are determined by the cabinet secretaries, a lot of whom are just getting their e-mails up and running. They still have to work out some of those details. It will likely be very similar to the previous approach, though, in terms of budget.
Do you think the office will be bigger than it was under President Bush?
The one thing that has expanded is the creation of this council, a feedback mechanism where leaders can give us feedback as opposed to just a one-way street. In that sense it is bigger, though it doesn't cost a lot to stand up an advisory council. I would say it will be about the same in terms of hardcore staff structure.
How is this office different from what Bush set up?
There are three key ways it's different. There's a new sense of mission around the four topics you read. The previous initiative was largely focused on leveling the playing field and making sure these groups had access to federal agencies and federal resources, and that's really important. President Obama thinks that now it's time to set an overarching mission for the office, so that's one key difference.
The second difference is structurally, we're creating this new policy council. We heard a lot that in the previous office, information went out but there weren't ways to give formal feedback to the federal government, and that's what this council allows us to do.
And the third way it's different is more strength in legal and constitutional footing. There are rights in my job description ranging from tough legalities to constitutional issues to hirings to anything else. I'm supposed to work with the White House Council and the attorney general to resolve those on a case-by-case basis. That's important — that wasn't in the executive order before and wasn't in the job description of the executive director. We're going to do other things to strengthen the constitutionality and the legality of this office.
The executive order says that part of the job of the executive director is that when tough legal or constitutional issues arise, we're supposed to seek the White House Council's advice, along with the attorney general's, and then present a recommendation back to the President. It's the mechanism created there that allows us to explore these issues.
I know one of the issues was whether federal funds could go to organizations that hire staff only from their same faith. Will you use that mechanism with the hiring question?
It's on a case-by-case basis. So, say an agency secretary reaches out to us and asks a question about a particular grant recipient. They will say, "Hey, can you look into this?" and start that mechanism, and then we'll provide some feedback to them or elevate it to the President if necessary. So hiring could be one issue. There could be other issues as well.
Back in July, in a speech in Zanesville, Ohio, President Obama said that if you get a federal grant, you can't discriminate against the people you hire based on their religion. Is he backtracking on that?
He's been very clear that he thinks this program should be legal and constitutional, and he has a big-picture principle against discrimination. He wasn't able to talk at that point about how it works within the context of the government, because he wasn't there yet. The way we are looking at this issue is we are going to create a mechanism to explore it. That's what we have done in this executive order. That's what I'm going to do in my job, and we'll go from there.
Are you expecting a final decision on whether organizations can discriminate when they hire employees?
Well, it's on a case-by-case basis. I can't prejudge it. The end of this process may be a change in law and policy, and it may not. It really depends on what we find as we explore.
The final issue addressed in the executive order — working with the National Security Council to foster interfaith dialogue — seems perhaps more global than the last administration's office.
Yeah, I think that's right. I think there's recognition that some of these key groups are secular and religious, especially when we have groups like World Vision and Catholic Charities and others. They have a significant impact and reach abroad, so I think it makes sense to figure out ways we can leverage those relationships and also leverage the President's platform. He has a megaphone that doesn't just stop at our border. If we can use him as a person strong in faith but who also understands the need to reach out across faiths to address some of the divisions out there, we should do that.
Will you be working with other departments like Health and Human Services on reducing the need for abortion?
We will certainly be working with the agency secretaries, and one thing about reducing the number of abortions is that it doesn't sit in the one office. So if we stand up a taskforce on women, one might expect that this office would work with that taskforce to find some common-ground areas.
Who do you report to?
My boss is the President of the United States and the head of the Domestic Policy Council, Melody Barnes.
Will you be involved in other parts of the administration as it pertains to religion?
I certainly would be one voice in that conversation, and that's why it's helpful to be on the Domestic Policy Council. We are surrounded by folks who are weighing in on these topics — education, faith, and so forth. Since I'm integrated in that policy structure, I'll be able to have a voice on issues outside of just the faith-based initiative.
I know some are still wondering where the President will go to church. Have you been involved in that decision?
No, that's a personal decision that I'm letting them make, and it's something that's obviously very important to them and also obviously very difficult to do in the confines of the White House and Washington. He's going to make it at the time and place he thinks is best for his family.
Bush's Office of Faith-Based Initiatives was criticized for being too political. How are you going to transition from your role on the campaign to being director of this office?
Very easily. We're just going to root out the politics in our decision-making. If you look at the council that we've stood up, it includes people from across the board. We're going to make sure decisions are made based on which programs work and which don't, not who's a friend of Barack Obama, President Obama, and who's not. That's an edict that goes out — that's not the way we do business. We're simply not going to do it that way.
How do you respond to criticism from those who say that federal funding should not go to faith-based organizations?
We have tough problems here in our country and across the globe, and we need all hands on deck. That includes faith-based and community groups. If we're going to address global climate change or make sure folks are getting out of poverty and back on their feet, we need to go to the institutions that are in these communities, which are local organizations — everything from Big Brother to the local church, synagogue, or mosque. I think it's about the problems we need to solve, not who's doing the solving. In many cases the folks who are out there working are these organizations.
Have you looked at any research that looks at how effective faith-based organizations are compared with other organizations?
There's a lot of key research there, but it's not about who does it better or worse as much as it is about how we need all hands on deck.
Related Elsewhere:
Last year, Christianity Today interviewed John DiIulio, the first director of the White House Office of Faith-Based and Community Initiatives.
More articles on law and politics are available in our full-coverage section.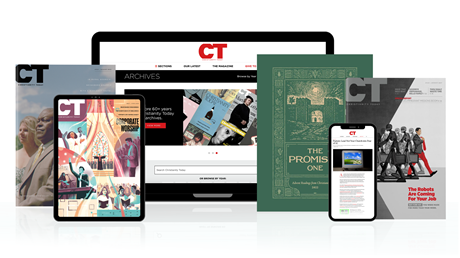 Annual & Monthly subscriptions available.
Print & Digital Issues of CT magazine
Complete access to every article on ChristianityToday.com
Unlimited access to 65+ years of CT's online archives
Member-only special issues
Subscribe
New Director Offers Vision for Faith-Based Office
New Director Offers Vision for Faith-Based Office