true
A century ago, a man started directing moving pictures who would change them forever. A man who pioneered the craft and made cinema the dominant narrative art form of the 20th century. He influenced the first masters, like Eisenstein, Lang, Dreyer and Ford. Welles called him "the premier genius of our medium" and Chaplin called him "the teacher of us all."
The father of American cinema, David Llewelyn Wark "D. W." Griffith was born January 22, 1875 in rural Kentucky. His father was a decorated colonel for the Southern Confederacy, who read in a booming voice to young Griffith from Shakespeare, Poe, Dickens, Longfellow and, of course, the Bible. But his father died when Griffith was only seven, leaving a family struggling to survive. Many of his films can be seen as a search for a father figure in a defeated land, for someone to protect the poor women and children from the oppressive rich and powerful.
Griffith's mother, a devout evangelical Methodist, had an influence on his development, as did the growth of Methodism in the Third Great Awakening (1858-1908), and in the related Social Gospel movement. Griffith's aesthetic was formed by the job he took in a bookstore, adding to his father's repertoire with voracious reading. Finally, he was shaped by the South in which he was raised. As biographer Gerald Mast says, "His films always reflected a special fondness for rural life and rural people, a longing for an idyllic pastoral world, simpler, clearer, and sweeter than the urban present."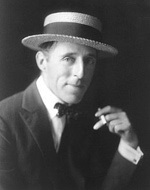 Methodism is apparent in Griffith's works, because of its more libertarian, democratic approach to the viewer (free will versus predestination, allowing the viewer many points to focus on); because of its impassioned preaching of often prophetic proportions; and because of its musical emphasis, from the orchestra that traveled with Birth of a Nation to the review of Intolerance as "a film fugue." It is claimed that Griffith became a freemason later in life, holding "no strong sectarian beliefs," which is fitting to his populist approach. It is not clear when the change occurred, or if gradually or suddenly. But from start to finish, his more than 400 films reflect a devotion to God, a reverence for Christ, and a concern for the poor and widowed that at least Griffith believed the public believed, if he did not fully believe himself.
Creating Film's Grammar
Hoping to be a playwright at first, Griffith resorted to acting as an extra in plays. Still focused on the theater after moving out West, Griffith almost accidentally fell into a silent movie directing job with Biograph—a studio specializing in short films—in 1908. Through directing hundreds of one-reelers, Griffith, along with his brilliant cameraman Billy Bitzer, would invent film grammar and soon make landmark films such as A Corner in Wheat (1909), which features intercutting as well as biting social commentary. If Griffith did not invent such techniques as parallel editing, flashbacks, cutting faster to increase tension, thoughtful frame composition, use of close-ups, iris shots, and restrained, more naturalistic film acting, he certainly mastered these techniques early and advanced their uses in a short span of time.
During the next few years, Griffith worked with a stable of actors like Lionel Barrymore, Lillian and Dorothy Gish, and Harry Carey. In Old California (1910) was the first movie ever actually filmed in Hollywood. 1912's Musketeers of Pig Alley is the first mob movie, and here we already see Griffith's attention to lighting, focus, and camera placement to heighten the suspense and drama, but also his concern with the suffering of the poor and the indifference of the rich. Griffith also featured strong female characters, in keeping with the suffragette movement of the day.
After seeing Italy's 1914 Cabiria, Griffith felt America was ready for feature-length movies. He directed Judith of Bethulia the same year, based on the Apocryphal book of Judith, at one hour in length, which depicted the legendary Jewish Mata Hari.
Creating a Classic, Changing Cinema
Leaving Biograph, which did not make many feature-length films, Griffith went independent in 1915 to produce the now legendary Birth of a Nation, which, like it or not, is America's cinematic Iliad. Griffith was hailed as the "Shakespeare of the Screen." President Woodrow Wilson said Griffith was "writing history with lightning." Margaret Mitchell was inspired by it to write Gone With the Wind, which became an epic Southern populist idyll of its own, both in print and on the screen.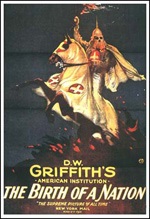 Based on Thomas Dixon's popular novel The Klansman, Birth of a Nation depicted the ante-bellum South as an idyllic paradise of blacks and whites living in hierarchical harmony, and the Ku Klux Klan as romantic heroes upholding chivalry. It also depicted the true villains to be white bosses in the North, and war to be the ultimate evil, though that is often overlooked when observers highlight some troubling scenes of racist content.
In its day, the film started race riots in the North, and was opposed by the fledgling NAACP. Perhaps because of the controversy, it became the most profitable film of all time until Disney's Snow White two decades later. To be fair, Griffith held certain views that were also held by many respected historians of his time, as well as by many reasonable Americans, and was shocked at the outrage his film caused.
With Birth of a Nation, Griffith also gave us America's first great blockbuster. "They lost track of the money it made," Lillian Gish told Kevin Brownlow. Griffith became the first household name director and went on a speaking circuit, discussing the "freedom of the screen" in populist terms.
Responding with Intolerance
Partly in response to the growing claims of racism, Griffith directed Intolerance in 1916, another landmark achievement even broader in scope and stylistic bravado. Intolerance tells four parallel stories, cross-cutting between them. The stories are connected by the intolerance that "Uplifters" bring upon the innocent, in four time periods: the fall of Babylon, the crucifixion of Christ, the slaughter of the Huguenots, and the disintegration of the "modern" family.  Shot devoutly, the Christ scenes would influence Cecil B. DeMille's later biblical epics, as would the orgiastic scenes of Babylon (both directors knew the depiction of sin was key to its denunciation at the end of the movie, but also a way to increase ticket sales). But alas, perhaps too clearly anti-war and anti-imperialist, as he had thought his Birth of a Nation had been, all during a time when America was entering World War I in 1917, the timid response to his film caused Griffith to scale back his vision.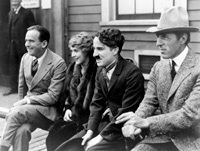 Griffith formed United Artists with Charlie Chaplin, Mary Pickford, and Douglas Fairbanks, and made a smaller, more delicate film, Broken Blossoms (1919), which concerns the tragic love of a Chinese Buddhist man for an abused American girl. Then he made a single-mother bucolic melodrama Way Down East (1920), which castigated the double standard of men versus women when it comes to adultery. Set in the New England to which Griffith had moved to escape the Babylon of Hollywood, this proved his most popular late film. The painstakingly replicated French Revolution in Orphans of the Storm (1921), featuring both Gish girls, proved a great setting for another indictment of social injustice of the rich against the poor, especially women. These three films were all successes at the box office and are all critically acclaimed to this day.
Griffith's Later Years and Legacy
But Griffith couldn't hold his power as the silent era waned: Dream Street (1921), America (1924) and Isn't Life Wonderful? (1924) were not as successful, though he continued to make technical and creative achievements and social commentary. He left United Artists and directed two sound films at Paramount, the biopic Abraham Lincoln (1930), starring Walter Huston, and The Struggle (1931), reflecting Griffith's own struggles with alcoholism, and his final film.
The Academy of Motion Picture Arts and Sciences presented him with a special Oscar in 1936 for his contributions to film art, and the Museum of Modern Art offered a retrospective of his work in 1940 (presciently, Griffith had prints of many films saved then that would have been lost by now).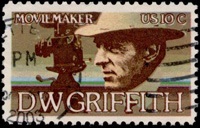 But America's entry into World War II and the development of the American Empire seemed to be the final straws for this populist pacifist. Griffith reportedly lived as a drunken hermit until his death in 1948, and is now buried in a Methodist graveyard in Kentucky. A hundred years after his birth, in 1975, the United States Postal Service issued a commemorative stamp with Griffith's profile.
In 1953, the Director's Guild of America called its greatest honor the D.W. Griffith Award. Recipients include Stanley Kubrick, David Lean, John Huston, Woody Allen, Akira Kurosawa, John Ford, Ingmar Bergman, Alfred Hitchcock, and Cecil B. DeMille. However, in 1999, the DGA later changed the name of the award, citing Griffith's role in fostering "intolerable racial stereotypes" as the reason. A movement of those who wish to emphasize the totality of Griffith's work is fighting to have his name reinstated to the DGA award. The controversy, it appears, may never end regarding the true legacy of D.W. Griffith.
Filmmakers of Faith, an occasional feature at Christianity Today Movies, highlights directors who adhere to the Christian faith—sometimes strongly, sometimes loosely, and sometimes somewhere in between. This series will include everyone from biblically-minded evangelicals to directors who may only have a "church background" and perhaps a lapsed faith … but their films are clearly informed by their spiritual history.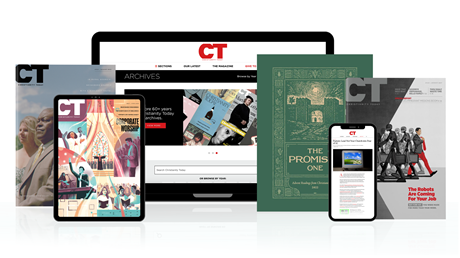 Annual & Monthly subscriptions available.
Print & Digital Issues of CT magazine
Complete access to every article on ChristianityToday.com
Unlimited access to 65+ years of CT's online archives
Member-only special issues
Subscribe
The Strong, Silent Type
The Strong, Silent Type