true
Morris Chestnut is that actor you know but can't quite place where you've seen him.  After nearly two decades of starring in films like Boyz in the Hood, The Best Man and The Perfect Holiday, Chestnut has successfully carved out a niche for himself as the urban romantic lead.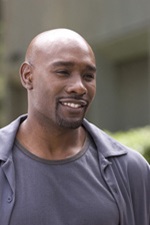 In his latest film, Not Easily Broken, opening Friday, Chestnut leaves the dating drama behind to explore how a marriage can quickly fall apart without the three-strand cord of two committed people and faith in God.
Based on the novel by pastor and author Bishop T.D. Jakes, Not Easily Broken follows the marriage of Dave (Chestnut) and Clarice (Taraji P. Henson) Johnson. Forced to become the breadwinner for the family after an injury destroys Dave's athletic career, Clarice grows increasingly addicted to her own professional success, ultimately ignoring her husband's desire for a family. When Clarice is injured in a near-fatal car accident and Dave finds comfort and temptation in a friendship with his wife's physical therapist, the fragility of the Johnsons' marriage is exposed. Faced with the threat of divorce, the couple must decide if their marriage is beyond repair.
CT Movies spoke with actor/producer Chestnut about Not Easily Broken, the joy of working with breakout star Taraji P. Henson (a major role in The Curious Case of Benjamin Button), and why he feels belief in a higher power is crucial to a lasting marriage.
Not Easily Broken begins where most other love stories end—the wedding. Why do you think so few films focus on the marriage stage of a relationship rather than dating?
Morris Chestnut: I think it's more interesting for people to see the courtship, because that's always unpredictable and a lot of people can relate. With this particular film, we're dealing with marriage, so unless you're married you're not going to be able to relate to Taraji P. Henson's character or my character. That is why we have Eddie Cibrian's character (who was married but now he's divorced) and Wood Harris's character that's never been married. Not Easily Broken is not just a movie about marriage; it's a movie about real people and issues they're dealing with.
You not only star in this film, but you're the executive producer as well. Why did you want to be so intimately involved with this project?
Chestnut: They gave me the opportunity when they approached me with starring in the film, and I wanted to do more than just act in this movie. I wanted to be able to make some decisions and bring people in that I like. I was so fortunate to be able to do that.
You have been married for over 11 years and now have two children. How did making this film shape your perspective of marriage?
Chestnut: It didn't change my perspective at all actually. I've always been a person who looks at the world from a realistic point of view instead of from an idealistic point of view. After 11 years, I have my very strong opinions about what it takes to make a marriage work. 
What was it like creating a marriage on screen with Taraji P. Henson? Did you draw from your real-life marriage relationship?
Chestnut: When the director Bill Duke and I discussed it, Taraji was at the top of our list to play this character. I drew on my own experiences of marriage to play this character, but Taraji is such a fantastic actress that we kind of just fell right into place.
Your character Dave wants to have a child but his wife isn't ready. We don't often see this dynamic onscreen—usually it's the other way around. How common do you think this dynamic is in American families today?
Chestnut: I would probably say it's rarer than the other way around. But most men, especially those involved in sports, want a son to raise up in sports. The rare aspect is the woman not wanting kids. 
In the movie, the idea was we'd grow up, get married, buy the house with the white picket fence, and have kids. That changed along the way. The circumstances dictated that she grew in a different direction and it changed her way of thinking about things. She wanted to maintain a certain type of lifestyle and in order to do that she wasn't ready to have kids because she knew that would interfere.
Not Easily Broken primarily follows the marital stress of an African-American couple. Do you think the challenges the couple face are unique to their culture or universal obstacles in marriage?
Chestnut: I think it's broad. Look at Sarah Palin and her situation. In her marriage, she was the one in the public eye, striving to reach heights greater than what her husband probably had in mind in terms of visibility and money. I think it's universal.
This film is based on the book by Bishop T.D. Jakes. He believes faith in Jesus Christ is crucial to a lasting marriage. What role has faith played in your life and marriage?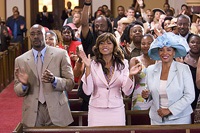 Chestnut: I was raised in a Baptist church, so I've always been strong in my faith. I don't go to church every week, but I'm also not one who goes to church once a year. I've always had a belief that there's a higher power and the way I live my life is going to affect me in the afterlife as well.
With its strong message of the enduring nature of marriage, Not Easily Broken will likely appeal to a Christian audience. How do you think the film will be received outside of the church?
Chestnut: It should be well received, because if no one told you it was based on a T.D. Jakes book, you probably would have no idea it was coming from such a strong faith position. Most people want to see a movie to be entertained. If they want to get an education, they go see a documentary. So as long as they come in and understand they're going to be entertained and then get hit subliminally with all of these messages, I think we'll reach a great audience. 
What else would you like people to know about the film?
Chestnut: This is a very entertaining movie. They will be touched; they will laugh and they will cry. In the end, they will have a joyful two hours spent.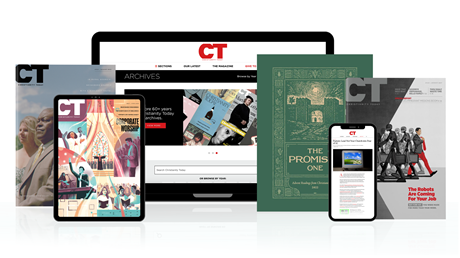 Annual & Monthly subscriptions available.
Print & Digital Issues of CT magazine
Complete access to every article on ChristianityToday.com
Unlimited access to 65+ years of CT's online archives
Member-only special issues
Subscribe
Making Marriage Work
Making Marriage Work