true
ORLANDO—Coming off the improbable box-office success of his last two films—Fireproof and Facing the Giants—producer David Nixon felt as though he had stumbled onto an underserved market: Christian filmgoers.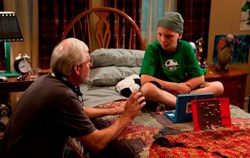 So Nixon founded an independent production company, switched from the producer's chair to the directors, and set out to make a series of three more faith-based films. The first, Letters to God, is the based-on-a-true-story tale of Tyler, a 9-year-old boy stricken with brain cancer who writes his prayers to God in the form of letters.
CT Movies recently visited the set of Letters to God, now shooting near Orlando, where we spoke with Nixon and others affiliated with the family film, scheduled to release in spring 2010.
The venture marks a departure from Nixon's work with Sherwood Pictures, the small—and almost all-volunteer—studio at Sherwood Baptist Church in Albany, Ga., behind the indie hits Fireproof and Facing the Giants.
"We said, if we're going to continue to make all these movies, let's find a way to pay the crew," Nixon says. "Sooner or later you need to find real actors."
Sherwood did not have the resources to take part in Letters to God, says Nixon, so he drew on the fundraising prowess of executive producer Tom Swanson. Swanson pulled together 15 Christian investors to raise $10 million for the first three films from Nixon's new studio, Possibility Pictures.
Now Nixon has a production budget of $3 million, a cast of professional actors, and an ambitious goal to reach families of cancer patients across the U.S.
He says Letters to God isn't a "cancer movie," but a movie about prayer. "I love the idea that if a boy going through a horrible disease would have the strength to write a prayer, why not anybody?" says Nixon.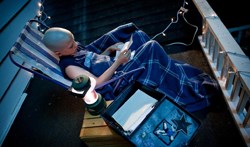 In the story, Tyler's letters wind up in the hands of a disillusioned mail carrier, Brady McDaniels (Jeffrey S. S. Johnson), who is assigned to a new route in Tyler's neighborhood. As McDaniels wrestles with his own demons, he also tries to figure out what to do with the letters. Ultimately, Tyler's faith profoundly affects McDaniels and others in his community.
The real Tyler's story
The screenplay was written by Patrick Doughtie, a construction-company owner from Nashville, Tenn., whose son, Tyler, died at age 9 of brain cancer.
When tests revealed a BB-sized shadow on Tyler Doughtie's brain in January 2003, he was diagnosed with a medulloblastoma, the most common form of brain tumor among children with cancer. After radiation and four rounds of chemotherapy, Tyler went into remission for nine months. But in May 2004, the cancer signaled its return as Tyler began having violent seizures. Tyler died in March 2005.
Through it all, Tyler clung to faith, his father said. "He had a gentle soul," Doughtie says. "He loved God and knew who his heavenly father was, and that was the inspiration behind the film."
During the long months of his son's suffering, Patrick Doughtie began journaling. "I started out very strong," Doughtie remembers. "Then reality sets in once they tell you it's come back. I started to question what God's motive was."
Six weeks after Tyler's death, depression set in. Doughtie spent nearly two years in its grip. During that time, Doughtie himself was diagnosed with a nonaggressive form of leukemia. When his despair caused his wife and children to pull away from him, Doughtie realized he had to change. In January 2007, he rededicated his life to God.
Shortly afterward, Doughtie felt compelled to document his son's life. He thought about writing a book, but was intimidated by how long it might take. On a whim, he took a screenwriting course. He finished writing two weeks after starting.  
Capturing his son's life wasn't easy, even though Doughtie changed certain details—in the movie, Tyler is raised by a single mother—to ease the pain of remembering.
"There were so many days when I was writing and I could hardly see the computer monitor because I was crying so much," Doughtie said. "It allowed me to emotionally spill everything I'd been holding onto."
Doughtie gave his script the working title Letters to God, not knowing that two years later he would find two real letters his son had addressed to God.
Making it into a movie
With the screenplay finished, Doughtie met Nixon through a mutual friend in 2007.
Nixon liked the story but wanted to make it more hopeful. So he brought on screenwriter Sandra Thrift, who revised the script to introduce the role of Brady, the mail carrier.
The producers began the work of casting, sending invitations to "emerging actors" who would command affordable salaries. Tanner Maguire, an 11-year-old actor, was an early choice to play Tyler.
Tanner, who starred in the 2007 film Saving Sarah Cain,  jumped at the role. "Tyler had a lot of hope and faith," he says, "and if just one family going through this could be touched by the faith and feel it, that would be such an amazing experience for me."
In Tanner's favorite scene, his character plays soccer—something his cancer has limited him from doing. "He makes this huge save, saving the game," Tanner said.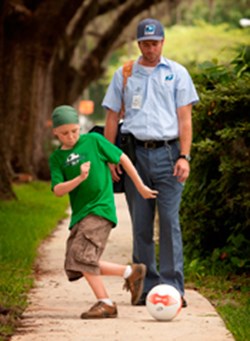 Most of the film's shooting is taking in Winter Garden, 15 miles west of Orlando. The city's tree-lined streets lent a "Rockwellian Americana" feel to the set, Nixon said.
From there, shooting moved to Give Kids the World, a whimsical village in nearby Kissimmee that hosts terminally ill children and their families while they vacation in Orlando.
For Doughtie and his wife, Heather (Tyler's stepmother), who have two other children, shooting at the charity unearthed bittersweet memories. The family visited Give Kids the World with Tyler in July 2004, shortly after his cancer returned.
On the day the cast shot the final scenes of the film, someone led the Doughtie family into the Castle of Miracles, a Give Kids the World landmark. Thousands of gold stars festooned the castle's ceiling and beams, each engraved with the name of a small visitor.
"They wanted me to look for his star," Doughtie said. "I think that was the most emotional time. It was special."
Not an ordinary letter
Next to the castle at Give Kids the World, the Enchanted Carousel sprouts from the ground, wrapped in vines and topped with a giant mushroom. In front of the carousel on a recent morning, the cast was shooting the final scenes of the movie.
Electrical cords snaked across the ground. Crew members sat under oversized mushrooms to escape the triple-digit heat. Nearby, prop carts were stuffed with stethoscopes, a giant pair of scissors, and teddy bears dressed in Give Kids the World T-shirts. Bald-headed children strolled by in the background—some of the 20 real-life Give Kids the World residents who were cast as extras.
"Copy. Marker. Set. Background," a crew member called out. A clapboard snapped shut.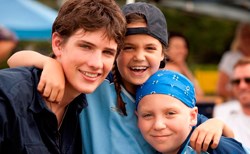 Michael Bolten, who plays Tyler's older brother Ben in the film, pushed Tanner forward in a wheelchair; Tanner had a grin on his face and a blue handkerchief tied around his shaven head. Both boys scooped ice cream into their mouths as they approached Miss Pamela, whose character in the movie works at Give Kids the World.
After they greeted each other, the character Tyler handed Miss Pamela a letter. "That doesn't look like an ordinary letter," she said. "I'll find a special mailbox." "Any mailbox will do," Tyler replied.
"Are you going to be at the talent show tonight?" she asked Tyler. "Yeah, and Ben's singing," Tyler replied. The two boys good-naturedly fought over who would perform, and they exited the scene.
"Cut," someone called out. It was the fifth take so far.
The equipment on set appeared to match the quality of those on any Hollywood set. Nixon and Dawson insisted on it; they want Letters to feature high production values, and they hope it will appeal to a wide audience—not just a Christian niche market.
"Six billion people on this planet are prospects for this film," executive producer Tom Swanson said at a producers' roundtable, referring to the wide-ranging nature of cancer.
To that end, the producers plan to roll out a line of merchandise, including six books. Two grassroots projects aim to spread the message even further. First, they want to install special mailboxes in locations all over America. If all goes as planned, people will write letters to God, drop them in the boxes, and receive responses from Christians who volunteer to answer them.
The other project is the Box of Hope, an outreach to newly diagnosed cancer patients. Available for free online, the boxes will hold music, candy, insurance information and facts about cancer, all meant to encourage patients and their families.
Nixon hopes these efforts will start a movement of prayer and turn hearts to God. In turn, he wants to establish Orlando as the headquarters of Christian filmmaking—and his studio as a trusted name in the genre.
"We hope that one day we can be the DreamWorks of the Christian world," he said.
Mary Tindall, a writer based in Orlando, has reported and edited at newspapers and magazines including the Orlando Sentinel and The Wall Street Journal.
Patrick & Tyler Doughtie photo from Patrick Doughtie; all other photos courtesy of Possibility Pictures.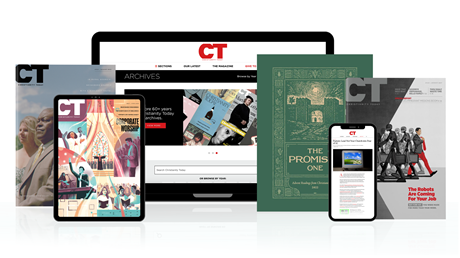 Subscribe to Christianity Today and get access to this article plus 65+ years of archives.
Home delivery of CT magazine
Complete access to articles on ChristianityToday.com
Over 120 years of magazine archives plus full access to all of CT's online archives
Subscribe Now
From Fireproof to Florida
From Fireproof to Florida