true
How are you balancing your music with the grieving process?
Michael Sweet: When Kyle was diagnosed two years ago, we basically started grieving then. Because we did that together, it made it a little easier to move forward at times, like going on tour with Boston. She gave me her blessing, encouragement and really pushed me along in making that decision. Now she's gone, but I feel like the past two years have been such a low that I feel now like it's time to pick up the pieces and move forward. People tell me not to do anything, but staying busy is the way I'm dealing with it.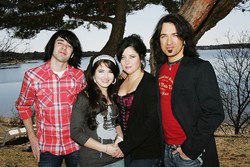 How are your kids taking it?
Sweet: Tough, really tough. I'm constantly trying to encourage them through the whole recovery. We're all battling it and we could go in our rooms, close the doors and all just stay there. But I feel the need to stay busy and active, because when I'm not, I feel like I'm going to lose my mind. The same goes for my kids. My 22-year-old son and his band Flight Patterns are opening the next Stryper tour. When I asked him, his chin just about hit the floor and his eyes popped out of his head. I see him with new purpose now and it's pulled him out of his shell. My daughter, a senior in high school, is a dancer and is home schooled. She's coming out on the tour as well, working on school during the day and probably handling merchandise at night. It's going to keep her active and busy, which is so important so we don't just sit around and dwell on things.
What's been your most poignant observation during this period?

Sweet: It's made me realize how precious life is and how short life is. Life is a gift, but sometimes we abuse it because we don't seize every opportunity or moment in the way God intends us to. So many times we take life for granted and get caught up in all the activities that we become distant from God. But now I'm learning how to truly live life to the fullest and love to the fullest. I don't want to waste a moment.
What are Stryper's plans for its 25th anniversary?
Sweet: We have the new record Murder by Pride coming out on July 21 and are going on a 50-city tour this September through November. The first set will focus on new songs from Reborn and Murder by Pride with our new bass player [Tracy Ferrie] and the second will feature all the old, classic songs with our old bass player Tim [Gaines]. We'll put on yellow and black for that.
Are you digging out the old Spandex?
Sweet: No way, never again on Spandex! But we've got some custom yellow and black threads—really nice stuff.
What is Stryper's sound these days?
Sweet: We're going back a bit more to our roots of harmony guitar solos and harmony vocals. We brought back more of what people like about the band. We fell away a little bit on Reborn because we wanted it to be a little more modern, and in doing that, sometimes you unfortunately lose sight of who you are trying be. I'm not saying we did that, but I think we unfortunately shot ourselves in the foot by not having more guitar solos and things people really liked about the band.
How has becoming Boston's lead singer added to Styper's fan base?
Sweet: A lot of Boston fans are now Michael Sweet fans and they're incredible. I'm hoping they come out to the Stryper shows. At the Boston shows [last summer], I would see Stryper shirts and Stryper fans coming out.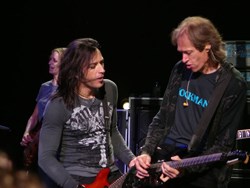 How does it feel singing for one of classic rock's most legendary bands?
Sweet: I'm still pinching myself! Here I was participating in what was supposed to be the last Boston show ever [paying tribute to departed frontman Brad Delp] and then I was out with them singing on the 2008 tour. It was really wild, but there was so much joy between the band and the fans and the tour was successful beyond anyone's wildest expectations.
What's next for Boston?
Sweet: There's a new album coming out that being worked on right now. It probably won't come out until 2010 and a tour is being talked about for 2010 as well. I played some songs for [co-founder] Tom [Scholz] and he really liked them. I've also written some others that I'll be singing on and they'll be a couple of other surprises.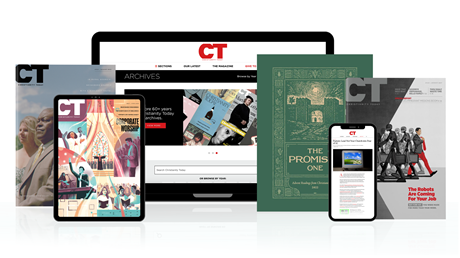 Subscribe to Christianity Today and get access to this article plus 65+ years of archives.
Home delivery of CT magazine
Complete access to articles on ChristianityToday.com
Over 120 years of magazine archives plus full access to all of CT's online archives
Subscribe Now
Catching Up With ... Michael Sweet
Catching Up With ... Michael Sweet