A Christian Legal Society (CLS) chapter must allow law students who disagree with the group's statement of faith to take leadership positions, the U.S. Court of Appeals for the Ninth Circuit ruled yesterday.
The University of California's Hastings College of Law refused to grant the chapter status as a "student-recognized organization" in 2004 because the CLS's mandatory statement of faith and ban on "unrepentant homosexual conduct" conflict with the school's nondiscrimination policy.
In Tuesday's decision, the Ninth Circuit said that all campus groups must abide by the same rules, so CLS was not being singled out for discrimination. The full text of the decision reads, "The parties stipulate that Hastings imposes an open membership rule on all student groups — all groups must accept all comers as voting members even if those individuals disagree with the mission of the group. The conditions on recognition are therefore viewpoint neutral and reasonable."
But Timothy J. Tracey, CLS litigation counsel, says the court should have looked not just at what the school's open membership rule says, but also at how the school applies it. Tracey argued CLS's case at the Ninth Circuit last week.
You told the court, "Hastings allows other registered student organizations to require that their leaders and/or members agree with the organization's beliefs and purposes." But yet you also said that Hastings requires all groups to abide by this open membership rule. What's the difference?
We agreed this is what they say their policy is. What we didn't stipulate to was how the policy is being applied. It's clear that even if that's their policy — everyone has to let everyone in as members and leaders — they're granting exceptions. In the Hastings Democratic Caucus, you have to support the mission of the Democratic Party. In Silenced Right, a pro-life group on campus, they say, "We want you to agree with our pro-life beliefs and principles."
So in that sense, I don't think the court's decision is fair. It's saying [that] because the policy appears to be viewpoint neutral on its face, it's viewpoint neutral.
That said, it might seem from the court's short decision that if we hadn't stipulated to that, we might have won. I don't that this is true: I think they would have said the [Ninth Circuit's 2007 decision Truth v. Kent School District still lets the college win].
Can you tell me a bit about the Truth decision and why the Hastings case is different?
The Truth case dealt with a Christian club at a high school in Washington. The issue had to do with a statement of faith required of the club's general membership. [The Ninth Circuit ruled that the school district did not violate the First Amendment or the Equal Access Act by rejecting the club.]
In the Truth case, members were really equivalent to attendees. They were people who would show up in meetings and participate in activities, but couldn't vote on anything, lead Bible studies, lead groups in prayer, or amend the group's constitution.
In other words, they can call themselves a member but they can't actually affect the group's character. Actually, there's some argument on that. Even members who can't vote or lead can still affect the character of the group, especially in how it's perceived by those outside the group. But the court, at least, believed that they couldn't affect the group's character.
CLS actually has open attendance. We let anyone attend our meetings. We don't think that affects our expression. But having to allow anyone to be officers, to amend the constitution, or to lead Bible studies has a direct impact on the expression of the group and whether it can control its identity.
Another distinction is the question of school sponsorship. Hastings is explicitly clear that it is not sponsoring these student-recognized organizations, and there are various rules requiring the organizations to make that clear.
Then there's another distinctive that we never got to [talk about] in oral arguments, and that's the distinction between a high school and a law school or university. The Supreme Court has said universities have a special role in the marketplace of ideas. So there really should be greater freedom given to student groups at a university.
Has the Truth case been appealed to the Supreme Court?
Yes, on the same day as our oral arguments last week, the Alliance Defense Fund (ADF) [asked the Supreme Court to hear the case].
What about this case? Do you think you'll appeal?
We're still discussing whether to appeal.
So as it stands, are Christian groups at universities in trouble all across the Ninth Circuit (which includes California, Arizona, Nevada, Oregon, Washington, Idaho, and Montana)?
I think there's going to be a pretty big detrimental impact.
What you need to understand is that the ruling is unpublished, so technically speaking, it shouldn't be precedential. But there are a number of lower courts who were keeping their eye out for this case. There's a case in Montana, in Idaho; the ADF has another case in California percolating along in the courts. There's no question in my mind that this decision will affect that. In fact, we've been talking to schools all over the country about CLS and other religious groups on campus, and we keep hearing people say, "We're waiting to see what the court does in Kane (the Hastings case)."
Is there a particular Supreme Court decision you think should shape the outcome of this case?
Yes: Boy Scouts v. Dale. It was about whether or not the Scouts had to accept an openly homosexual guy as a Scout leader. There were two important aspects of the Supreme Court's decision that relate to the CLS case. One was that a core value of the Scouts was that engaging in homosexual activity was immoral. The second is that you'd have to put this guy in a position of leadership — he'd be leading, teaching, instructing, and that would affect the impression of the group.
In our case, you'd similarly be forcing a CLS chapter to made decisions that affect the future of the group. [And the group should be able to ensure that its core values are represented in its leaders.]
What's going to be the big area of debate going forward?
Both the Truth case and the (2005) Seventh Circuit Court of Appeals CLS v. Walker decision [in which the court ruled that Southern Illinois University must officially recognize a CLS chapter] had to do with the application of viewpoint discrimination. Are other groups being granted exceptions or not? In Walker, the court said they're granting exceptions to other groups but not to CLS, and that's viewpoint discrimination.
Related Elsewhere:
Katelyn Beaty noted the decision earlier today on the Christianity Today Liveblog.
The National Law Journal, San Francisco Chronicle, and Inside Higher Ed also covered the decision.
Earlier coverage of the Christian Legal Society's campus battles and related issues include:
Faith Test Okayed | University says Christian group can require beliefs, behavior of its members. (Oct. 13, 2005)
Too 'Sectarian' | Court: Students at some religious schools can't get state funds. (July 18, 2007)
Campus Collisions | Why InterVarsity Christian Fellowship was derecognized at some of America's leading universities. (Oct. 2003)
Redeeming Law | In a cynical society suspicious of lawyers, Christian law schools are decidedly not. (Aug. 15, 2008)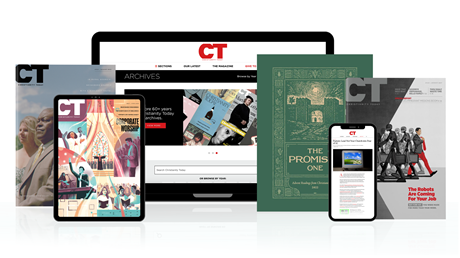 Subscribe to Christianity Today and get access to this article plus 65+ years of archives.
Home delivery of CT magazine
Complete access to articles on ChristianityToday.com
Over 120 years of magazine archives plus full access to all of CT's online archives
Subscribe Now
Small Ruling Is Potentially Huge for Student Groups
Small Ruling Is Potentially Huge for Student Groups