true
Rudo y Cursi is a Mexican film that had off-the-charts potential. The film's producers (Alfonso Cuarón [Children of Men], Alejandro González Iñárritu [Babel] and Guillermo del Toro [Pan's Labyrinth] and stars (Diego Luna and Gael García Bernal, reunited for the first time since Y tu mamá también) gave this film the ingredients to perhaps make it Mexico's Citizen Kane. But unfortunately the result is a bit more like the debut album of an American Idol winner: that is, an overly-crafted mess with moments of disjointed amusement, perhaps because there was just one too many cooks in la cocina.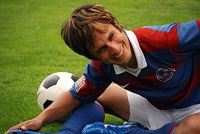 Written and directed by Carlos Cuarón (who wrote Y tu mamá también), Rudo y Cursi is a tale of two brothers: Beto (Luna) and Tato (Bernal), nicknamed "Rudo" (tough) and "Cursi" (corny), respectively. The brothers work on a banana plantation in some remote corner of Mexico and play soccer for the village team. Rudo dreams of playing soccer professionally while Cursi dreams of becoming a famous singer; both dream of having enough money to build a house for their mother. The Spanish-language film is a rags-to-riches fable about what happens when these dreams (at least some of them) come true. It's a film that lends credibility to the phrase "be careful what you wish for."
Both Rudo and Cursi are plucked from obscurity and catapulted to fame and fortune, by way of an opportunistic agent (Guillermo Francella) and a seemingly very corrupt professional soccer world. They soon become household name soccer stars in Mexico and begin to experience both the luxuries (houses, Hummers, Dolce & Gabbana clothes) and vices (gambling, women, drugs) that life in the Mexico City fast lane affords. In remarkably predictable fashion, the brothers' spectacular (and improbable) rise is only outdone by their spectacular downfall, as each lets the downside of success get the best of him.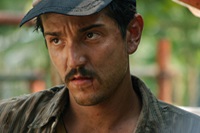 As a cautionary tale or tragedy/fable, Rudo y Cursi is nothing we haven't seen or heard before. As a film about Mexico and a sports film about soccer, it's slightly more interesting. The Mexico of this film feels authentic, and if only to see rare glimpses inside Mexico City and the banana farms of the backcountry, it might be worth watching. The cinematography from Adam Kimmel (Lars and the Real Girl, Capote) is organic and appropriately gritty—deftly capturing the contrasts and seedy imperfections of modern-day Mexico—and the costumes and production design add to the authentic look of the film. When it is a glimpse inside an unfamiliar (for most of us) world, Rudo y Cursi is at its best.
But this is also a film about soccer, a sport far more important to the culture of Mexico than to that of the United States, however hard we try to amp up our affection for it (e.g. David Beckham coming to play in LA). Rudo y Cursi drives home its soccer motif in part through a narrator's occasional "deep thoughts" about how soccer is a metaphor for life—about how individualism is bad and teamwork is good, about how "nowadays we mistake wars for games and games for wars," and things like that. Nothing too profound, though I did resonate with one line about how "life would be easier if at birth you could distinguish between passion and talent." Indeed it would. The film does a relatively good job exploring the ways that our paths in life are simultaneously driven by fate, ambition, luck and hard work—how so much of what happens to us isn't our doing, and how so much is.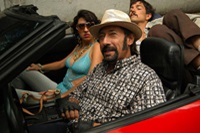 Alas, the problems with Rudo y Cursi outweigh the occasional positive blip. For one thing, it's peculiarly unfunny for a supposed comedy. Perhaps the subtle comedy was largely lost in translation, but what laughs there are tend toward lowbrow, sophomoric humor (locker room shower antics, horribly cheesy music videos, etc.). Bernal and Luna do their best and are believable as hapless redneck brothers, but their efforts cannot salvage a script that is decidedly hit and miss. It's a tonally confused film, to be sure. At times it works as a drama, at others as a farce, at others a fable. It's never quite sure what if any point it has to make, so it's hard to imagine any filmgoer leaving the theater feeling anything other than "meh."
If Rudo y Cursi has anything to offer, it is the message that we should not squander the talents and opportunities we've been given, and that we should recognize that success by the world's standards doesn't mean much if we lose our souls in the process. We have to remember that our gifts are just that—gifts, and we can lose them at any time. And all our "stuff" can be taken away, Job-style, at any moment. Is all of this old hat? Probably, but it might not hurt to be reminded of it every now and then.
Talk About It
Discussion starters
What is the moral lesson from the quick rise and fall of Rudo and Cursi?


Which of the two brothers do you sympathize with more? Why?


Why do you think the filmmakers chose to end the film on a happy note—with the two brothers seemingly at ease with all that had happened? Did they learn their lesson?


The Family Corner
For parents to consider
Rudo y Cursi is rated R for pervasive language, sexual content and brief drug use. There's a fair amount of bad language (in Spanish, translated), some violence, a few scenes of locker room male nudity (comical), and a little drug use. The most objectionable scene is a moderately explicit sex scene between a male and female, including some nudity. Themes of personal self-destruction and bad decision making could make for some interesting discussion between parents and mature kids, but for the most part it's an R-rated film geared to adults.
Copyright © 2009 Christianity Today. Click for reprint information.
What other Christian critics are saying: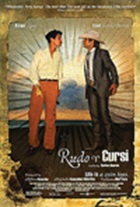 Browse All Movie Reviews By: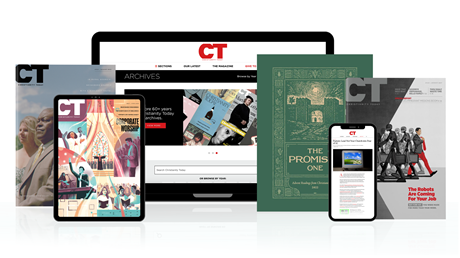 Subscribe to Christianity Today and get access to this article plus 65+ years of archives.
Home delivery of CT magazine
Complete access to articles on ChristianityToday.com
Over 120 years of magazine archives plus full access to all of CT's online archives
Subscribe Now
Rudo y Cursi
Rudo y Cursi