When I preach, I often quote the Bible to drive home my point. I think it more persuasive to show that what I'm saying is not merely my opinion but a consistent theme of Scripture. And to avoid the impression that I'm proof-texting or lifting verses out of context, I quote longer passages—anywhere from 2 to 6 verses.
When I did this at one church, a staff member whom I'd asked for feedback between services told me to cut down on the Scripture quotations. "You'll lose people," he said.
I understood the reality he was addressing, and so I scratched out the biblical references for the next sermon. But lately I'm beginning to question that move, and wondering, Why have we become so impatient and bored with the Word of God? I ask this not in a scolding tone, but in wonderment, not to point fingers, for I wonder at myself as well.
Another example of this phenomenon: Recently in an adult Sunday school class, I heard a detailed and persuasive lecture on a biblical theology of creation. Rather than reading Genesis 1 and just waxing eloquent from that point on, the teacher patiently read passage after passage to demonstrate how central creation is in the Bible even after Genesis, especially in the covenant God made with his people. After class, the moderator for the class suggested that, for the following week, the teacher make room for questions; he suggested the teacher cut down on the reading of so many Bible verses as this would save time and, it was strongly implied, would better hold people's interest.
Anyone who's been in the preaching and teaching business knows these are not isolated examples but represent the larger reality. We teachers and preachers are well aware of how easily listeners get bored. And we recognize that, when it comes to good teaching technique, extensive quoting of anything can become tedious, and that, yes, it is important to make time in one's presentation for questions. Still, these examples reveal such a feature of current church culture that we might want to question ourselves.
*  *  *
It has been said to the point of boredom that we live in a narcissistic age, where we are wont to fixate on our needs, our wants, our wishes, and our hopes—at the expense of others and certainly at the expense of God. We do not like it when a teacher uses up the whole class time presenting her material, even if it is material from the Word of God. We want to be able to ask our questions about our concerns, otherwise we feel talked down to, or we feel the class is not relevant to our lives.
It is well and good for the preacher to base his sermon on the Bible, but he better get to something relevant pretty quickly, or we start mentally to check out. Don't spend a lot of time in the Bible, we tell our preachers, but be sure to get to personal illustrations, examples from daily life, and most importantly, an application that we can use.
It's easy to see how this culture has profoundly reshaped the dynamics of preaching and teaching. All the demands have been placed on the shoulders of the preacher, so anxious are we to meet needs and stay relevant. No longer are listeners asked to listen humbly to the proclamation of God's Word, in all its mystery and glory. To be sure, we want the preacher to begin with the Word—we're Christians after all—but only as a starting point, and only as long as he moves on to things that really interest us.
*  *  *
We often hear people say how difficult it is to hear God anymore, and I wonder if one reason is that we've forgotten how to listen to the Word of God when it comes to us in the sanctuary or the classroom. We listen like a husband and wife listen when they are in the middle of an argument: they listen only so they can have ammunition to mount a counterattack. That's not listening. And when we listen to the sermon only to hear what seems immediately and directly relevant, neither is that listening. And yet we've raised a whole generation of Christians to listen like this.
Again: I do not claim that I have transcended this cultural impatience with the Bible. I'm as irritated as the next person when it comes to the public reading of Scripture. Doesn't this person have anything original to say? I think. Isn't he going to address this issue, or that concern? Get on with it! At least I hope he says something funny soon … .
I try to laugh at myself when I catch myself in such moods: bored with the very revelation of God! We have this extraordinary gift, this miracle book, from the Creator of Heaven and Earth, the Mystery of the Universe, the Infinite One whom we (the finite) cannot begin to fathom, the Holy One whom we (blinded by our unholiness) cannot begin to comprehend. The One who can answer our deepest questions but could remain The Question, the One who can restore our broken humanity, but could remain a vague Hypothesis—this One has revealed himself in Law, Prophets, and Gospel—in the words of a collection we now call Holy Scripture.
Whenever the Bible is read, a hush should come over us. We should be inching toward the edge of our seats, leaning forward, turning our best ear toward the speaker, fearful we'll miss a single word—the deeds and words and character of Almighty and Merciful God are being revealed! In a world of suffering and pain, of doubt and despair, of questions about the meaning and purpose of existence, we are about to hear of God's glory, forgiveness, mercy and love, of his intention for the world, of his promise to make it all good in the end, of the way to join his people, of the means to abide with him forever! And there we sit, tapping our feet, mentally telling the preacher to get on with it.
But if we take the trouble to listen, really listen, to that Word, we'll discover something else marvelous: that the One being revealed is as patient with us as we are impatient with his Word, and as enamored with us as we are bored with him. Ah yes, even more enamored.
Mark Galli is senior managing editor of Christianity Today and author of A Great and Terrible Love: A Spiritual Journey into the Attributes of God (Baker).
Related Elsewhere:
Previous Christianity Today articles on preaching include:
Speak the Gospel | Use deeds when necessary. (May 21, 2009)
Reflections: Preaching | Quotations to stir the heart and mind. (July 8, 2002)
Say Amen Somebody | I rejected pep rally spirituality but missed so much more. (November 11, 1999)
Previous SoulWork columns are available on our site.
SoulWork
In "SoulWork," Mark Galli brings news, Christian theology, and spiritual direction together to explore what it means to be formed spiritually in the image of Jesus Christ.
Mark Galli is former editor in chief of Christianity Today and author, most recently, of Karl Barth: An Introductory Biography for Evangelicals.
Previous SoulWork Columns: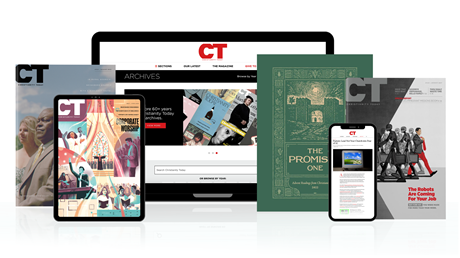 Subscribe to Christianity Today and get access to this article plus 65+ years of archives.
Home delivery of CT magazine
Complete access to articles on ChristianityToday.com
Over 120 years of magazine archives plus full access to all of CT's online archives
Subscribe Now
Yawning at the Word
Yawning at the Word