The High Holiday season that gains fast upon traditional Jews is primarily a time of self-examination and repentance. We scrutinize our deeds and misdeeds, attempting a mid-course correction on the long journey of life. We take stock of and express thanks for our blessings, so easily overlooked amid life's daily dramas that leave too little time for quiet reflection. It is a good time, we think, to express our gratitude to our Christian friends and fellow Americans.
With anti-Semitism spinning out of control worldwide, we acknowledge with thanks that, in the United States, Jews no longer have to look at Christians as purveyors of religious hatred. For hundreds of years, this was not the case. But churches across the Christian spectrum changed their attitudes — many in the wake of the Holocaust. They reshaped what they taught children and adults about Jews. They have been among the first to speak out when problems arise.
Spurred by the legacy of Pope John Paul II, our relationship with the Vatican has matured. Jews reacted with disappointment to Pope Benedict XVI's lifting of the excommunication of a schismatic bishop notorious for his Holocaust denial. But the pope's quick and clear response left no room to doubt the Catholic Church's commitment to combating anti-Semitism and Holocaust denial.
Globally, many Jews have been noticing the violent targeting of faithful Christians, taking strong public positions against the growing wave of persecution of Christians in too many countries.
The majority of American Jews not only support the state of Israel, but they also see their bond to the land of Abraham, Isaac, and Jacob as a key part of their identities. American churches run the gamut between politically pro-Israel and pro-Palestinian. We are grateful that despite the diversity of views, non-Jewish Americans overwhelmingly identify with the Jewish state more than with those who tragically remain sworn to annihilate Israel.
Even churches whose policies we must disagree with — strongly at times — are not motivated by any animus to Israel or the Jewish people. They remain committed, as we are, to fairness and decency. We saw strong signs of this in the last year. Both the Episcopal Church and the Evangelical Lutheran Church in America beat back one-sided resolutions at their conventions, and called for a balanced understanding of the competing narratives of the beleaguered peoples of the Middle East.
A group of evangelical leaders who have reached out to Muslims also met with Jewish leaders to assure them of their continued support for Israel as a Jewish homeland. The pope came to Israel and reiterated his predecessor's support of the Jewish state.
There are still some who continue to misappropriate Christian themes to demonize Israel and even deny its very right to exist. The World Council of Churches (WCC) has taken an anti-Israel position for over 60 years, with no sign of relenting. Recently, WCC General Secretary Samuel Kobia said that Israel's occupation of Palestinian territories should be declared a "sin against God." He spoke of the "no less than a million people [who] were expelled from their homes at gunpoint" in Israel's War of Independence.
By completely ignoring Israel's narrative of events and causes, he turns Israel's very existence into a sin. This kind of rhetoric is unfortunately not atypical of the campaigns by extremists from without and within to leverage major denominations to paint Israel as an apartheid state and push for economic boycotts and sanctions.
Our community is aware of and deeply grateful for the efforts of fair-minded members of these denominations who stand up to the extremists and argue for balanced positions and program materials.
This year marked the 70th anniversary of the outbreak of World War II. As more and more members of the "greatest generation" of Americans pass on, we stand with our Christian friends in steady appreciation of the sacrifices they made to ensure the continuity of the Judeo-Christian tradition. Without them, we would not be here to remember and reflect.
Many refer to Rosh Hashanah as the Jewish New Year. Truth be told, we don't see it as the beginning of a new year just for Jews. While all the other holidays on the Jewish calendar are inextricably related to Jewish practice, Rosh Hashanah is the exception. In traditional Jewish thought, Rosh Hashanah is a day of judgment for all of creation — Jews, non-Jews, angels, animals, everything.
The explanation is simple and elegant. Rosh Hashanah is the anniversary of man's creation. It marks the first encounter between man and G-d. From that point on, no human can live a fulfilled life without reacting to the Divine and incorporating him within him or her.
At the same time, having created mankind for a purpose, G-d himself has to modify the way he interacts with man to take into account that, unlike him, we live within the constraints of dimension and time. His judgment of us operates on our schedule, not his.
Each year on Rosh Hashanah, G-d inventories his world, comparing what each element was designed to contribute to the master plan with how well it has performed. It is perhaps the most exhilarating part of Rosh Hashanah — recognizing that each of us has a place, a purpose, and a mission. Accountability follows.
How good a job have we done this past year?
As individuals, G-d will have to be the judge. As a community, we could offer some guesses. The world does not seem to be a safer place than it was a year ago. Every loss of life is, theologically speaking, a monumental catastrophe. We cannot count the number of such catastrophes in the past year. The scourge of terrorism in the name of G-d continues to cover the face of the planet.
Our lifestyles are not any healthier, nor has the earth been healed.
On the other hand, millions of people apply themselves to providing food and shelter for those in need around the globe. Strong voices speak out against injustice, for better allocation of health-care resources, for making the gifts of civilization accessible to a greater number of people. We should redouble our commitment to turn religious belief into concrete action.
In one area, we have lost ground.
The number of Americans who have turned away from all religious connection has increased. (As for Europe, it seems as if G-d doesn't live there anymore.) Jews and Christians share the Genesis story in the Hebrew Bible. Compared to ancient creation stories, the Bible's account is remarkable in that man is nowhere described as created in order to amuse or serve the gods.
We understand that a perfect G-d does not need us in a real sense, but that we need him. Part of our mission has to be to make G-d and godliness more attractive, more a matter of reason and reasonableness than of pure faith.
We who are blessed to live in the world's freest democracy have the tools and resources to win back lost ground for belief in G-d. Increasingly, Jews and Christians need to partner on this.
Three times a day, every day, Jews close their prayer service with a line from Zechariah: "And the L-rd will be King over all the earth. On that day, G-d will be One, and his Name will be One." We can think of no better Rosh Hashanah wish to all.
Rabbi Adlerstein is the Director of Interfaith Affairs at the Simon Wiesenthal Center in Los Angeles. Rabbi Cooper is the Center's Associate Dean. "Speaking Out" is Christianity Today's guest opinion column and (unlike an editorial) does not necessarily represent the opinion of the publication.
Related Elsewhere:
Adlerstein has written two earlier opinion pieces for Christianity Today, "The Presbyterians Giveth, the Presbyterians Taketh Away" (June 20, 2008) and "The Resolution That Put the 'PC' in PCUSA" (Aug. 1, 2004)
More on Judaism and interfaith relations is available in Christianity Today's "other religions" area.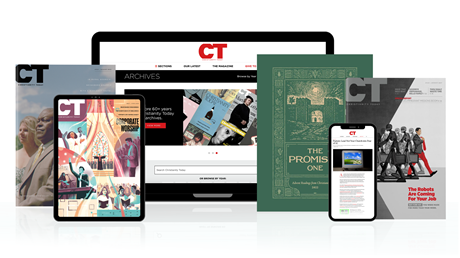 Subscribe to Christianity Today and get access to this article plus 65+ years of archives.
Home delivery of CT magazine
Complete access to articles on ChristianityToday.com
Over 120 years of magazine archives plus full access to all of CT's online archives
Subscribe Now
Happy Rosh Hashanah, Christians
Happy Rosh Hashanah, Christians