true
The Blind Boys of Alabama celebrate their seventieth anniversary in the music biz this year. But when the vocal band's former lead singer and founding member, Clarence Fountain, went missing from the Gospel Music Hall of Fame group's roster in 2006, little fuss was made over the split, originally attributed to the nearly 80-year-old singer's sensitive diabetic condition and later revealed as a creative feud between Fountain and the Blind Boys' management. Forging on with his first release since leaving the lineup, the Grammy Award-winning vet volunteers his own take on the controversial break-up, talks about his recent release, Stepping Up & Stepping Out (One World Entertainment), with ex-Blind Boys' guitarist and friend Clarence Butler, and explains why even though he's gained a young cult following, he'll always sing gospel music.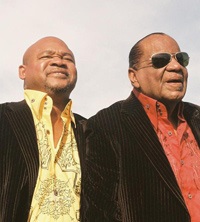 You recorded the new album with Blind Boys' veteran guitarist, Sam Butler. So is it any different than a Blind Boys record?
Clarence Fountain: It ain't no different. We just cut it down, took the Blind Boys off, put on another background and went ahead. The record's all right.
Your left the Blind Boys for what has called "creative differences." Blind Boys manager Charles Driebe expounded on that by saying, "It's hard when you're king of the jungle for 60 years to have to slow down." Is that what it boiled down to?
Fountain: When you've been doing something all your life, and here comes somebody else telling you, "You ought to sing this," how you gonna tell me what to sing when I've been doing this all my life? You get tired of somebody telling you what to sing when you know you can do better. We put this record out because we thought we could do better.
So your vision with the Blind Boys was being overruled?
Fountain: You're on the right track. I'm gonna' clear the whole thing up. [Laughs] You are not me, and I'm not you. And if I can't be me, I don't want to be nobody.
So this record was about being able to have a choice?
Fountain: You got that right. I like to pick my own songs. The whole thing boiled down to one thing: Don't bring me a pile of songs and tell me I got to sing this. Because I'm the singer and you're the talker. I've been saying my whole life, "You can't come along and tell me what to do. You're a different person from what I am. You don't feel what I feel. You don't know the God I know."
"You don't know the God I know?"
Fountain: I'll put it like this: "You might be serving the same God but he's not telling me the same thing he's telling you."
The Blind Boys celebrate 70 years as a group this year. Were you really just 10 years old when the group started?
Fountain: That's about right. It all started in school. We all got together and said we were going to form a group. So that's what we did because there was nothing else to do. 
Was the group's original sound similar to your current sound?
Fountain: No, we've changed. Whatever sounded good to us, that's what we went with. We didn't have no [particular] sound.
When did the group start "gigging" professionally? 
Fountain: 1944. We were traveling from Alabama to Mississippi to Tennessee. In 1945 we went to Chicago. As the years went by we just kept going into towns and tearing 'em up. We were young and barely making it, doing the best we could. 
What kind of venues were you guys playing back then?
Fountain: Black churches. We might go into the town's school or something like that, if the [promoter] had a special program that he put on.
Did you ever run up against racial discrimination?
Fountain: That was the going thing back in those days. You knew where you were supposed to go, so that's where you went. You knew you couldn't get no food at the front door so you went to the back door. You knew how to sing to the people so they enjoyed it. That's just the way it was. If Martin Luther King, Jr. hadn't come along and changed things, it could still be the same. It was a hard time but we didn't know it, so it didn't matter. Hard times, c'mon. We'll take you on!
Describe what made that period difficult.
Fountain: I can't describe it because I didn't know what hard times was. Hard times to me were good times to somebody else. I just took it as it came. 
In hindsight, do you think, I can't believe we tolerated some of those hardships?
Fountain: Yeah. Knowing me, I was going to do just what was required of me to do so I could get by. You would have done the same thing. You just didn't come along in that time. [Laughs]
As traveling teens, did you guys ever get a bit rowdy? 
Fountain: Everything went in our favor because we didn't know anything else but the way we worked. And that was to get over to the people, sing to 'em, and go back to the hotel and be quiet. It was just the thing you learned how to do, you did it well and that would lead to what you are today.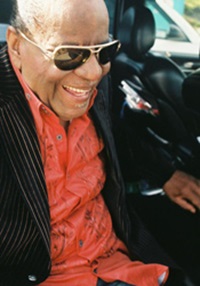 When the Blind Boys were getting started, did you ever guess the band would achieve such historic success? 
Fountain: No. You can't see that far. Only God can do that. The Blind Boys have done well down through the years. We've done many, many recordings and a few shows. It came out smelling like a rose. We are blessed and we are grateful, and we're still trying to hold on.
Let's talk about your faith journey. When and how did you come to know Christ?
Fountain: When you're a country boy, you join the church. I was acquainted with the Lord since I was seven years old. You grow in grace. Since I grew up in church and learned the church ways, I did according to what I was supposed to do, and that is serve the Lord and be a good boy.
Did your faith ever waver?
Fountain: No. There were no times of doubt. I didn't want to do nothin' else but sing gospel. I knew that was serving the Lord.
You never though about singing any music other than gospel?
Fountain: I didn't want to sing nothing but gospel. I never wanted to sing rock 'n' roll. I knew it was a moneymaking thing, but I was satisfied with what I was doing. It wasn't very much, but it was keeping me alive. Thank the Lord that he kept my mind on [him]. 'Cause had it not been, I would've gone rock 'n' roll.
With the group's popularity, it must have been pretty tempting at times.
Fountain: I was in the studio with Sam Cooke, cutting some of his very popular songs. We was cutting for the same record company, and the [record label man] asked me if I wanted to sing rock 'n' roll. I said, "I don't want to sing rock 'n' roll, but I know how it goes." I ran a couple songs and he pulled out his checkbook and said, "You name your price." That was a good opportunity for me to go [rock 'n' roll], but I didn't have the mind to go.
At 79 years of age, did you ever think, "To heck with it," and just consider retiring?
Fountain: I thought about it but I ain't quite ready yet. Almost. But not quite.
What keeps you going on?
Fountain: When you've been doing something for so long, you can't up and say, "Bam, I'm done!" And you remember one thing: Without him, you ain't nothing. With him, you can do all things. Thank you.
Photos by Shirley Mae Owens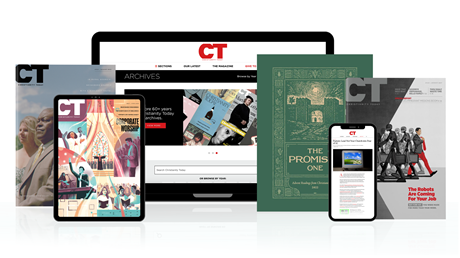 Subscribe to Christianity Today and get access to this article plus 65+ years of archives.
Home delivery of CT magazine
Complete access to articles on ChristianityToday.com
Over 120 years of magazine archives plus full access to all of CT's online archives
Subscribe Now
'Nothin' Else but Gospel'
'Nothin' Else but Gospel'