One million children in the U.S. currently face homelessness, and one of the fastest growing segments among the homeless is families with children. Despite these alarming statistics, it's the fashion industry's fixation with "homeless chic" that has sparked the most public debate as of late.
W. magazine's September issue featured a spread called "Paper Bag Princess." It depicted models on dingy streets wearing high-end shopping bags fashioned as clothes. Italian Vogue's September cover showed two models in tattered layers with dirty faces, hobo sticks in tow. Indeed, Details magazine heralds the arrival of the "poorgeoisie" in "How Looking Poor Is the New Status Symbol." Steve Kandell writes:
Just because the cultural moment is dominated by bloodlust for the heads of AIG executives doesn't mean public sentiment has turned against the accumulation of material possessions—it's just that the material in question is likely to be double-brushed flannel. And that's the advantage guys who look like Devendra Banhart have over guys who look like Patrick Bateman: The poorgeois are in cultural camouflage, blending in perfectly with a landscape full of genuine privation. The fact that their accoutrements may cost more than many suits is their secret pride.
This isn't the first time homeless chic entered the fashion lexicon. In spring 2000, designer John Galliano created a stir when his newspaper-clad models took to the runway carrying empty bottles of liquor, tin cups dangling from their backs.
But some industry insiders have found more sensitive ways to approach the new reality of so many. Alongside shots of socialites, fashion editors, and the affluent in cities around the globe, street style photographer Scott Schuman featured a striking photo of a homeless man on his popular blog, The Sartorialist. While his shots don't usually include commentary, he provided three paragraphs defending what he knew would be a controversial photo. He says:
I don't usually shoot homeless people. I don't find it romantic or appealing like a lot of street photographers, and if you asked homeless people they are probably not too happy about their situation either. That's why I was surprised to be so drawn to taking a picture of this gentleman …. Usually people in this man's position have given up hope. Maybe this gentleman has too, I don't know, but he hasn't given up his sense of self or his sense of expressing something about himself to the world. In my quick shot I had noticed his pale blue boots, what I hadn't noticed at first were the matching blue socks, blue trimmed gloves, and blue framed glasses. This shot isn't about fashion—but about someone who, while down on his luck, hasn't lost his need to communicate and express himself through style.
In August, Elle offered Brianna Karp, who is living out of an RV, an internship with advice columnist E. Jean, promising her that "at the end of the four months, if you don't have a job and an awesome place to live, I will become your intern." And the American Girl company made waves when it announced the arrival of Gwen, a $95 doll whose story depicts her as a homeless girl living in 2009. Gwen seems meant to teach girls about the reality of homelessness—that, as the statistics suggest, "homeless people" may look like the girl sitting next to them in class. But the doll has been criticized for the high cost, none of which goes toward programs tackling homelessness. [UPDATE: American Girl released a statement about its ongoing work with HomeAid America, a "leading national nonprofit provider of housing for today's homeless." The two companies work together on HomeAid's Project Playhouse, "an annual key fundraising event that raises money and awareness for the organization's shelter development program."]
Representations such as these remind us that homelessness has many faces, all worthy of the compassion to which we are called. And they beg a question: Why are we so worked up about these images, yet often so negligent of the actual homeless people among us? As Shannon Moriarty at the End Homelessness blog writes, "The only thing obscene about this American Girl controversy is that it takes a plastic doll and her fictional biography to have everyone up in arms. Yet, the real stories of homeless children crowding shelters and schools are accepted without an ounce of outrage."
I believe the best attempts to represent the many faces of homelessness demonstrate the dignity of all humans, regardless of their wealth or living situation, without romanticizing the difficult reality. Fashion is just one of the many ways we access a cultural conversation. It reinterprets culture and connects it to our core identities as expressed through the way we dress. But the controversy surrounding so many of these images raises interesting questions: Is it insensitive to recognize beauty in the situations of suffering people? Do attempts to depict homelessness visually end up glamorizing or marginalizing a serious issue? How can we best access and respond to stories like these?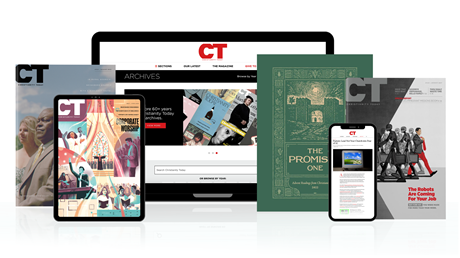 Subscribe to Christianity Today and get access to this article plus 65+ years of archives.
Home delivery of CT magazine
Complete access to articles on ChristianityToday.com
Over 120 years of magazine archives plus full access to all of CT's online archives
Subscribe Now
'Homeless Chic' and the Homeless
'Homeless Chic' and the Homeless