true
"A movement can exist without a god, but never without a devil," says Tony Campolo, paraphrasing writer Eric Hoffer, in the documentary Lord, Save Us From Your Followers. Directed by Dan Merchant, an evangelical Christian, Lord, Save Us looks at how the church in America is perceived by non-Christians. Merchant's assessment: we're more known for our "devils" than we are for our God, and we've got to do something about it.
Lord, Save Us was actually released on DVD last year, when CT Movies ran an interview with Merchant, and it has since been screened at venues from evangelical churches to liberal universities. Now it is making a limited theatrical run. (For a list of theaters, click here.)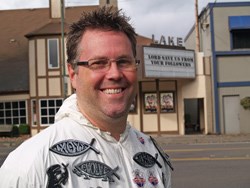 The film is a large-scale critique, but it's wrapped around a personal narrative. Merchant briefly recounts his conservative evangelical upbringing—which included a lot of The 700 Club—and then brings viewers up to the point when he felt compelled to make this film. A trip to Africa showed him a side of the church that looked very different than the church he knew in America. Despite the harsh conditions they lived in, the African believers were full of kindness, joy, and grace—he heard none of the antagonistic rhetoric that often comes out of the American church. If our faith is the same as theirs, Merchant wonders, "Why is the gospel of love dividing America?" He starts by showing how the church is "dividing America"; he ends with some ideas for fixing that.
Merchant's personality is one of the film's strengths. He is goofy, wry, and above all else, humble. "I don't act very much like Jesus," he says early on, including himself in his critique of the church. That humility is important, because it's at the heart of what Merchant demands from believers over the course of his film. And remarkably enough, his humility never feels disingenuous.
Lord, Save Us is a fast-paced, eclectic blend of television clips, interviews, staged scenarios, and (rather cheesy) animated sequences. Many of the clips are used by Merchant to highlight the fever pitch of our society's "culture war." James Dobson, Bill Maher, Ann Coulter—they're all here, on both sides, and their voices are polarizing.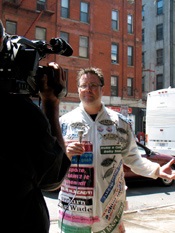 At one point, Merchant takes us to a particularly potent culture clash: a conservative Christian youth rally held in San Francisco. The rally was put on in 2006 by Battle Cry, a Teen Mania Ministries initiative to "reclaim our youth for Christ," and which sees "purveyors of pop culture" as a primary enemy. Some Battle Cry participants gathered on the steps of San Francisco City Hall, where gay marriages had recently been performed, as a form of protest. As you might expect, San Francisco raised up counter-demonstrators, and the scene was charged enough to make headlines. Merchant talks to leaders in both camps after the incident, and each describes the other side as antagonistic and dangerous. So what was accomplished? It's an example, as Merchant says, of turning the gospel of love into the "gospel of being right."
Merchant interviews high-profile figures like Tony Campolo and Al Franken, but he also hits the streets—clad in a jumpsuit plastered with wildly contradicting bumper stickers—to find out what a bunch of ordinary citizens think about Christianity and Jesus. The recurring theme is that Christians are "hypocritical" and "snobby," but Jesus—well, he's cool. So the church, by not being Christ-like, is actually an obstacle for people who may be open to Christ himself.
None of this should surprise Christians. We know the church is far from perfect, a work always in progress. Yet as Campolo says in Lord, Save Us (attributing the words to Augustine), "The church is a whore—and she is my mother." Consequently, Merchant doesn't want to abandon the church, but instead to urge it toward greater Christ-likeness.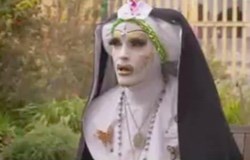 The high points of the film are the two creative scenarios that Merchant stages: a "Culture Wars" version of Family Feud and a confession booth at a gay pride festival. In the first, he pits a Young Conservatives team against the Liberal Media Elite. The liberals dominate. The exercise is repeated with college-aged students, agnostics versus believers, and again, the liberals dominate. The lesson: secular folks know how Christians think better than Christians know them. If this is the case, then how can the church hope to speak to people outside of it? Furthermore, after the game show, the first two teams mingle backstage, and the effect of their time together is remarkable. "I really don't like liberals," says one contestant before the game show starts. But afterward, one of his conservative teammates says, "I actually liked some of those people after we talked to them for a few hours." Sounds like much better grounds for constructive dialogue.
The confession booth idea, Merchant admits, is lifted straight from Donald Miller's Blue Like Jazz. But hey, it's a great one. Merchant sets the booth up at Pride Northwest in Portland and floors one gay visitor after another by, instead of hearing their confessions, confessing the church's sins, and his own, against them. One of the most deeply moving moments is when an older gay man—remembering all the friends he's lost to AIDS—can't control the tears as he thanks Merchant for his apology. Again, this is the start of something constructive.
Lord, Save Us gets a lot right, but it also oversimplifies both the diagnosis and the prescription for the church's image problem. Yes, Christians are often seen as jerks, but part of that perception is unavoidable when we stand by biblical convictions, no matter how humbly. And yes, many non-Christians are cool with Jesus, but fewer would be if they read Revelation 19, or even just took his claim to divinity seriously. The real Jesus is offensive. None of that excuses the arrogance and carelessness indicted by Merchant, but these other deep-seeded obstacles at play deserve a nod.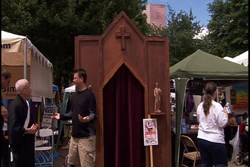 Toward the end of the film, Merchant drops the negative examples and looks for positive ones in the church: Bono's poverty relief campaign, a Katrina relief trip, a homeless shelter. These are excellent, encouraging glimpses, but the film sums up the Christian testimony of these efforts with the words attributed to St. Francis of Assisi: "Preach the gospel at all times; when necessary, use words." The problem with this (besides the fact that St. Francis probably never said this) is letting the pendulum swing too far the other way. "We've used up all the words," one Christian says to Merchant. Really? Certainly we are called to love our neighbors in tangible ways, but we will always also need the words.
Yet these are quibbles over nuance and emphasis. The overarching message of Lord, Save Us—that Christians must learn to talk with unbelievers, not at them—is desperately needed and winsomely voiced. And what is perhaps most impressive is that this film manages to speak to two separate audiences at the same time. The Christian who watches the old man in the confession booth melt under Merchant's apology will see the beauty and power of a humble, loving posture. The non-Christian may be as pleasantly surprised as that old man to see Christians who recognize their own shortcomings. If this Christian and non-Christian were to watch the film side by side, they would have something to talk about when it finished. And that's what Merchant hoped to make all along: a conversation starter.
Talk About It
Discussion starters
What does Scripture have to say about the power and danger of speech? (See Eph. 4:29, 5:4, James 3:1-12.)


Have you seen any "culture war" tensions in your local community? In your church?


When have you been more concerned about winning an argument than loving the other person? What was the result of that?


Who do you see as a model defendant of truth in the public arena today?


The Family Corner
For parents to consider
The film is rated PG-13 for thematic elements and some language.There is a bit of mild language and some scenes of people who engage in alternative sexual lifestyles, most notably in Merchant's extended conversation with a cross-dressing "nun" from the Sisters of Perpetual Indulgence.
Copyright © 2009 Christianity Today. Click for reprint information.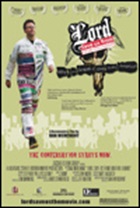 Browse All Movie Reviews By: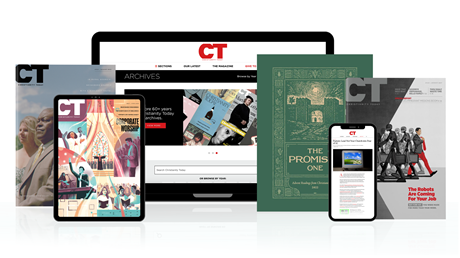 Subscribe to Christianity Today and get access to this article plus 65+ years of archives.
Home delivery of CT magazine
Complete access to articles on ChristianityToday.com
Over 120 years of magazine archives plus full access to all of CT's online archives
Subscribe Now
Lord, Save Us From Your Followers
Lord, Save Us From Your Followers