true
It was a story begging for the big screen. Over the years 50 different filmmakers had tried—and failed—to win the rights to re-tell the true account of how a fledgling baseball team of poor kids from Monterrey, Mexico, turned the 1957 Little League World Series upside-down. When the original team members finally agreed to sell the rights to one W. William Winokur—who had no previous film experience, but would ultimately pen the screenplay—The Perfect Game was conceived. There's no reason to doubt Winokur's affection for their story. However, his re-telling of it shows his lack of film pedigree.
At the start of The Perfect Game we're dropped into 1950s Monterrey. Because of the film's limited budget, all the Monterrey scenes were actually shot in the Los Angeles area and then digitally doctored. For someone who's never been to Monterrey, it feels reasonably convincing. In fact, while the film is very flat in the early going, at least the setting is engaging—bustling open-air markets, grimy men in the factories, a quaint little church.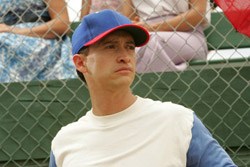 The team first begins to take shape because of a priest (Cheech Marin, in quite the departure from his "Cheech & Chong" days), who decides to bring hope to the local kids by encouraging them in their interest for baseball. When Cesar (Clifton Collins Jr., who earned many accolades playing a convict in Capote) shows up, they've found a potential coach.
Cesar has just come home to Monterrey after being ousted from a position in the St. Louis Cardinals' organization. He's utterly depressed and at first not interested in coaching anybody. But the kids finally convince him when they build a practice field out of an abandoned lot. Soon Cesar is feverishly trying to whip them into game shape in time for the Little League tournament.
The film's director, William Dear, has made two baseball films before: Angels in the Outfield and The Sandlot 3. I never saw its sequel's sequel, but one strength of the original Sandlot was how memorable the kids' characters were—Smalls, Benny "the Jet," "Ham," the Timmons twins.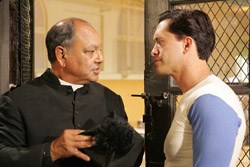 This is much less true of The Perfect Game. Only a couple of the kids are given distinct personalities, and the conflict that confronts the most developed character of the bunch, Angel, is overwrought. Angel's older brother, who was the favorite son, has just died when the film begins, and Angel's father, Umberto, channels his grief into deepened scorn for Angel, forcing extra chores on him and trying to keep him from playing baseball. We've seen a million jerk fathers in movies before, and this is another one of the one-dimensional variety.
Another underwhelming storyline is the romance between Cesar and a woman named Maria. It's written as a guy-who-can't-do-anything-right-but-still-gets-the-beautiful-girl scenario, but it takes it so far that it's hard to believe that Cesar is even interested.
The priest, Padre Esteban, is the inspirational figure for the kids. Now, it seems as if most inspirational sports films out there celebrate the hokey mantra "I can achieve whatever I put my mind to." It's a self-centered mindset, not to mention unrealistic. Well, for the kids Padre Esteban offers a religious variation: "If I trust God, I can achieve whatever I put my mind to." I don't know whether or not this message matches the piety of the historical Padre Esteban. Either way, The Perfect Game is readily sympathetic to it, probably insofar as it is a heartwarming blend of optimism and cultural flavor. I would have preferred the hokeyness without the piety.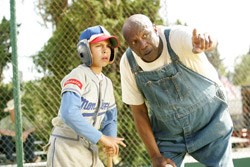 The Perfect Game is at its best when the games get going. The team must first travel to Texas, but since their bus can't cross the U.S.-Mexico border, they have to walk the remaining 10 miles to get to their game. Once they arrive, they astonish their opponents with an impromptu pre-game routine of gleeful somersaults in the outfield grass. As Cesar explains, it's the first real baseball field they've ever been on. And after they secure their first out of the game, the players mob each other like champions. It's funny and charming, though the umpire doesn't think so. All of this sets them up as the underdogs of underdogs.
The baseball action itself is fun too, with scrawny 12-year-old boys snaring fly balls and swinging the bat as if the American League pennant depended on them. And gratefully, the film doesn't try to dial the drama factor up to 11 by making every game a wild ninth-inning rally.
The Perfect Game also shows the racial prejudice faced by these kids. By the film's end they will accomplish something that no non-American team ever had. But on the way there are obstacles, like segregated restrooms and visa troubles. In one scene, which begins melodramatically but ends poignantly, the team reaches out to a black kid who is ostracized by his white teammates. The courage of these players and their perseverance toward their dream is, cheesy piety aside, a great model for kids today. (As a basketball fan, I also have to point out an obscure, fleeting cameo that is symbolically fitting for a film about minority breakthroughs: one of the border guards is played by Eduardo Najera, who was the first Mexican ever drafted into the NBA.)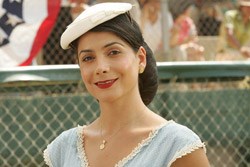 For Cesar, this Little League run is about earning the respect he's been wanting since long before he was cut by the Cardinals. We're supposed to understand, I think, that Cesar's inability to move up in the Cardinals' organization was due to racial discrimination, but the film could have done a better job of showing this. Also, as dramatic as Cesar's turnaround is, it's often hard to see in Cesar that he is actually going through the struggles we're told he is. I already mentioned his half-hearted courtship of Maria. But even his craving for respect in the world of baseball might have been better developed. Perhaps if another adult character—one besides Padre Esteban—had gotten close to Cesar, we could have gotten a better glimpse into Cesar's heart.
This Cinderella story is so legendary in Monterrey that, even more than 50 years later, director William Dear said local residents would come up to the original team members in a restaurant and wait quietly to shake their hand. The Perfect Game is an earnest tribute, and although the story could have been rendered more convincingly, it's great that it will finally reach a wider audience. We'll never know whether one of those 50 other filmmakers could have made the onscreen translation a little closer to perfect.
Talk About It Talk About It
Discussion starters
What are the true things that this film teaches about the nature of perseverance? The false things?
What are some ways in which sports can be a vehicle for redemption? On the other hand, how do sports tend to feed our sinfulness?
Is Cesar's ambition laudable or self-centered?
How far has our country advanced since 1957 in the area of race relations? Do we tend to overestimate or underestimate this?
The Family Corner The Family Corner
The Perfect Game is rated PG for some thematic elements—most likely the depictions of racial prejudice. If I were a parent bringing a kid, my only concern would be to correct the film's depiction of human-centered faith—the misguided notion that we trust God so he will give us whatever we want.
Copyright © 2010 Christianity Today. Click for reprint information.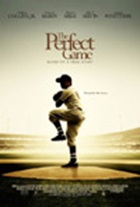 Browse All Movie Reviews By: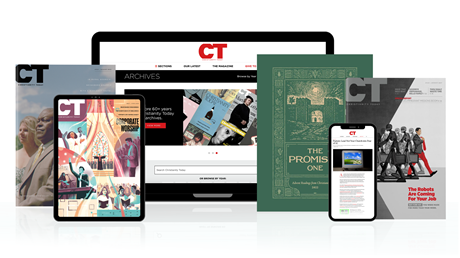 Annual & Monthly subscriptions available.
Print & Digital Issues of CT magazine
Complete access to every article on ChristianityToday.com
Unlimited access to 65+ years of CT's online archives
Member-only special issues
Subscribe
The Perfect Game
The Perfect Game