true
I was both delighted and scared when I learned they were turning Elizabeth Gilbert's bestselling travel memoir Eat Pray Love into a feature-length film. I was one of the gajillion people who read the book—and not because Oprah liked it, but because I love the travel narrative genre. I've happily armchair traveled to many a dreamy locale through the pages of such reads. And while I liked EPL well enough, especially the "eat" section, I didn't find it that much better than other offerings of its kind to warrant all the hoopla.
Still, a chance to vicariously journey to Italy, India, and Indonesia for a feast of rich words, foods, and scenery on the big screen? Bring it.
My fears about turning this into a movie came mostly with the "pray" parts. That section of the book left me a bit cold. As a Christ-follower, I couldn't get into Gilbert's ashram-inspired, mantra-drenched search for the god within. As a rational person I had a hard time getting into her literal tree-hugging moment out in some Indian jungle. But then, one person's spiritual experiences often don't translate well to others. You know when you're having a God-moment, and inviting someone else to glimpse or understand it is difficult if not profane.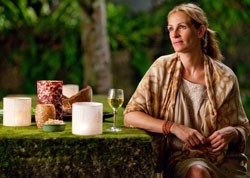 So how much harder is that task without all of Gilbert's thoughtfully crafted prose? With literal images instead of the wonder of each reader's imagination? How do you capture a spiritual pilgrim's faltering steps toward faith? Apparently the answer, at least for the writers/directors of Eat Pray Love, is you don't. We see Julia Roberts cross-legged and om-ing in a dingy ashram and some lovely pastoral locations, but we never really get a sense of her inner journey to peace and faith and joy.
But I'm getting ahead of myself. First, we eat! Well, rather, we watch Elizabeth Gilbert (Roberts) wake up one day and just not "feel it" anymore, dump her directionless husband (Billy Crudup) of eight years, fall headlong into a rebound relationship with a younger man (James Franco), watch that relationship also turn cold, then embark on a journey of looking for her own pulse and passions in the holy trinity of I-countries—beginning with Italy, the land of beautiful men, poetic language, and carb-rich comfort food. She falls in with a band of life-loving locals and fellow travelers, learning the Italian art of "the sweetness of doing nothing" along the way.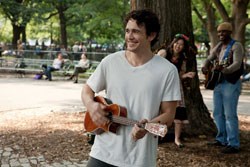 And out of that cocoon of community and comfort, she crashes into the chaos of India. She's there at the ashram of her ex-boyfriend's guru, seeking enlightenment while she chants, mops the floors, and once again settles in with a wise and witty fellow traveler (Richard Jenkins).
Finally, Gilbert journeys to Bali, Indonesia, to revisit an ancient faith healer she met on a writing assignment months before. She's supposedly learning from his spiritual wisdom, but all we really see her do is bump into hunky Felipe (Javier Bardem) and wrestle with the prospect of opening her heart to love again.
Throughout this ambitious trek, Gilbert remembers happier times with her husband, ponders why she always disappears into her romantic relationships, works to forgive herself for breaking her ex-husband's heart, and for not knowing and trusting her own. There are lovely bits of Gilbert's prose voice-overed in many scenes. For example, in Italy, sitting in a centuries-old ruin that's been repurposed time and again, she realizes, "Ruin is a gift. Ruin is the road to transformation."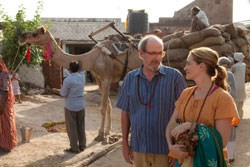 Mostly the movie is a journey through grief at the death of a marriage. And while there's an admirable respect for the institution in the agonizing months of recovery from its demise, it would have been good to see some of that wrestling before Gilbert walked away. As it is, her departure seems abrupt and selfish. We start off not liking her character very much, and she's saved mainly because it's Julia Roberts, America's girl-next-door.
Roberts does an admirable job here. Or, more accurately, she does a good job with what she's given. We know from previous films she's capable of so much more, and it seems there was a missed opportunity here for her, for the film, and for us viewers in the lack of some attempt at spiritual depth. Roberts and the topic of prayer deserve so much more than the slightness they're given here.
The large ensemble of characters around Roberts turns in pleasing performances (though Crudup as Gilbert's husband/ex-husband is awkward and chemistry-less with Roberts, even in flashbacks to better days in their relationship). Jenkins and Viola Davis shine, as they almost always do, in their supporting roles, embodying their characters with authenticity and a compelling gravity. I want these people in my own life journey.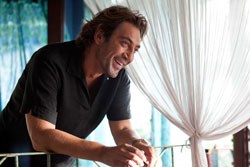 In the end, the film seems as much a testament to the beauty of community as to any of the eating, praying, loving, balancing, peace-seeking, or forgiving Gilbert travels so far and works so hard to find. And while there's a lot to like here, and it's admirable (if not idiotic) what they're trying to accomplish in two hours, the moments of greatness make the lack all the more apparent.
If you're going to name a film Eat Pray Love, you need to at least attempt to capture a spiritual experience—and offer romance with some chemistry and sizzle. This felt more like Eat Grieve Befriend, which doesn't sound half-bad actually. At the end of this journey, I felt more like I'd seen a bunch of pretty postcards instead of going on a trip myself—somewhat inspiring, but so not the same.
Talk About It
Discussion starters
Which of the three countries/sections appealed to you most? Why? What do you think is the main lesson Gilbert learns in each location?
Why do you think Gilbert leaves her marriage?
Before she embarks on her journey, Gilbert complains of having no pulse, no appetite for life. Have you ever felt that way? If so, how did you get past that feeling and rediscover joy?
What lessons does Gilbert learn about grief and forgiveness? Do any of these especially speak to you and/or your life experiences?
In the film, someone says that everyone that we meet in our lives is a teacher, if we're open to the lessons they're there to teach. Who have been some of the main teachers in your life?
The Family Corner
Eat Pray Love is rated PG-13 for brief strong language, some sexual references, and male rear nudity. The latter takes place on a beach in Bali, though Gilbert turns down the character's offer of skinny-dipping - and whatever might come next. We see Gilbert sleep with a couple different men she's not married to, though none of those scenes are anywhere near explicit. She gets really drunk one night. And her spiritual wanderings might be a bit confusing for younger viewers.
Copyright © 2010 Christianity Today. Click for reprint information.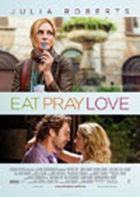 Browse All Movie Reviews By: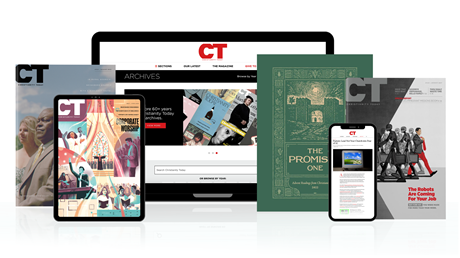 Subscribe to Christianity Today and get access to this article plus 65+ years of archives.
Home delivery of CT magazine
Complete access to articles on ChristianityToday.com
Over 120 years of magazine archives plus full access to all of CT's online archives
Subscribe Now
Eat Pray Love
Eat Pray Love