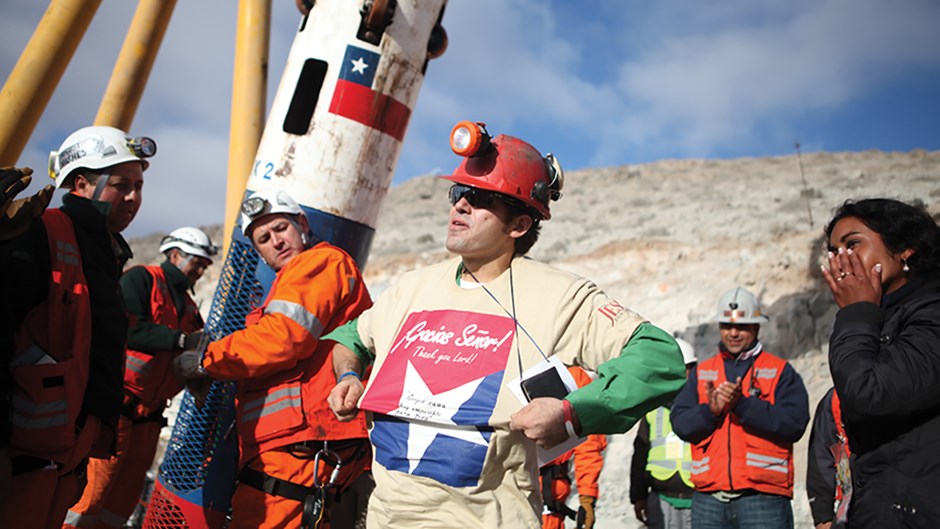 Image: Hugo Infante / Government of Chile / AFP / Getty Images
First, the merriest of Christmases to the 33 men who spent two months trapped in a Chilean mine earlier this year. Your faith and prayers throughout everything inspired nations.
When you came up in October—two months before many observers expected you to see sunlight—we joined countless others, including your families, in saying, "Gracias, Señor. It is a miracle from God."
Was it, though? The families of the 37 miners killed a few days later in a Chinese coal mine might ask that question fairly. There was nothing baldly supernatural about the rescue in Chile. Improbable, maybe. But shouldn't we pay tribute instead to the courage and perseverance of the miners themselves, the skill and ingenuity of the rescue operation—and the sheer dumb luck that they didn't die on day one?
This brings to mind a story that people tell around this time of year, of a miracle God brought about in Israel long ago. No, not that one. The other one.
One holiday season, Jesus went to the temple in Jerusalem to celebrate Hanukkah (John 10:22). For well over a century, Jews had commemorated the rededication of the temple after Judas Maccabeus led a revolt that took Jerusalem back from the pagan Greek ruler Antiochus Epiphanes. In Jesus' time, of course, the pagan Roman ruler Tiberius Caesar was the more immediate concern. Many wanted Jesus to tell them plainly if he was the one who would restore Israel's kingdom.
A fair request, perhaps. But Jesus wouldn't do it. His words and works, he insisted, speak for themselves for those who have ears to hear. In this, he wasn't too different from the God of Hanukkah.
A common Hebrew Hanukkah saying is nes gadol haya sham ("a great miracle happened there"). But nothing in the Maccabean revolt clearly required divine intervention. Fire did not descend from heaven to consume the Greek armies. The revolt was a military and political triumph. Yet Jesus and his fellow Jews found something in the events worth remembering yearly at the temple. Rabbis tell the story of a temple lamp that burned for eight days on one day's worth of oil—an anecdote among the epic tales of those times—as God's quiet signature on his work. "So that it would not seem that the victory was due only to might and heroism," wrote 16th-century Rabbi Judah Löw, "the miracle was denoted by the lighting of the menorah, to show that it was all by a miracle, the war as well."
Purim, another Jewish festival, doesn't have any supernatural story attached. God is not named once in the Book of Esther, but Jews and Christians worldwide celebrate its events to this day.
God does not always trumpet his involvement in our world. But as Christ taught during Hanukkah, those who attune their ears to the Good Shepherd hear his voice (John 10:27). The Chilean miners testified to this. "There are actually 34 of us," wrote Jimmy Sanchez a few days before his release, "because God has never left us down here." Said topographer Macarena Valdes, who helped guide the rescue effort: "It was 75 percent engineering and 25 percent a miracle."
It shouldn't take clear evidence of the supernatural for us to thank God for what goes right.
Ultimately everything in creation is a "God thing" (James 1:17). It shouldn't take clear evidence of the supernatural, or even the improbable, for us to thank him for what goes right. Yes, we praise him for the miners' rescue. Shouldn't we also thank him for absurdly small things that the Lord of creation shouldn't have much interest in—a comfortable chair, scoring a touchdown, forging a friendship? Even eating and drinking are conduits of glory (1 Cor. 10:31). Did you just notice yourself breathing? Gracias, Señor. Nes gadol haya sham.
J. R. R. Tolkien described history as one "long defeat" with "some samples or glimpses of final victory." That these samples and glimpses—especially the resurrection of Jesus—point to God's final victory doesn't always make believing easy, however. Some scholars suggest that the Book of Job was the first to be written down. If so, there would be something perversely attractive about a God who began his scriptural dialogue with us at the same place that, for many people, it stands today. Are you out there? Do you even care?
The answer remains. God is. He's there. And he is for us. And his sheep hear his voice calling them to step into light and life—sometimes through a 31-ton drilling rig and always through the one who made himself known as a Galilean country rabbi. No one can snatch us out of his hand (John 10:28). Maybe that's what Hanukkah—and more so Christmas—is all about.
Related Elsewhere:
Check out Ted Olsen's commentary, "Do They Know it's Hannukah?"
Other CT articles on the Chilean mining miracle include:
Chilean Miner: 'God Has Never Left Us' | Trapped miners owe a lot of their sanity to the 34th person in the tiny underground community. (October 12, 2010)
Hopeless Prayer | What the rescue of the Chilean miners didn't teach me. (October 13, 2010)
Have something to add about this? See something we missed? Share your feedback here.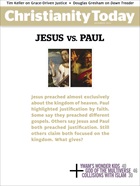 This article is from the December 2010 issue.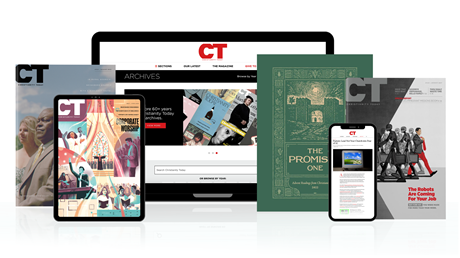 Annual & Monthly subscriptions available.
Print & Digital Issues of CT magazine
Complete access to every article on ChristianityToday.com
Unlimited access to 65+ years of CT's online archives
Member-only special issues
Subscribe
God's Quiet Signature
God's Quiet Signature