true
Christianity Today has traditionally made a list of the year's top music, but those lists generally represent only the best in popular music. Now, for the first time, we've assembled a list of some of the year's best sacred music, primarily in the choral and classical genres. (Our list of the year's best popular music will post in January.)
We asked Jane Holstein, an editor with Hope Publishing Company and an arranger, choral clinician, organist, worship planner, and concert artist, to compile this list.
| | |
| --- | --- |
| | Mormon Tabernacle Choir |
On the heels of last January's Heavensong, the eminent Mormon Tabernacle Choir released this collection of their most-requested songs on two CDs—plus a bonus CD/DVD with rarely seen or heard performances. This beautifully crafted compilation explodes with energy from the first track through the 32nd, with full orchestral accompaniments and the brilliance for which this chorus is known. Highlights include "How Great Thou Art," "Come, Thou Fount of Every Blessing," "Battle Hymn of the Republic," "Climb Ev'ry Mountain" and Handel's "Hallelujah" from Messiah. New tracks include "Danny Boy," "Glorious Everlasting," and the crowd-pleasing Nigerian song "Betelehemu," complete with African drums, tambourines and shouts of joy. It's great listening, and for those seeking to trace the rich heritage of American sacred music, an essential resource. This 360-voice choir has performed for ten U.S. presidents, five presidential inaugurations, two presidential funerals, the American Bicentennial, and the 2002 Olympic Winter Games, where they sang Call of the Champions under the direction of composer John Williams (included here).
Eric Whitacre

Light & Gold (Decca)

This young American composer (he's 41) has ignited choral singing in high schools and universities in a far-reaching way. Whitacre's music is a journey often derived from a single tone that expands into a full tapestry of sound—as in the track titled "hope, faith, life, love" (words by e.e. cummings). He's taken his music to the next step by bridging the gap between concert halls and virtual networking with his first Virtual Choir 2010 (a YouTube hit), and plans are underway to create the world's largest online Virtual Choir 2011. This debut album with Decca is his first to conduct and record featuring an elite ensemble comprised of the Eric Whitacre Singers and the British group Laudibus. The Latin poem "Lux Aurumque," the song conceived for Virtual Choir 2010 and which kicks off this album, is translated as: Light, warm and heavy as pure gold and angels sing softly to the new-born babe. "Five Hebrew Love Songs" features warm of strings, while the unparalleled King's Singers are spotlighted in a dramatic portrayal of a William Butler Yeats poem "The Stolen Child." Whitacre's enjoyable liner notes tell the stories behind the music, as in "The Seal Lullaby," which transcends far beyond anything ordinary.
John Elliot Gardiner

Bach Cantatas, Vol. 18 (Solo Deo Gloria)

This is the final release from the remarkable Bach Cantatas Pilgrimage that began Christmas Day 1999. The album includes recordings of all of Bach's church cantatas performed live over the course of a year by the exceptional Monteverdi Choir and English Baroque Soloists, directed by John Eliot Gardiner. This release, in celebration of the 250th anniversary of Bach's death, opens with one of his best known cantatas "Christen, atzet diesen Tag" (Christians, engrave this day) in an extraordinary performance that nails the balance between full ensemble and solo movements. Then it's "Gloria in Excelsis Deo" (a.k.a. Gloria from the B Minor Mass), plus four cantatas for the Epiphany (including "Liebster Jesu, mein Verlangen"). It's packaged in a stylish 2-CD set with a useful index of the entire series of volume numbers, liturgical weeks, BWV numbers and cover art. This independent label has accomplished something unique with these first-rate recordings made in beautiful churches throughout Europe—including Weimar, Leipzig, and Hamburg (as heard in this volume). A superb presentation of sacred music from the Baroque era.
Jubilant Sykes

Jubilant Sykes Sings Copland and Spirituals (Arioso Classics)

Traditional spirituals and early American songs form the premise of this sensational new compilation by baritone Jubilant Sykes, accompanied by the London Symphony Orchestra. The unforgettable music of the slaves expresses faith and hope amidst great oppression, and Sykes gives a flawless performance in each of the eight spirituals. The achingly intense dynamics of "Were You There?" and "Weepin' Mary" transport the listener to the cross and to Mary's sorrow, respectively. Sykes also has the ability to render sheer joy as in "My God Is So High" and "Leanin' on That Lamb." And his setting of "Witness," accompanied by only a few finger snaps, is powerful and convincing. The second half of the CD moves to Copland's "Americana" period with 10 entertaining classics that are intended to be performed with both a playful spirit and a bit of humor in the mix as in, "I Bought Me a Cat." This is contrasted with Copland's commanding setting of "At the River(Shall we gather by the River)," and when combined with lush orchestra is both stirring and warm in spirit. The quality of the recording is excellent and we give it our highest recommendation.
John Rutter

A Song in Season (Collegium Records)

These 12 uplifting choral anthems, spanning the seasons of the church year, were recorded in spacious cathedral settings with Rutter's perfectly blended Cambridge Singers and the Royal Philharmonic Orchestra. The compilation's theme is crystallized in "To Every Thing There Is a Season," from the book of Ecclesiastes. More traditional church music—organ, brass, and percussion—is used in the festive settings "Wells Jubilate," a stunning hymn using the familiar words of Psalm 100 along with the Gloria Patri, and in "Winchester Te Deum" (We praise thee, O God), a dynamic 10.5-minute work sung in English, each written for the respective cathedrals. Three inspirational ballad anthems include "Look to the Hills," "Look at the World," and "I Am with You Always," memorable tunes with uplifting modulations. Rutter's versatility is reflected in a setting of the ancient Latin text "Veni Sancte Spiritus" (Come, Holy Spirit), while a medieval Christmas text portrays Christ's birth in "The King of Blis," showcasing a more vibrant, unaccompanied rhythmic setting.
Chicago Symphony Orchestra

Verdi Messa da Requiem (CSO Resound)

Giuseppe Verdi composed some of history's most dramatic and robust melodies in his monumental Requiem Mass, here a 2-disc live performance by Chicago Symphony Orchestra and Chorus Italian maestro conducted by Riccardo Muti, along with a quartet of soloists. The Dies Irae (Day of Wrath) is the most powerful, singular theme on this 90-minute masterpiece, reappearing throughout with its bone-chilling cry of the last trumpet call hastening the Day of Judgment. One of the more solemn moments is the beautiful "Lacrimosa/Pie Jesu," a prayer for mercy and rest. This recording marks the beginning of Muti's tenure as the CSO's tenth music director, and distinguishes itself as a benchmark for future performances because of his command of Verdi literature.
Libera

Peace (EMI Classics)

Not your typical boys choir, this British group's popular music has been heard round the world through TV and concert tours. Peace begins with an almost-inaudible overtone heard on a single violin string, setting the stage from which a unison melody blossoms forth in the serene Latin prayer "Sanctissima," written by director Robert Prizeman. The distinctive choral sound, more pop than traditional, creates a feeling of relaxation in Mozart's evocative melody from his legendary clarinet concerto, "Ave Virgo." From the sacred repertoire, the ancient chant "Adoro Te" is transformed into a fresh composition with a newly added refrain. Prizeman's joyful "Exsultate" brings rhythmic energy and pulsating Celtic underpinnings, giving the singers a fuller dynamic. The recording tapers off with the soothing original "Touch the Sky," and closes with Chopin's piano prelude in C Minor, entitled "The Fountain," yet another stroke of genius as the words portray a stream of water to "wash all sorrow in waves of peace and love." (A deluxe edition released recently includes a bonus DVD with bonus tracks, videos, behind the scenes clips, and more.)
| | |
| --- | --- |
| | National Lutheran Choir |
In a style owned by the Lutheran heritage, this CD is peppered with impeccable organ improvisations that serve as fitting introductions to several of the hymn settings. This live recording features both choir and congregation in song. Arranger and artistic director David Cherwien, an acclaimed organist and improviser, sets a magnificent tone at the organ console with Beethoven's "Hymn to Joy." The superb balance and even tone is only made better by the choir's consummate diction. The southern gospel "Down to the River to Pray" features their unaccompanied singing style with a bigger, open tone reminiscent of an early American style, while Cherwien's 10-minute Holy Week setting of "O Sacred Head Now Wounded" artfully depicts the passion story with dissonance, colorful organ registrations, and impressive dynamics. The 13 selections move from classic hymns to spirituals to gospel songs, including their rousing hand-clapping rendition of the traditional spiritual, "Standin' in the Need of Prayer."
John Rutter and the Cambridge Singers

Faure Requiem and Other Sacred Music (Collegium Records)

Here's a chance to experience one of the great masterworks by the French Romantic composer, Gabriel Fauré, in this digitally remastered release. Rutter was instrumental in editing and recording the 1984 edition of the Faure "Requiem," based on the 1893 expanded version (two additional movements), featuring a modest chamber ensemble and smaller chorus. As in Rutter's own, highly successful Requiem, the clarity of the Cambridge Singers is precisely what you would expect, demonstrating well-defined balance between instrument and voice as in "Libera Me," a prayer for deliverance. Here, the baritone solo, effortlessly sung by Stephen Varcoe, is crowned with the infamous horn calls that leads to the chorus's powerful statement dies irae ("day of judgment"). Fauré was a master at crafting melodic lines, as in the final movement "where choirs of angels sing you to your rest," with an ahh moment at the conclusion. Six additional works complete the CD, including one of Fauré's earliest, "Cantique de Jean Racine," and a charming, shorter four-movement Mass written for treble voices and organ.
Juan Diego Florez

Santo: Sacred Songs (Decca)

Peruvian opera singer Juan Diego Florez demonstrates his flawless bel canto singing style on this collection of popular sacred art songs, including "Panis Angelicus," "Ave Maria," and "O Holy Night." From Handel's Messiah, Florez demonstrates his ability to execute rapid, seamless lines in "Comfort Ye/Every Valley" at a spritely tempo. The florid, Italian style is evident in the music by the great Italian composer, Rossini, in "Qui tollis" from Messa di Gloria, and "Gratias agimus tibi"—both interpretations resemble Florez's predecessor, Pavarotti. Classical singing at its best.
Hilary Hahn

Bach: Violin and Voice (Deutsche Grammophon)

The timeless appeal of J.S. Bach's counterpoint continues to captivate, and perhaps that's what acclaimed American violinist Hilary Hahn had in mind when she began her collaboration with the seasoned voices of Matthias Goerne (baritone) and Christine Schäfer (soprano). These artists succeed with the intricate demands required in the contrapuntal repertoire, performing 12 chestnuts from the cantatas, the B Minor Mass and the St. Matthew Passion, all delightfully rendered. The interplay between violin and voice is exquisite. From the buoyant "Laudamus Te" with its harmonious exaltation of praise to the contrasting anguish and sorrow heard in "Erbarme Dich" from the Passion, the two women work compatibly in tandem. Adding to the coloratura is Goerne's light and effortless singing in the bass solo "Der Friede sei mit dir," BWV 158. Throughout, the dialog between voice and violin is marked with a steady yet fluid approach to these inspirational texts, demonstrating her keen sense of self and perfection in her art.
| | |
| --- | --- |
| | Mormon Tabernacle Choir |
Mack Wilberg, MTC's music director and arranger since 2008, has taken this choir in an impressive new direction. The CD opens with a bell peal that sets the pastoral tone for Wilberg's new folk-like anthem, "The Shepherd." The remaining 14 tracks travel through an array of serenity via choral greats like J. S. Bach's "Sheep May Safely Graze," Gabriel Faure's orchestral "Pavane" (effortlessly sung as a vocalise—free of words), and John Rutter's psalm setting "I Will Lift Up Mine Eyes." Wilberg's choral treatment of "The Prayer" stays true to the original ballad written by Grammy winner David Foster, who joined them at the piano for this project. Also noteworthy is Wilberg's cantabile style heard in his masterpiece "O Light of Life," sure to find its way into many choral libraries. This pristine chorus directs the spirit heavenward, and though the lyrics are occasionally swept up in orchestral colors and textures, the music resonates with hope and assurance.
Jane Holstein, an editor with Hope Publishing Company, is an arranger, choral clinician, organist, worship planner, and concert artist, residing in Wheaton, Illinois, with her husband, David L. Weck. She is also Director of Music Ministries at First Presbyterian Church in River Forest, Illinois.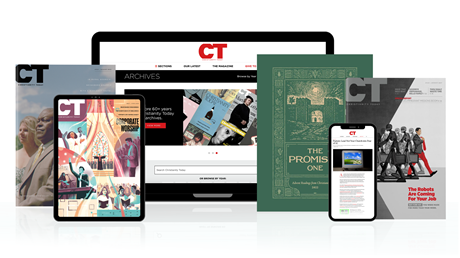 Annual & Monthly subscriptions available.
Print & Digital Issues of CT magazine
Complete access to every article on ChristianityToday.com
Unlimited access to 65+ years of CT's online archives
Member-only special issues
Subscribe
Notable Sacred Music of 2010
Notable Sacred Music of 2010