Christian retailers, long besieged by the lower prices available through big-box stores and online retailers, have asked the Department of Justice to investigate what they call "illegal, predatory pricing" by Amazon.com, Target and Wal-Mart.
The CBA, the umbrella group for the Christian retail industry, is especially worried about pre-sales of new books by popular authors. In a Dec. 1 letter to federal officials, the group cited Stephen King's new "Under the Dome," which typically retails for as much as $35, costs store owners $17.50 but was sold for between $8.98 and $9 by the three retailers.
"Amazon.com, Wal-Mart, and Target are using predatory pricing practices in what appears to be an attempt to control the market for hardcover best-sellers," the CBA board of directors wrote in the letter to the Justice Department's Antitrust Division.
Eric Grimm, business development manager at CBA (formerly known as the Christian Booksellers Association), said Christian retailers have long been concerned about competitors' pricing strategies, and called the letter a "pre-emptive" action before the competition for Christian books grows even more challenging.
"What we want to do is establish that this is an unfair practice so that when the next big blockbuster comes out of a Christian book that they won't do the same thing," he said.
The larger retailers, for their part, say they're just trying to give the customers the best deal they can.
"I think it's worth noting that there is no investigation," said Greg Rossiter, a spokesman for Wal-Mart. "We're serving our customers and, in terms of any legal concerns, we also work to follow applicable laws."
Added Target spokeswoman Leah Guimond: "Target is firmly committed to respecting all laws and operating in compliance with all legal and regulatory standards. Within this context, we seek to be competitive in the marketplace."
Amazon.com did not immediately respond to requests for comment.
The CBA letter follows a similar request for a Justice Department investigation by the American Booksellers Association, which cited deeply discounted pre-sales of new books by King, former vice presidential nominee Sarah Palin and novelist John Grisham by the same three retailers.
"The entire book industry is in danger of becoming collateral damage in this war," the ABA's board of directors wrote in an Oct. 22 letter.
The Justice Department declined comment on both letters.
Grimm said customers at Christian stores mistakenly think they are being charged too much for some books, not realizing store owners would have to shut their doors if they sold them at the same prices as big-box stores.
"The case is they can't buy at the same level or process that everybody else can buy, so that puts them at a disadvantage," he said. "People are using pricing as a strategy to control the market or put other people out of business."
Grimm and CBA supporters like Rick Christian, president of the literary agency Alive Communications, also worry that the pricing by competitors is leading to fewer new voices entering the marketplace as publishers rely on popular authors who are more likely to generate big sales.
"In the short term, consumers will get too-good-to-be-true deals," said Christian, who has represented titles like the "Left Behind" series and "The Message" Bible, in the letter to the Justice Department.
"However, the broad river of titles now available to readers will ultimately be reduced to a trickle, and the vast publishing industry we know will become a relative wasteland."
Steve Kluting, a partner in a Grand Rapids, Mich.-based law firm that has worked with evangelical Christian publishers on antitrust issues, said the Christian retailers may be at a new juncture in their efforts to face their competition.
"It may be an indication that associations like CBA and the businesses that they represent have been backed into a corner and now need to engage in bet-the-industry type litigation/strategy," he said.
Whether the Justice Department will act is yet to be known, he said.
"I certainly believe that they will closely scrutinize the allegations being made and will undertake a real review of the pricing practices engaged in by these big-box retailers and online discounters," Kluting said.
In the meantime, Christian retailers, like their secular counterparts, are continuing to cope with a tough economy, with some suffering significant losses that are unrelated to the deep discounts that worry the CBA and ABA.
Jude 3, a Christian bookstore in Holland, Mich., recently announced it will close its doors before the end of February despite its owners' marketing efforts to attract customers.
"We tried to encourage people to buy local," said co-owner Steve Gilbert. "That only goes so far. We can't sell something as cheap as Amazon does, and in this economy, that's hard. People really do want the best deal they can get. You can only go so cheap."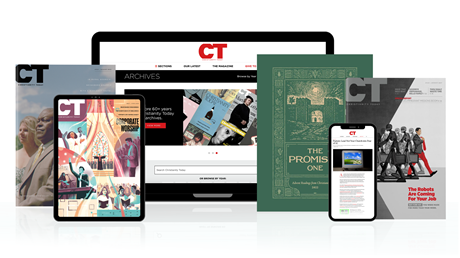 Subscribe to Christianity Today and get access to this article plus 65+ years of archives.
Home delivery of CT magazine
Complete access to articles on ChristianityToday.com
Over 120 years of magazine archives plus full access to all of CT's online archives
Subscribe Now
Christian Retailers Seek Federal Probe of Competitors
Christian Retailers Seek Federal Probe of Competitors