We don't think of the Eucharist as a vehicle for conversion. We have forgotten the history of our own founding. Among the first Christians, the Eucharistic meal was an act of fellowship that often attracted newcomers—so many, in fact, as to pose a problem for fledgling churches. Not all participants in the sacred meal understood what it meant (insofar as we are ever capable of that) or honored its meaning. Gradually the Eucharist was limited to believers who had undergone a lengthy catechesis. A necessary corrective? Perhaps, but one loaded with the irony of unintended consequences. A millennium later, on a typical Sunday, the priest celebrated the Eucharist while the congregation looked on.
"One early, cloudy morning when I was forty-six," Sara Miles writes in Take This Bread,
I walked into a church, ate a piece of bread, took a sip of wine. A routine Sunday activity for tens of millions of Americans—except that up until that moment I'd led a thoroughly secular life, at best indifferent to religion, more often appalled by its fundamentalist crusades. This was my first communion. It changed everything.
Eating Jesus, as I did that day to my great astonishment, led me against all my expectations to a faith I'd scorned and work I'd never imagined. The mysterious sacrament turned out to be not a symbolic wafer but actual food—indeed, the bread of life. In that shocking moment of communion, filled with a deep desire to reach for and become part of a body, I realized that what I'd been doing with my life all along was what I was meant to do: feed people.
Everything in Miles's two memoirs, Take This Bread: A Radical Conversion (Ballantine, 2008) and Jesus Freak: Feeding, Healing, Raising the Dead (Jossey-Bass, 2010), flows from this moment, and after a cumulative 454 pages, its meaning is far from being exhausted.
From Rejection and Back
All conversions are instances of the same irreducible mystery, and each conversion is unique. Miles's grandparents on both sides of the family were missionaries. While my own mother was a little girl living in Shanghai with her missionary parents, Miles's father was born in Burma, where his parents were serving under the American Baptist Foreign Mission Society; Miles's mother was "carried in a laundry hamper across the ocean to Baghdad" by parents serving with the United Mission in Mesopotamia.
By the time Miles was born, her mother and father had decisively rejected the Christian faith. When Miles herself was grown, she was drawn abroad by the needs of others, as her grandparents had been. But during her sojourn as a journalist in Nicaragua and El Salvador she wasn't thinking about Jesus:
The power of the cross—the idea that suffering for others can lead to new life—was for me then, as it was for the unbelievers Saint Paul wrote about, and remains for rationalists today, "folly."
While she was in El Salvador, Miles became pregnant. She and the father, Bob, another journalist, settled in San Francisco, where their daughter Katie was born. Here Miles's life took on a new domesticity, rooted in one place. Bob, "who had come out as a gay man," lived nearby. And Miles and Katie—"a luminously happy, talkative child"—began to share their home with Martha, an editor with whom Miles had fallen in love. As she recounts in Take This Bread:
Over the next five years, I cooked dinner every night for Martha and Katie at home. And every day, Katie kept talking and laughing and reaching for more. As my life got happier, ease and love began to enter me, side by side with the memories I carried. While the classic conversion story involves desperation, hitting bottom, and a plea for help, I think now it was gratitude, as well as the suffering I'd seen, that made room for me to open my heart to something new.
Each conversion is unique, but something is missing here, something essential to the very notion of conversion: a deep acknowledgment of personal brokenness, sinfulness, and the need for healing. That missing element is restored in part elsewhere in Miles's memoirs, not so much contradicting as complicating and deepening this picture of a soul awakened by gratitude.
Indeed, part of what makes these books compelling is Miles's gift for holding in tension the surpassing joy we share in "the great feast prepared before the foundation of the world," and the weariness, the sadness, the irritation, the sheer messiness we must nevertheless contend with day by day as we seek to follow Jesus. This comes through with splendid clarity in her account of the work that her conversion most immediately called her to: establishing a food pantry at the church where she first took Communion, St. Gregory of Nyssa Episcopal Church in San Francisco, enlarging the reach of that ministry, and then organizing food pantries throughout the city.
But it is not enough, Miles insists, to serve food to hungry people—though that is no negligible thing—and then return to business as usual. We must be willing to have our lives entangled with the lives of others—people we wouldn't hang out with of our own volition.
Ignoring Jesus
Miles writes passionately and persuasively on these themes. Alas, running through both of her memoirs are caricatures of the church in general and evangelical Christianity in particular, straw men and women primly sitting in pews or broadcasting smug hate speech. These figures are trundled onstage repeatedly, to be contrasted with Christianity as Miles practices it. At such moments, the generosity of spirit and rueful self-knowledge that otherwise characterize her writing seem to disappear.
But it would be a shame if such lapses kept evangelicals from reading Miles, who has no doubt been at the receiving end of plenty of caricatures (not least, the preposterous claim that living arrangements such as hers constitute a great threat to "the family"). Her books, among their many virtues, have the merit of forcing us to think about the selective way we tend to invoke Scripture (which, of course, applies to Miles as well), including the very words of Jesus. Why do we all cite certain passages over and over while finding excuses to slide past others or explain away what seems to be their clear import? (What was it that Jesus said about the Eucharist in the Gospel of John?)
In the last chapter of Jesus Freak, Miles describes
… the point I used to reach with my secular friends and family, who were fine, intellectually, with the idea of religion. They were broad-minded and reasonable, and agreed there were lots of beautiful stories in the Bible. "But damn, Sara," said one, finally. "You mean this?"
She does. And she reminds us again and again of a potent truth that we're in danger of ignoring even as we routinely affirm it: "All it takes to be a Jesus freak is to follow him."
John Wilson is editor of Books & Culture.
Related Elsewhere:
Take This Bread and Jesus Freak are available from Amazon.com and other retailers.
Previous articles on Communion from Christianity Today and its sister publications include:
Take, Eat—But How Often? | Many churches observe the Eucharist a few times a year, but the early churches seemed to observe it weekly—possibly daily. What is most appropriate?  (July 22, 2009)
An Early Christian Eucharist | Selections from early Christian writings that shed light on how Christians in the first two centuries celebrated Communion. (Christian History, August 8, 2008)
His Body, His Blood | Quotations to stir the heart and mind. (June 8, 2005)
Have something to add about this? See something we missed? Share your feedback here.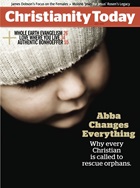 This article is from the July 2010 issue.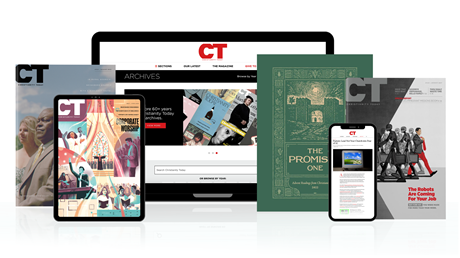 Annual & Monthly subscriptions available.
Print & Digital Issues of CT magazine
Complete access to every article on ChristianityToday.com
Unlimited access to 65+ years of CT's online archives
Member-only special issues
Subscribe
Real Presence
Real Presence