Blasphemy laws in Pakistan legislate against "wounding the religious feelings of any person," specifically regarding Islam. In 1992, the death penalty became mandatory upon conviction on blasphemy charges. So far no one has been executed under the blasphemy law, but others have languished in prison for up to 14 years without a trial. Up to 10 others have been murdered while under investigation.
This week, Asia Bibi, a 45-year-old mother of five from the Punjab Province, became the first woman ever sentenced to death under Pakistan's blasphemy law. Bibi has already been imprisoned for over a year. Pakistani officials make arrests based on a blasphemy complaint, and suspects are held during the investigation.
The police complaint against her said she called the Qur'an "fake" and made comments about one of Muhammad's wives and his declining health late in life. The incident under investigation happened when Bibi, a farm worker, brought water to her fellow female workers. Apparently, the Muslim women refused to share water with a Christian, calling it "unclean." The Punjab is home to Pakistan's small Christian minority and has seen over 30 group incidents against Christians since September 11.
It's hard to wrap my mind around a culture like that. Yet it sounds familiar because it's much like the relationship between Jews and Samaritans in the Bible. Jesus addressed the Jews' animosity toward the Samaritans many times, not only with the Parable of the Good Samaritan, but when he asked—and received—a drink from the Samaritan woman (John 4:7-42). That was considered "unclean" contact, as well, but Jesus—who was in the majority group at the time—set an example by interacting with her. Of course, in the Bible, religious persecution stops short with Jesus, which speaks of blasphemy but also tells us that judgment is in the hands of God, not his people. Jesus became the persecuted while freeing others from it.
Pakistan's population is 95 percent Muslim, and minority groups, including Christians, have often complained of discrimination by government and society. Christian women are particularly vulnerable, due to the country's history of rape violence. (Pakistan passed the Women's Protection bill in 2006, intended to make charges of adultery following rape less common.)
"The [blasphemy] laws are discriminatory and intended as such and are used for precisely that purpose," according to Ali Dayan Hasan, senior South Asia analyst for Human Rights Watch. "So, the issue is not of their misuse but of the laws being on the statute books at all. Vague all-encompassing wording allows the laws to be used as an instrument of political and social coercion, legal discrimination and persecution."
The pope, Pakistani women, one cabinet official, and Bibi's husband have all spoken out regarding Bibi's case. Her family appealed the sentence, and Bibi's husband, Ashiq Masih, denies that she ever insulted Muhammad or Islamic scripture. Most alleged blasphemers have been released on appeal in the past. The question now is how long it will be before Bibi is returned to her family. During the wait, Bibi will need her faith to stay safe.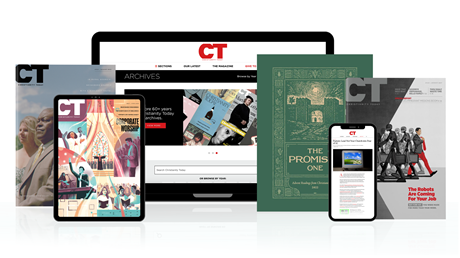 Annual & Monthly subscriptions available.
Print & Digital Issues of CT magazine
Complete access to every article on ChristianityToday.com
Unlimited access to 65+ years of CT's online archives
Member-only special issues
Subscribe
Christian Woman Sentenced to Hanging for Blasphemy
Christian Woman Sentenced to Hanging for Blasphemy