Reviews

|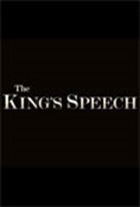 As a member of the royal family, George VI was not born great. As a prince who desperately shunned the limelight and inherited the throne when his brother abdicated to marry a divorced woman, he most certainly had greatness thrust upon him. It was in accepting the position he dreaded and, particularly, in preparing for the possibility that became an eventuality, that he achieved greatness.
The King's Speech won the Cadillac People's Choice Award at this year's Toronto International Film Festival (previous winners include Bella and Slumdog Millionaire), and like similar films with populist appeal, it both embraces its feel-good intentions and wears them on its sleeve. If it avoids the critical backlash that plagues some films that actively try to be inspirational, that may be because it doesn't overreach and because it executes its model to near perfection.
The basic structure of this sort of inspirational drama should be familiar to most viewers. Early scenes introduce a seemingly insurmountable obstacle. In this case the film opens with a humiliating failure in George's attempt to give a speech at a soccer match. In the first half of a film, those obstacles will be compounded. We see how misguided professional treatments render the problem worse rather than better and how the domestic conditions—that speech therapist Lionel Logue will suggest are connected to George's stammer—render it nearly impossible to ask for help. Such a film may then show—as this one does—early, failed attempts to address the obstacles to reinforce the bravery and persistence of the protagonist. Finally, there is a climactic test of resolve: a big game, a key confrontation, a second chance at a failed accomplishment.
Where The ...
1