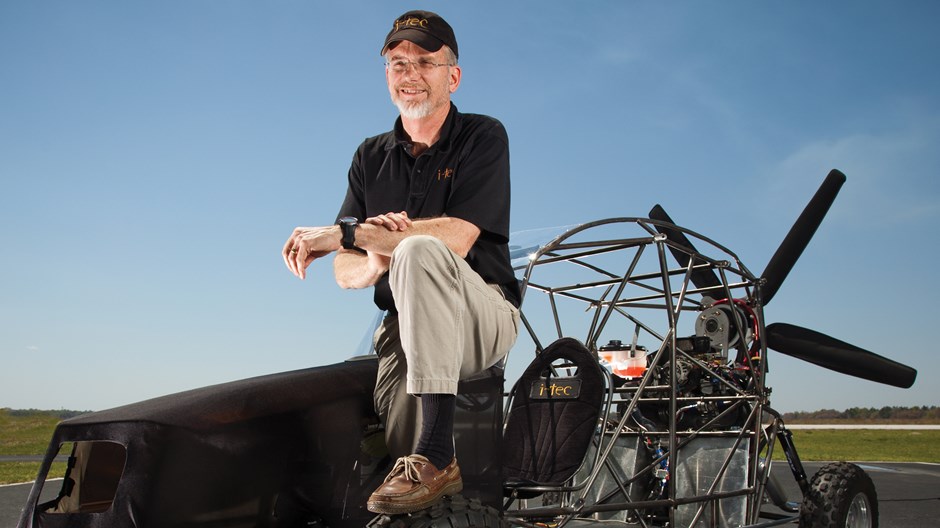 Image: Jon M. Fletcher / Genesis Photos
March 31 is a milestone day at I-TEC. Engineers at the start-up evangelical missions agency, headquartered in the flat, rural expanses of northern Florida, roll their exotic vehicle from its hangar for critical tests. It's the world's first flyable car that can legally travel on roads and streets.
Visionaries have long dreamed of leaving the road for the skies, and the idea of a flying car has fascinated pilots as well as Hollywood screenwriters (think Chitty Chitty Bang Bang, Back to the Future, and The Jetsons).
In the mid-1990s, Steve Saint founded the Indigenous People's Technology and Education Center to build on the vision of his missionary-pilot father, Nate. In 1956, Nate and four other missionaries envisioned taking the gospel to a tribe in Ecuador. But soon after successfully contacting the tribe, all five men were speared to death. Their story—most famously narrated in the book Through Gates of Splendor—is perhaps the most chronicled missionary account of the past 100 years.
Like his father, Steve has had a lifelong fascination with aviation. For years he dreamed of creating a flying car that would be rugged enough and versatile enough to drive through a rainforest. I-TEC's engineering team has turned the dream into an award-winning prototype.
I-TEC's flying car zooms up to 90 mph on paved roads. Off road, it handles ruts like a Land Rover. Yet in six minutes, a pilot can unfurl its fixed parachute wing and take off into the wild blue yonder—at up to 40 mph. "The Maverick" aims to revolutionize transportation "where the road ends," helping indigenous preacher-pilots sustain the church in the remotest rainforests and other uncharted areas.
Located at the general aviation Dunnellon Airport, I-TEC operates out of a hangar that looks like a cross between an aviation museum and a NASCAR garage. Hung from the rafters is the first plane designed for the Waodani, the Ecuadorian people whom Saint's father tried to reach.
In the hangar's far corner is a modified powered parachute, one step in the evolution of the Maverick. At the hangar's exit sit two small airplanes, both assembled by Waodani. Nearby, the first Maverick prototype lies in disarray, cannibalized for parts. The prototype received Popular Mechanics' prestigious "Best Innovation" award in 2009.
I-TEC has now spent months building the Maverick Sport, lighter, faster, and easier to fly. Designed for the recreational market, the sport model will qualify as a light aircraft by weighing no more than 1,320 pounds. I-TEC hopes to sell the Maverick Sport commercially in order to lower the price for interested missionary aviators.
The mid-afternoon sun is beating down as the crew rolls the Maverick Sport to the edge of the runway. The team—a half-dozen gearheads who like tools and things that go zoom—have been laboring to get ready for the test drive. Troy Townsend trained in electrical engineering and business administration. Steve Buer is a Minnesota farmer and the best welder of the bunch. Gene Walrath, a retired duck farmer from Wisconsin, is just a bona fide tinkerer.
There are no wild cheers when the Maverick roars to life and takes off down the runway. This isn't a football team; it's a shop used for developing experimental machines. The team expects their car to work. For the next half-hour, a helmeted driver races the Maverick up and down the runway.
But the car overheats, and consultations follow: Is the new radiator sucking air as designed? Might air bubbles have invaded the coolant? The team switches on the propeller for a few test runs. Next week, the Maverick will be displayed at a major air show. I-TEC hopes to begin selling next year. Time is short.
Updating Pascal's Wager
Like many entrepreneurial leaders, Steve Saint is restless, passionate, and opinionated. He elicits strong feelings in both directions. He has created an organization like himself: part technology start-up, part missionary agency. What makes I-TEC more complicated is Saint's role in one of the greatest missionary stories of the 20th century.
Steve's father was caught up in similarly feverish preparations 54 years ago. At 32, Nate Saint was working as a jungle pilot in Ecuador with the fledgling Missionary Aviation Fellowship, transporting missionaries. In secret, he and four other young missionaries plotted to reach an isolated, violent tribe known as the Aucas. (The name, Saint says, means "naked savage" in the Quechua language of their local rivals; they call themselves the Waodani, the plural of Wao, meaning "human.") The missionaries had pioneered a technique by which Nate, flying in circles, lowered a bucket to hang at a still point in jungle clearings. This enabled the two groups to exchange gifts. Soon the missionaries planned to land on a sandbar and meet the tribe.
The plan resulted in disaster when the five missionaries were speared to death. Steve Saint was 4 years old at the time and retains only fragmentary memories. But he grew up with a fierce desire to live up to his father's example. He has spent his life as "Nate Saint's son." He says he willingly accepted that designation. "I saw this as my sacrifice, to give up my identity."
Steve's mother, Marge, stayed in Ecuador, working at Christian radio station HCJB in urban Quito. She eventually married the station head, Abe Van Der Puy. Steve spent many school holidays with his aunt, Rachel Saint, at her missionary home in the Ecuadorian rainforest.
The flying car is but one part of Saint's vision, which might be called 'high-tech for low-tech people.'
Thus, Steve grew up playing in the jungle with the Waodani, learning their language and culture. At age 13, he was baptized by two men who had participated in his father's murder.
Elisabeth Elliot wrote Shadow of the Almighty, an eloquent, near-biblical account that included her dead husband's memorialized version of Pascal's wager: "He is no fool who gives what he cannot keep to gain that which he cannot lose." Her book transformed the short-term media sensation into an epochal tale of Christlike sacrifice.
More books and films followed, not least Saint's efforts in the documentary film Beyond the Gates of Splendor, the feature film The End of the Spear, and Saint's book of the same name.
But it was Steve who, through I-TEC, has become the most visible steward of "the Auca story" through speaking, books, and films. That, indirectly, is how he came to start I-TEC.
The flying car is but one part of Saint's vision, which might be called "high-tech for low-tech people." His group's most effective program so far is I-Dent, which has manufactured a portable folding dental chair complete with solar-charged power drill.
An early adopter, dentist Charley Vittitow often volunteered for mission trips until, on a trip to Jamaica, a close friend asked a daunting question: "We have an hour before we have to leave. What do I tell the 85 people who are still in line?" Some had traveled long distances and waited days seeking dental care.
Six months later, Saint came to Vittitow's church and talked about the I-Dent approach. Now Vittitow trains indigenous dentists through mPower, a training organization spun off from I-TEC.
"It feels good to go and help people out," said Saint. "But Jesus appointed his disciples to produce fruit that will last. That means we transfer our skills so that they are able to help themselves."
Today the I-Dent chair is used by professional dentists on mission trips, but it is primarily intended to open doors for indigenous evangelists. After six days of training, local evangelists can offer basic dentistry—filling, cleaning, and removing teeth. Their level of dentistry can't compare with U.S. standards, but Vittitow says a University of Kentucky study found patient results close to those produced by licensed dentists. So far, I-Dent has been used in 33 countries.
I-TEC also offers I-Fix, which teaches basic maintenance and repair, I-Med, which teaches basic medicine, and I-See, which allows missionaries to sell inexpensive eyeglasses as a doorway into resistant communities. (I-See also creates a small business that helps sustain the church's work.)
But I-TEC's slogan—Training and equipping indigenous God-followers to say, "I can"—grew out of frustration and failure.
When Helping Hurts
The Waodani church hardly exists anymore. Missionary leader David Howard, brother of Elisabeth Elliot, says that by the early 1960s, the Waodani were being flooded with North American evangelists dropping in to preach and baptize, to build schools and churches. From Saint's perspective, they kept the Waodani church from maturing.
As a result, Saint says, the people his father and aunt gave their lives for are today in dire trouble—dependent, culturally adrift, and without vital Christian fellowship. This troubles Saint, and makes him deeply critical of North American missions. He complains that many North American churches emphasize costly short-term mission trips but fail to build an evangelizing, multiplying, disciple-making church. I-TEC's critique is incorporated into a book and video curriculum, "Missions Dilemma."
"We are both frivolous and domineering," Saint says. "We've been doing ministry and missions for what we get out of it."
Instead, Saint preaches a bare-bones missions message of "know, go, show, and blow": know Christ for yourself, go to people who don't know him, show them everything you know, and leave so that they can grow independently. "It's the difference between parenting and baby-sitting."
Saint personally knows this is easier said than done.
After his Aunt Rachel's funeral in 1994, Steve was asked by the Waodani to bring his family and come live with them. The request came as a shock. He was a businessman, mostly in property development and construction, but his Waodani friends persisted. They said they felt helpless before the power of the outside world. They wanted him to teach them how to do things for themselves, building defenses against the plans of oil companies, government officials, and settlers.
So Saint and his family moved to Ecuador, cut a new landing strip, and established a jungle outpost. A store and medical outpost were established under Waodani leadership, and Saint began to teach the Waodani to drill and fill cavities. But his wife, Ginny, soon realized that their presence was actually holding back Waodani leadership. They looked to Steve instead of thinking for themselves. Reluctantly, Steve saw it too. "As long as I am here, they aren't going to shoulder this thing."
When he speaks of the Waodani today, Saint's voice fills with love and frustration. In 50 years the Waodani church ought to have grown up, he says. Instead, "I don't know one younger person who is a trustworthy God-follower. The church is not functioning. It has ceased to exist."
Some Ecuadorians strongly disagree with Saint on this point. Still, the Waodani are like many other hunter-gatherer societies that struggle to coexist with aggressive technological society. Some remain so isolated, they have not heard of Jesus; others respond to Christianity as the Waodani did, but struggle to sustain a viable church and culture. "Know, go, show, and blow" is good advice, but more difficult to apply successfully.
But from Saint's frustration grew the vision of I-TEC, as a way of helping without overwhelming.
The flying car is an odd sight, dangling under its wing in the air like Mary Poppins under her umbrella. Its fate is unpredictable, but it just might end the Waodani's dependence on missionary aviation, enabling them to go and preach the gospel to tribes like themselves.
It also carries on a great story—of the Saint family, of American men and women drawn to love remote peoples, of Christians giving everything to pass on the gospel to those who have not heard—so that they, in turn, can pass on the story.
Tim Stafford is a senior writer for Christianity Today.
Article continues below
Related Elsewhere:
Previous Christianity Today articles on the Saint family include:
Death Worked Backwards | End of the Spear, a new film about the 1956 missionary martyrs in Ecuador, is similar to the Narnia story in some ways, says Steve Saint, son of one of the murdered men. (January 18, 2006)
The Rest of the Story | Half a century after killing five missionaries, the 'Auca' find themselves on the cutting edge of modern missions. (January 1, 2006)
Christian Studio Explains Hiring of Gay Actor | The makers of End of the Spear didn't find out about co-star Chad Allen's homosexuality until after they offered him the job, and then they felt obliged to honor the contract. (January 26, 2006)
Did They Have to Die? | Forty years after five missionaries lost their lives in the Ecuadorian jungle, the killers explain what really happened. (September 16, 1996)
Have something to add about this? See something we missed? Share your feedback here.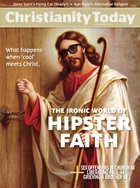 This article is from the September 2010 issue.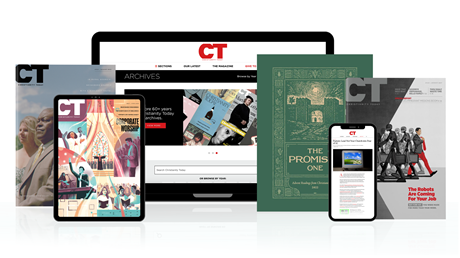 Annual & Monthly subscriptions available.
Print & Digital Issues of CT magazine
Complete access to every article on ChristianityToday.com
Unlimited access to 65+ years of CT's online archives
Member-only special issues
Subscribe
The Maverick
The Maverick