true
Everyone has secrets they want to keep locked away—some darker than others. Many people's secrets go with them to the grave. But what if your secret put others in their graves and might come back to haunt you?
In 1966, Mossad (the Israeli intelligence organization) secret agents Rachel (Jessica Chastain), David (Sam Worthington), and Stephan (Marton Csokas)—previously strangers to one another—are tasked with one goal: to locate and capture Nazi war criminal Dieter Vogel and bring him to trial. Vogel is the famed and feared "Surgeon of Birkenau," who sent thousands of Jews to their deaths at the Auschwitz-Birkenau camp during the Holocaust. And now, justice calls.
Vogel is found practicing medicine in East Berlin, and Rachel will act as bait, confirming his identity and putting the plan in motion. While they train and wait for the right moment, they live together in a dingy apartment, bent under tremendous stress and anticipation of the work they're about to do. The fateful day arrives, and the agents capture Vogel, but something goes horribly wrong, and they are suddenly locked into a harrowing tailspin that ends in a dark secret they must keep.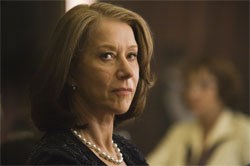 More than thirty years later, in 1997, Rachel (Helen Mirren) and Stephan (Tom Wilkinson)—now retired and divorced from one another, having married after their time in Berlin—are in Tel Aviv for the celebration of the publication of their daughter's book about their experience. Suddenly, shocking news arrives: David (Ciaran Hinds), who they have barely seen in the prior three decades, has killed himself, and it looks as if their secret is about to be revealed. Panicking, they must once again face the truth they had locked away and pay the debt they still owe.
Based on an acclaimed Israeli film from 2007 called Ha-Hov [The Debt], this film—directed by Oscar-winning director John Madden (Shakespeare in Love) and written for an English-speaking audience by Matthew Vaughn and Jane Goldman (X-Men: First Class, Kick-Ass)—mostly retains the feeling of a foreign thriller, without succumbing to aggressive Hollywoodization. The English-language version is still gritty, violent at times, and disturbing; it reminds us from a short distance of the horrific legacy of Nazi cruelty and how those atrocities echo across decades. And though the film repeatedly jumps between time periods, its narrative is tight and compelling.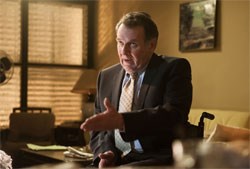 It's no surprise that these actors are stunning together, even though the core cast is not Israeli (but they pull off convincingly Israeli accents). As a young Rachel—strong and capable as a double agent, but still vulnerable—Chastain (recently seen in The Tree of Life) is particularly good. Yet it's still the casting that makes the film feel a bit off: the older actors are not immediately recognizable in the younger—but still adult—versions of themselves, and the result is a bit disorienting for the audience. Furthermore, though the talent is tremendous, the supporting cast is almost entirely foreign, and the main characters are meant to be speaking in Hebrew amongst themselves, leaving us to wonder whether the film needed to be remade at all.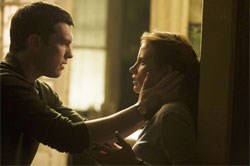 But the story at its center is chilling and provocative: What if your darkest secret came back to haunt you—and not just you, but a nation? What if the mythology you've constructed around yourself was simply not reality? How would you live, knowing the facts? That question drives this story, and the conclusion—satisfyingly—lines up directly with reality: lies may grease the wheels of life at times, but be sure they will find you out, whether by destroying you publicly, or eating away at you slowly, day by day, over a lifetime.
Talk About It
Discussion starters
If you had been in Rachel, David, and Stephan's position, what would you have done? Why?
What happens when we keep the truth hidden, even for a reason that seems good at the time? Were you surprised at how the truth surfaced in this movie? What would you have done?
Do you have any dark secrets? Have they ever come to light against your will? What happened, and how did you feel afterward?
The Family Corner
For parents to consider
The Debt is rated R for some violence and language. The premise, which reflects on (though does not show) inhumane treatment of victims in Nazi concentration camps, is unsuitable for younger audiences. There are several bloody scenes of fighting, including stabbing with scissors, violent kicking, and hypodermic needles. A few shots of Holocaust victims also appear. The language includes some profanities, though not gratuitous, given the serious subject matter. Two characters have a one-night stand.
Copyright © 2011 Christianity Today. Click for reprint information.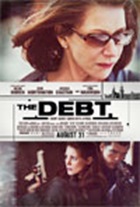 Browse All Movie Reviews By: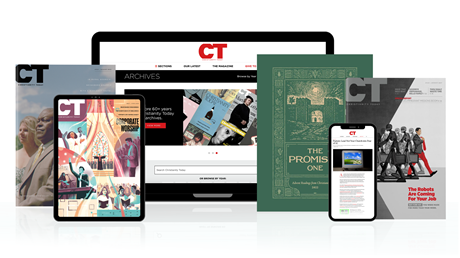 Annual & Monthly subscriptions available.
Print & Digital Issues of CT magazine
Complete access to every article on ChristianityToday.com
Unlimited access to 65+ years of CT's online archives
Member-only special issues
Subscribe
The Debt
The Debt