Mark Hatfield shouldn't have had time for me, but all he needed was three minutes to redirect my whole life. And I still don't know exactly what he was trying to say.
When I heard this week that Hatfield, the 89 year-old former United States senator from Oregon, had died, I didn't think immediately of his anti-war passion during the Vietnam era, his denunciations of the nuclear arms race, or even his writings on being a Christian in public life. I thought instead about those three minutes when I, at the very beginning of my career, stood in a busy intersection at the U.S. Capitol talking with Hatfield about Christ.
He was probably on autopilot, rehearsing in his mind what he would say at the Appropriations Committee meeting later, for all I know. An annoyed staffer stood just behind him checking his watch, while he talked to one of thousands of young nobodies working on Capitol Hill. But three minutes was enough to change everything for me.
Hatfield, of course, was a prominent and respected U.S. senator, and I was nobody, one more young staffer working for a congressman who was then himself young and early in his tenure. But I had read a second-hand copy of a book by Hatfield on reconciling his faith with his political career, and, passing him in the hall of the Capitol, I stopped him to ask his counsel. Early in my teenage years, I'd experienced what I'd believed to be a call to ministry, but I had outgrown that, and now wanted to chase a political career.
There in Washington, working for a U.S. congressman, I was feeling really guilty and conflicted about that, though, and was being drawn more and more toward ministry. I thought Hatfield would give me a pep talk about how Christians were needed in politics, about how God's calling wasn't limited to vocational ministry, and so on. After all, this was a senator who had, after declaring he wanted "to live the rest of my life only for Jesus Christ" at age 31, rejected church members' urging to "get out of that horrible slime of politics and go to seminary." I knew all the talking points I wanted to hear from him.
Hatfield leaned in and listened to me. He told me, as I thought, that politics was a noble calling, but he said, "You should really be sure that the Lord isn't calling you to ministry, though, because that would be a shame to miss." As he left, he turned back and said, "Remember 1 Corinthians 4:20."
I didn't have the text of 1 Corinthians memorized, and I was sure that Hatfield's statement was some kind of code, giving me firm direction. I repeated the verse reference over and over in my mind so I wouldn't forget it before I could get back to my office and look it up.
When I did, I was frustrated. "The kingdom of God does not consist in talk but in power." What did that mean? Was the senator saying I should avoid ministry, as just "talk," for political action, "power"? Or was he saying the opposite, that political power is based on just talk compared to the surpassing dynamism of the word of God? I didn't know, and I still don't, though I suspect he just loved that verse, and wanted to encourage a young Christian with it. What eventually drew me in about that conversation wasn't the talk or the power, but the kingdom of God.
Hatfield and I had little in common at all, by Washington terms. He was chairman of the Appropriations Committee; I the lowest level staffer. He was a liberal, near-pacifist Eisenhower Republican from Oregon; I a New Deal Democrat from Mississippi. But when I mentioned Jesus, Hatfield's face changed. He looked earnest and joyful, and he whispered to me with a seriousness that seemed to surpass political diplomacy, just for a moment. The kingdom of God was bigger and more important to him than all those categories that seemed so important to me at the time.
As the next couple of years went by, I slowly realized what I dreaded about ministry: the predictable conformity of it all. Although I disagreed with Hatfield's nuclear pacifism, I couldn't imagine a Southern Baptist pastor in my context ever even considering it. Such a move would have isolated that pastor from the expected cultural and political categories that were almost totemic for people who were expected to be Charles Stanley in the pulpit and Ronald Reagan in the voting booth, right down the line. I probably would have argued with a Southern Baptist pastor who denounced nuclear proliferation, but at least I would have known he was thinking about something deeper than appeasing the deacon board.
In Hatfield, I saw someone who wasn't worried about fitting into a monoculture, either of what he was "supposed to be" as an evangelical or of what he was "supposed to be" as a Republican. He was willing to follow Jesus and his conscience, and to be complicated. Even those who disagreed with where those complications fell down specifically, could see a freedom and joy and humility in him. All those years ago, what I saw in Hatfield's mavericky eclecticism was a sign of life.
I still don't know whether Hatfield thought I should stay in politics or leave for ministry. He probably didn't care. It didn't matter. What I needed wasn't his reasoning or arguments, but the example of someone who could be a Christian without trading his conscience for a place in the herd. And that was enough.
The conversation changed my life, but it, like the man himself, wasn't about talk. It was about power.
Russell D. Moore is Dean of Southern Baptist Theological Seminary in Louisville, Kentucky.
Related Elsewhere:
Christianity Today posted an obituary yesterday, along with several earlier articles by and about Hatfield:
Mark Hatfield Taps into the Real Power on Capitol Hill | The senior senator from Oregon shows keen discernment between the power of politics and the power wielded by the Holy Spirit. An interview. (cover story, Oct. 22, 1982)
Stealing God's Stuff and Controlling Human Life | Christians must help bridge the growing gap between biotechnology and bioethics. (January 10, 1994)
Beyond Containment: A New Vision for Superpower Relations | Envisioning a new day in relations between the U.S. and the Soviet Union. (June 18, 1990)
Celebrating the Year of Liberation | How Americans can think about a true revolution. (March 26, 1976)
The Vulnerability of Leadership | Why we cannot separate our allegiance to God from our love for our fellow man. (June 22, 1973)
My Personal Use of the Bible | The governor of Oregon explains how he regards the Scriptures. (November 22, 1963)
The Christian and the State | CT interviews Oregon's governor on the Church's responsibility toward government. (June 21, 1963)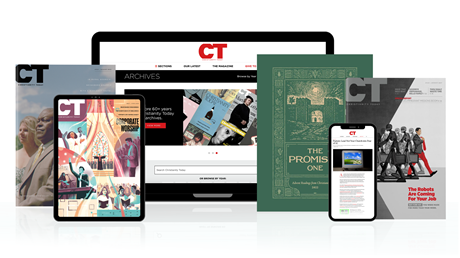 Annual & Monthly subscriptions available.
Print & Digital Issues of CT magazine
Complete access to every article on ChristianityToday.com
Unlimited access to 65+ years of CT's online archives
Member-only special issues
Subscribe
Mark Hatfield Changed My Life in Three Minutes
Mark Hatfield Changed My Life in Three Minutes