At the risk of derailing someone's hard fought New Year's vows, let me suggest that some of us stop trying to become good Christians, or whatever noble thing we're striving to be.
I grant that the New Testament is replete with admonitions to "strive" and "make every effort" to be faithful followers of Jesus. One of Paul's favorite expressions along these lines is a dressing metaphor: "put on the new self" (Col. 3:10), "put on the Lord Jesus Christ" (Rom. 13:14), and "put on the whole armor of God" (Eph. 6:11), to quote a few of the places where he uses this stock phrase. He often ties this metaphor to the virtues: We are to put on "the breastplate of righteousness" (Eph. 6:14), "to put on … compassionate hearts, kindness, humility, meekness, and patience" (Col. 3:12), and above all we are to "put on love" (Col. 3:14).
What Paul doesn't address is how exactly one "puts on" these virtues. The answer is more mysterious than we are apt to think.
During an evening prayer service on New Year's Day, a friend described his spiritual journey the previous year. He lamented that his plans to become more regular and disciplined in prayer and Bible study had come to naught. And yet, he said, he found he grew spiritually more than ever.
This is precisely how the spiritual life has worked for me. The more I strive to be a "good Christian"—more prayerful, patient, giving, sacrificial, whatever—the more I find myself anxious, irritated, guilty, resentful, and self-righteous. When I simply accept that I'm a sinner, really, I find that I pray more, am more patient, more giving, more humble, and more loving.
This is the paradoxical reality that has been exploited effectively by Alcoholic's Anonymous for decades. The more an alcoholic ...
1
SoulWork
In "SoulWork," Mark Galli brings news, Christian theology, and spiritual direction together to explore what it means to be formed spiritually in the image of Jesus Christ.
Mark Galli is former editor in chief of Christianity Today and author, most recently, of Karl Barth: An Introductory Biography for Evangelicals.
Previous SoulWork Columns: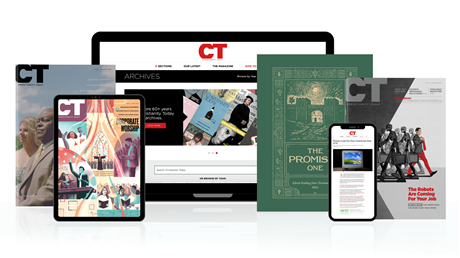 Subscribe to Christianity Today and get access to this article plus 65+ years of archives.
Home delivery of CT magazine
Complete access to articles on ChristianityToday.com
Over 120 years of magazine archives plus full access to all of CT's online archives
Subscribe Now
Blessed Are the Poor in Virtue
Blessed Are the Poor in Virtue