During his nearly 70 years as an evangelical leader, John Stott rarely garnered headlines, cut across airwaves, or graced TV screens. But his ministry was ever-present, a fixture in the worlds of biblical interpretation and spiritual development that impacted thousands of evangelical leaders and laypeople alike. In many ways, the unfolding of Stott's 50 books and hundreds of sermons paralleled the quiet persistence of one of his great passions: bird watching. Those who knew him speak of a legacy that transcends his public role as pastor, author, and evangelical leader. And those who knew of him have also offered reflections on his life and ministry. In a roar of tweets, blog posts, newscasts, and columns, influential thinkers around the world remembered Stott's life. Christianity Today presents a selection of their comments below. 
Billy Graham
Evangelist
"The evangelical world has lost one of its greatest spokesmen, and I have lost one of my close personal friends and advisers. I look forward to seeing him again when I go to heaven."
Geoff Tunnicliffe
Secretary General of the World Evangelical Alliance
"Uncle John was a great influence in my own theological development. His commitment to biblical orthodoxy, global mission and unity in the body of Christ were foundational in my own spiritual journey."
J.I. Packer
Professor of theology, Regent College
"I first met John Stott in the late 1940s at a youth camp and remember being impressed with how strategic and focused he was as a young assistant clergyman; we continued to communicate regularly through the years. I recall exchanging Christmas letters with him: he would write about birds and I would return his letters with stories about family dogs and we would rejoice in life together. John was an unusual sort of person, a ten-talent man of sorts. He lived under an extraordinarily firm self-discipline and brought a thoroughness of thought to every project he took on—and there were many. He had an unparalleled gift for setting things in order in his own mind and then articulating them to others."
Mark Noll
Professor of History, University of Notre Dame
"He was a patron, mentor, friend and encourager of thousands of pastors, students and laypeople from the newer Christian parts of the world, a bridge between the West and the rising Christian world … But he also demanded that evangelicals look beyond liturgy and Christian tradition and remain engaged in worldly matters —to take more responsible attitudes toward economics, the arts, politics and culture in general."
Chris Wright
International Director of Langham Partnership
"Like Moses, he was one of the greatest leaders God has given to his people, and yet at the same time, one of the humblest men on the face of the earth. He was, for all of us who knew him, a walking embodiment of the simple beauty of Jesus, whom he loved above all else."
John Yates
Pastor of The Falls Church
"I have had few heroes, but John Stott has indeed been not only a hero, but a teacher and friend to me, and so many of us. The last few weeks have been very difficult for him, and he was ready for this. Three old friends were at his bedside reading from 2 Timothy to him and listening to Handel's Messiah. When the chorus began to sing, 'I Know That My Redeemer Liveth,' 'Uncle John' slipped away."
Tyler Wigg Stevenson
Director of Two Futures Project
"From 2005 to 2006 I had the pleasure and privilege of serving 'Uncle John,' as he was known to friends around the world, as his study assistant. … It is John Stott the disciple of Christ that I mourn today, rather than John Stott the Evangelical statesman. For in my year with him he continually revealed the Lord to whom he had given his life, whole cloth. And the birds! A lifelong birdwatcher, his love for this slow, patient pastime was infectious. For my birthday he sent me and Natalie to an island to see the comical puffins, which he adored. And he was forever pushing the limits of his aging body along the beautiful cliffs of his beloved Welsh headlands, where gulls and ravens and gannets danced, in his eyes, to the glory of God."
Michael Horton
Professor of theology at Westminster Seminary, California
"John Stott belongs to a generation of British evangelical leaders who worked patiently, prayerfully, persistently, and intelligently within the established church. They were not known for their own achievements, networks, and influence, but for their exposition of God's Word with clarity, dependence upon the Spirit, and concern for both the lost and the gathered."
Rick Warren
Pastor of Saddleback Church and author of The Purpose Driven Life
"John Stott, one of my closest mentors, just died. I flew to the UK recently just to pray for him and sit by his bed. What a giant!" (Warren followed with 10 tweets on what he has learned from Stott.)
Elaine Storkey
Theologian and president of Tearfund
"I think the biggest impact for me, was that once John understood the justice of an issue, once he understood the biblical nature of an issue, he was all for it. And the way he got involved with the whole gender issue, the way he saw the issue of justice for women, and how much of our patriarchal culture had been a barrier to women, both in terms of their own progression, but even more in terms of hearing the Gospel, acknowledging God as 'Father,' etc.— once he saw that, he just went for it. And so here you had a pillar of the church, coming from a very conservative stable, actually opening up the feminist doors wide so that a new generation of women could go through them."
Rowan Williams
Archbishop of Canterbury
"Without ever compromising his firm evangelical faith, he showed himself willing to challenge some of the ways in which that faith had become conventional or inward-looking. It is not too much to say that he helped to change the face of evangelicalism internationally, arguing for the necessity of 'holistic' mission that applied the Gospel of Jesus to every area of life, including social and political questions. But he will be remembered most warmly as an expositor of scripture and a teacher of the faith, whose depth and simplicity brought doctrine alive in all sorts of new ways."
Benjamin Homan
President of John Stott Ministries
"He set an impeccable example for ministry leaders of handing things over to other leaders. He imparted to many a love for the global church and imparted a passion for biblical fidelity and a love for the Savior."
Albert Mohler
President of the Southern Baptist Seminary
 "You cannot explain English-speaking evangelicalism in the 20th century without crucial reference to the massive influence of John Stott. I am thankful for warm memories of conversations with him, a man with a generous heart as well as a keen mind. We will miss him."
Max Lucado
Pastor of Oak Hills Church, San Antonio
"The gracious scholar, John Stott, is with Jesus. Model for all pastors. Teacher for all students. Friend of all seekers. We'll miss him."
Tim Chester
Author of A Meal with Jesus
"The private John Stott was just as impressive as the public persona: gracious, humble, without affectation. I'm sure it was this humility that meant God could entrust him with the influence and success he received. It is hard to underestimate the impact he has had across the world. 'Thank you, gracious Father.'"
John Piper
Pastor of Bethlehem Bible Church in Minneapolis
"John Stott turned the words of Bible sentences into windows onto glorious reality by explaining them in clear, compelling, complete, coherent, fresh, silly-free, English sentences. For Stott 'all true Christian preaching is expository preaching.' So, John Stott, I'm glad you preached and wrote Men Made New just like it was. I'm glad you preached the way you preached. And when you heard your 'Well done,' yesterday in heaven, I don't think Jesus meant, 'Except for the illustrations.'"
Bob Fryling
Publisher of InterVarsity Press
"John Stott was not only revered; he was loved. He had a humble mind and a gracious spirit. We will miss 'Uncle John' but we celebrate his life and writings as an extraordinary testimony of one who was abundantly faithful to his Lord Jesus Christ."
Michael Potemra
Deputy Managing Editor, National Review
"An Anglican clergyman, he played a key role in keeping alive Evangelical vigor in the Church of England in some of that Church's feeblest decades. (Indeed, one of the things he said at Calvary Baptist that impressed both me and my girlfriend the most was that it is very difficult—I forget, he may even have said 'impossible'—to be a Christian without the church. This is not a sentiment I have heard stressed very often in U.S. Evangelicalism, and I am not even 100 percent convinced that it is correct, but I think it stands as a refreshing corrective to much of today's conventional wisdom about religion.)"
Joseph Stowell
President of Cornerstone University
"When you think of evangelism, you think of Billy Graham. When you think of preaching, writing, encouraging pastors, scholarship, exegesis, reliability, and moderation in the midst of crisis, you automatically think of John Stott. He could hold his own with the best of theologians, and yet he could speak a sermon in a church that would reach a whole cross-section of people who came off the streets of London to sit under his ministry."
Doug Birdsall
Executive Chair of the Lausanne Movement
"John Stott's focus was the cross. The church was his great love. World evangelization was his passion. Scripture was his authority. Heaven was his hope. Now it is his home."
Related Elsewhere:
See also Christianity Today's obituary and special section on Stott.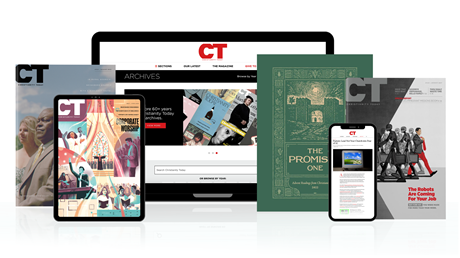 Annual & Monthly subscriptions available.
Print & Digital Issues of CT magazine
Complete access to every article on ChristianityToday.com
Unlimited access to 65+ years of CT's online archives
Member-only special issues
Subscribe
Leaders and Friends Remember John Stott
Leaders and Friends Remember John Stott