Mark D. Roberts is one brave evangelical. After rolling his eyes upon hearing of a new iPhone app that prepares users for the Rite of Penance, the Texas-based pastor decided to try Confession: A Roman Catholic App for $1.99, and lived to write about it.
First, the app created a "custom examination of conscience," based on Roberts's age, gender, marital status, and time of last confession. Then it led him through conscience-pricking questions based on the Ten Commandments, such as, "Do I not give God time every day in prayer?" and "Am I critical, negative or charitable in my thoughts of others?" It then compiled his specific sins and provided a prayer of contrition, prompting him when to say "amen." Then a pause where a priest would offer absolution (Roberts, of course, skipped this), before offering a reminder from Scripture or a saint about God's forgiveness.
After one round of this, "I was chastened," admitted Roberts, who believes confession is "one of the most often disobeyed commands in the whole Bible." While using the app is certainly not requisite, he said, if it "helps some Christians examine their lives and confess their sins, either to the Lord alone or to another in God's presence, then I can see benefit."
Judging by popularity rankings and user reviews, the app is bearing such fruit for some Christians. Impressed by the app's thoroughness and ease, one busy mother who hadn't been to confession in two years told NPR she was going back. "There's a reason we designed it for these mobile devices: We want you to go to confession," said Patrick Leinen, who created the app after the pope's January speech encouraging Catholics to evangelize through digital media. After correcting sloppy journalists who had reported the app can substitute visiting a priest, the Vatican cautiously blessed the app, comparing it with booklets and other objects easily slipped inside pockets and purses, "technologies" that believers have used for generations.
We believe the confession app generally points Christians of all stripes in a helpful direction. For one, it asks them to turn inward to examine broken patterns of thinking and feeling, thus preventing a rote faith that relies solely on priests to deal with sin. The app also chastens the believer who thinks he's on his merry way to sanctification. As the iPhone is ever before the user, helping him manage e-mail and to-do lists and travel routes, so those pesky but piercing questions are ever before him, hopefully inciting the same sorrow over sin as the psalmist's (Psalm 51:3). And, as good evangelicals, we welcome most any new technology that could introduce a generation to Christ and spur believers' growth in him.
But we wonder if the app doesn't betray some pernicious beliefs about sin and the purpose of confession. After all, the gospel according to the iPhone (and most of today's personal technologies) is that all of life is at the user's command, manageable with a few breezy swipes across a 3-inch screen. It should be said, many Christianity Today editors gratefully use smart phones to keep a hold on the work God's given us. But the very nature of our sin is that we can't keep a hold on it. We may gain power over our budgets or inboxes, but one area of our lives we are powerless over is sin (Romans 7:15-20). Part of sanctification, then, means admitting, like an alcoholic at her first AA meeting, that our sin problem has become unmanageable.
But more perniciously, the app—unless used in a small group or service where every person holds an iPhone—cannot help being individualistic. And this is precisely how the Devil would have us try to address sin. "Sin demands to have a man by himself," observed Dietrich Bonhoeffer, in a long meditation on confession in Life Together. "It withdraws him from the community. The more isolated a person is, the more destructive will be the power of sin over him." This is why James commanded Christ's followers to confess their sins to each other (5:16), and why many even staunchly Reformed pastors today encourage corporate confession. By bewailing our sins in the community of faith, "we experience the gospel," says Reformed Michigan pastor Kevin DeYoung. "It's here that we find punk kids and Ph.D.'s humbled together, admitting the same human nature."
Corporate confession is important not simply because it keeps us accountable to each other, but because it enacts a vital dimension of the Good News that confession apps can't: We are a fellowship of sinners. While God certainly judges us individually, we never exist as lone sinners. And what defines the body of Christ isn't our worship style or knowledge of Scripture or enthusiasm for missions, but rather our very soul sickness and inability to save ourselves apart from the blood of Christ shed on the cross. This Ash Wednesday, in a time when a confession app cansignal a dearth in deep Christian relationships, believers can examine their consciences before human faces, not interfaces. In so doing, we will find what Bonhoeffer called "true fellowship with the brethren in Jesus Christ"—and more freedom than the smartest, user-friendly app can offer.
Related Elsewhere:
In 2009, Laura Leonard looked at secular online confession trends.
Apple has pulled an iPhone app for the Manhattan Declaration and one that lets users replace Jesus' face with their own.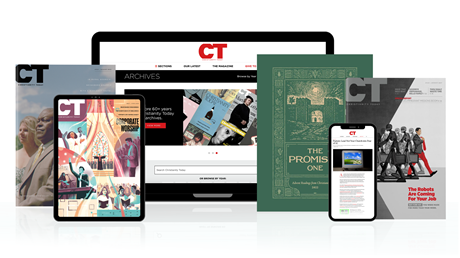 Annual & Monthly subscriptions available.
Print & Digital Issues of CT magazine
Complete access to every article on ChristianityToday.com
Unlimited access to 65+ years of CT's online archives
Member-only special issues
Subscribe
iPhone Apps and the Old Adam
iPhone Apps and the Old Adam