I've had a number of conversations lately where, not surprisingly, the topic shifts to Rob Bell's Love Wins. That's when a strange dynamic creeps into some conversations. If the person with whom I'm talking has read my review of the book, or knows I had some critical things to say, he's naturally hesitant to openly praise the book. The usual first move at that point is to say, "I don't agree with everything in the book, but …" And what follows is hardly unalloyed enthusiasm. It's usually a qualified, almost worried appreciation for this part or that. It's as if some people feel guilty for liking the book. Perhaps people who really like the book don't even bother to talk to me, but I suspect something else is going on.
That something else is related to what a Christian journalist friend told me: She feels she has to carefully craft anything she writes about Bell, lest she be suspected of really liking him—or disliking him. The atmosphere in some meetings where people are talking about Bell's book, well, it feels like some people have to apologize for reading the book. Or they seem concerned that if they like it, their theology will be questioned.
In short, it's starting to feel like Rob Bell is becoming a litmus test. If you like Bell, your orthodoxy may be suspect. And if you want to proclaim your orthodox credentials, you simply have to condemn Love Wins.
As far as this phenomenon is true, it is silly. That it is silly doesn't mean it is not a powerful current. But as far as it is true, it is a current3 we evangelicals must swim against.
First, Rob Bell loves Jesus. He wants to see lots of people come to believe in Jesus. He wants to see the world transformed in Jesus' name. He really thinks the Bible is a book through which Jesus speaks authoritatively. He believes in miracles. He believes Jesus is coming again. I could go on. The point is that Bell shares a number of values that are dear to evangelicals. He is, in short, a brother in Christ.
Naturally, because he's a brother doesn't mean one has to agree with everything he says. Brothers disagree, sometimes over important things. And sometimes the biggest blowups happen inside families! But they remain family—unless one party says he disowns the rest of the family.
Second, to make Bell's Love Wins a litmus test is a touch hypocritical. At any given time, there are always a few books on Christian bestseller lists that teach something odd, and we don't shriek in panic in the way many have over Love Wins. Probably the most controversial of late has been The Shack. There are a few theologically troubling ideas in that book, no doubt, but for the most part, evangelicals have "forgiven" Paul Young his theology at those points in favor of the book's larger theme of redemption in Christ. We recognize that an author trying to repeat the old, old story in fresh ways will sometimes overstep the bounds of traditional theology. But most of us do not judge another's orthodoxy based on their reaction to The Shack. We recognize that people read and react to The Shack for all types of reasons, and we are charitable about that.
Third, I believe we have no choice in this day but to listen to and respond charitably to ideas we had thought were settled long ago, ideas that make us feel uncomfortable, ideas that seem to threaten our faith. We've entered a new stage in church history, the Internet Age, in which all manner of beliefs are but a mouse click away. We are virtual neighbors to Catholics, Hindus, Muslims, atheists, Arians, Pelagians, Universalists, and so on and so forth. And their websites often present views that in small and large degrees differ from mainstream evangelicalism—and they express those views reasonably and compellingly. We can no longer get away with name calling—"Universalist!" "Arian!"—and think that is enough.
No, we live in a time when we must engage afresh all these permutations of orthodoxy, heterodoxy, heresy, paganism, and apostasy. I for one welcome the opportunity, and want to hear the best cases that can be made against historic Christian faith, and the best cases for alternate views. If the historic Christian faith cannot stand up to such arguments, we should abandon it as soon as we can. But this is hardly likely, because when it comes to doubts about this historic faith and alternatives to it, well, there is really nothing new under the sun. What we have now is a divinely ordained opportunity to clarify again what we believe in the midst of a highly pluralistic world. It isn't as if the church has never been here before: the world of the earliest church was the just as pluralistic as ours, and the church managed very well, thank you.
That means we're going to have to get used to some card carrying evangelicals experimenting with ideas that centrists, like me anyway, consider less than helpful. But if a writer tries to ground his argument in Scripture, and identifies himself as a member of the body of Christ, charity requires me first to humbly listen. Who knows what God might want to say to us in this moment? It also means I should listen not just to the argument, but also to the problem he is trying to solve. Very few people present a new way of conceiving a doctrine unless they are trying to solve a genuine problem in the church.
In Love Wins, Bell reinterprets some biblical themes (e.g., last judgment, atonement) because he believes the way we've traditionally talked about these themes is not faithful to the Bible and pushes people away from Jesus. I think he's right that the way we've talked about substitutionary atonement and hell have hardly been biblical much of the time, and thus these doctrines have caused more problems than they have solved. But as I said in my review, I believe his solution will actually undermine his desire to win people to Jesus. Furthermore, as I will argue in a forthcoming book, the main problem with Love Wins is that the Good News is even better—deeper, richer, more complex—than it lets on. That I champion the historic Christian view on these matters, and that Bell offers a decidedly minority view, doesn't make Bell a heretic, though he may be unbiblical at points. It does mean that the burden of proof rests on his shoulders. And more to the point here, the fact that so many resonate with Bell's concerns about these themes means we need to wrestle with them afresh.
And not because it's a good idea to dialogue ad infinitum. God forbid! I've been a part of two mainline Protestant denominations much of my life, both of which seem to think that dialogue is an end in itself. On many crucial issues, even after thirty years of dialogue, they are reluctant to let their yes be yes and their no be no. Certainly for individuals, and more so for churches and denominations, there comes a time to clarify and confirm exactly what they believe, for example, about the atonement and hell. But if a book comes out that demonstrates from the reaction to it that tens of thousands of believers are wrestling with these issues, we best first step back, listen hard to the doubts and concerns, and re-engage charitably.
We are wise to nurture an atmosphere in churches, and families, and websites where any question can be asked without fear of judgment, where theological ideas are addressed and not merely dismissed. We sometimes act as if Jesus said, "I might be the way and the truth and the life—unless a better idea comes along." No, we can have complete confidence in the face of any question because we know that whatever is true has its origins in God's truth in Jesus Christ, and that Jesus Christ really is the Truth that sets us free. This will require in many instances some sensitive listening and hard intellectual work. But who said love, even loving God with the mind, would not entail suffering?
We have to become radically Protestant again. At times like these, there arises a longing in Protestant breasts for the magisterium, for an authoritative body to pronounce a final verdict to deal with the troublemakers by edict. But that is not a Protestant theology of the church and the Holy Spirit. We believe that God is sovereign in his church, that the Holy Spirit will guide us into all truth, that through discussion and debate, a sifting process allows the truth of God in Christ to deepen and broaden. If Jesus is truly Lord of his church, his truth will make its way into the church's life, one way or another. Our job is to prayerfully read Scripture, talk with one another in the bonds of love, and, yes, when the time comes, make the tough calls. Again, a congregation or a denomination has the perfect right and responsibility to say, "This conversation is over for now. This is what we believe. Let us move forward in mission grounded in this article of faith." There are times to call a spade a spade, and to say clearly that someone is engaging in false teaching and it's damaging the health of the church. All this is part of the sifting process of the Holy Spirit in history. But we are wise not to end some conversations before they've even started, especially when it often seems that the Spirit may be starting the troubling conversation afresh in the first place.
I have enjoyed many conversations with people who have read Love Wins and my review of the book. I look forward to more such conversations. They have reinforced some of my prejudices and forced me to rethink others—there's that sifting process. When entered into freely and without fear, in love and not in judgment, they have been occasions to love God more deeply in the company of brothers and sisters in Christ. There are perhaps more urgent ways to love God and neighbor in a desperately hurting world, but this is certainly not an unimportant one.
Mark Galli is senior managing editor of Christianity Today, and author of the forthcoming Chaos and Grace: Discovering the Liberating Work of the Holy Spirit (Baker).
Related Elsewhere:
Previous SoulWork columns include:
Mercifully Forsaken | There is a reason Good Friday is called good, and why we can be thankful when God forsakes us. (April 21, 2011)
The Problem with Christus Victor| An increasingly popular view of the atonement forces the question: What are we saved from? (April 7, 2011)
Learning to Count to One| New math for those addicted to getting higher and higher in their churches. (February 17, 2011)
SoulWork
In "SoulWork," Mark Galli brings news, Christian theology, and spiritual direction together to explore what it means to be formed spiritually in the image of Jesus Christ.
Mark Galli is former editor in chief of Christianity Today and author, most recently, of Karl Barth: An Introductory Biography for Evangelicals.
Previous SoulWork Columns: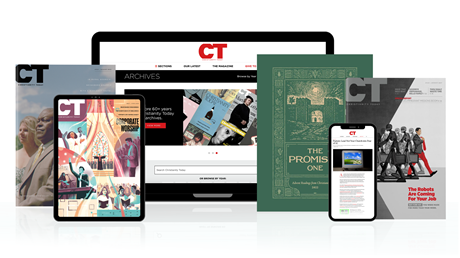 Annual & Monthly subscriptions available.
Print & Digital Issues of CT magazine
Complete access to every article on ChristianityToday.com
Unlimited access to 65+ years of CT's online archives
Member-only special issues
Subscribe
Rob Bell Is Not a Litmus Test
Rob Bell Is Not a Litmus Test