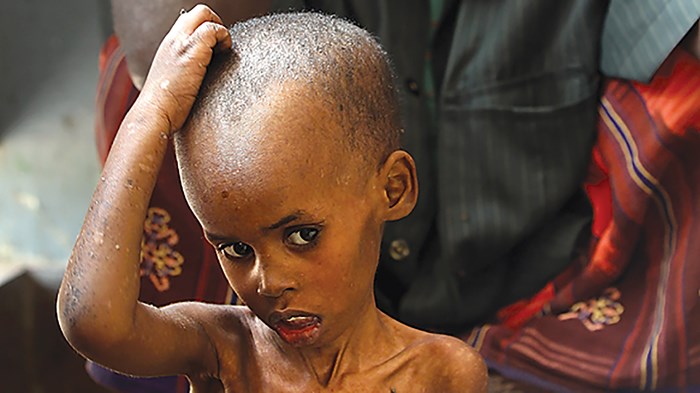 Image: John Moore / Getty Images
"Drought is an ecological disaster, born of little or no rain. Drought is weather-made. Famine is man-made. It's politically induced," said Brian Stiller, the new global ambassador for the World Evangelical Alliance, after his recent trip to Somalia.
Moved by the prospect that 750,000 Somalis may starve in coming months, Stiller and Aiah Foday-Khabenje, a Kenyan evangelical leader, flew to Mogadishu, the capital of Somalia, to survey the situation.
Foreign Policy magazine recently ranked Somalia as the worst nation-state in the world. It cannot control its borders or feed its people, and has become a safe haven for pirates and terrorists. An October truck bomb killed 70 in Mogadishu. The Horn of Africa has never been as dysfunctional as it is now.
Describing Mogadishu, Stiller told Christianity Today, "It seemed like Berlin after the Second World War, just devastated, shot-down, broken-down, bombed-out. People scurry and scramble to scratch out an existence. You really feel like you are in a lawless land." A Somali warlord accompanied by five soldiers toting AK-47s befriended Stiller and Foday-Khabenje and escorted them throughout the city.
There is no question that Somalis, especially mothers and young children, are dying daily from starvation. On his tour, Stiller stopped by one tent in an overcrowded camp. A man had just delivered a rolled-up mat containing the corpse of a small child. "I looked outside the tent," said Stiller. "Here was a woman with her head on her knees, weeping. I thought, This is normal, until the man said, 'Sir, this is the third son she's lost this week.'"
Christians should not hesitate to feed the starving and care for the sick, ...
1