true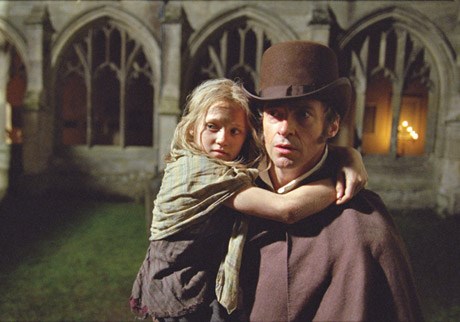 How do you bring a beloved 150-year-old story that inspired the world's longest-running musical (seen by more than 60 million people in 42 countries and 21 languages) to the big screen? And, perhaps even more important, why?
There have been at least seven movie adaptations of Victor Hugo's classic novel over the years, but this is the first cinematic rendition of the world-renowned musical that first debuted in London in 1985. It has all the heart-tugging songs ("I Dreamed a Dream," "On My Own," "Bring Him Home," and the rest), and is told almost entirely in song—all performed live, as opposed to the pre-recorded tracks used in most movie musicals. This Les Misérables also has impressive star power, with Oscar and Tony award winners topping the list of credits.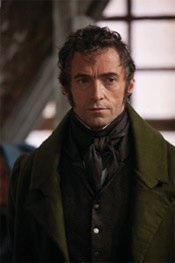 For the uninitiated, Les Misérables tells the tale of Jean Valjean (Hugh Jackman), a man in 19th century France who spends 19 years in prison for stealing a loaf of bread to feed his sister's starving children. We meet him as he is being released, under the watchful eye of the doggedly law-abiding officer Javert (Russell Crowe). Valjean soon realizes he is shunned by society, as well as by any potential employers. Destitute and desperate, Valjean only finds kindness from a humble bishop (Colm Wilkinson, who originated the role of Valjean in London and on Broadway), who offers him food and lodging, and an amazing act of mercy that changes the course of Valjean's life.
Following the bishop's challenge to make an honest life for himself, Valjean breaks his parole, changes his name, and becomes a respected mayor and factory owner. There he meets Fantine (Anne Hathaway), a woman whose life he unintentionally destroys, a fact he tries to make up for by agreeing to care for her long-lost child. But then Javert shows up, eventually recognizes Valjean, and hunts him down to bring him to justice for breaking parole. Thus begins a life of fear and love for Valjean—living on the run while caring for the young girl, Cosette (when grown, played by Amanda Seyfried). Then the Paris uprising begins and things get even more interesting and complicated and heart-breaking.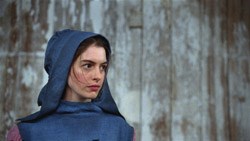 Victor Hugo's story is a masterfully crafted tale of law and grace, love and loss, sacrifice and redemption. After seeing the stage production of Les Misérables for the first time in high school, I found an abridged version of the book (still about 500 pages!) and devoured it. It is deeply spiritual, emotionally charged, and morally challenging. And while this Les Misérables is more about bringing Alain Boublil and Claude-Michel Shonberg's musical interpretation of Hugo's work to the screen, the film does a decent job of capturing these sweeping themes.
As a Christian, I have always been drawn to the portrayal of faith in Les Misérables. The bishop displays a Christ-like mercy to Valjean that literally transforms him. He emerges from that church figuratively born again, with a new identity and an entirely new course in life. And we see this transformed life touch others in need with compelling grace and love. This is all in sharp contrast to the character of Javert, a man of the law. He shows no mercy, and when mercy is eventually shown to him, instead of being transformed he is undone. Wonderful discussions could stem from these two characters alone. And I love that there are such beautifully faith-inspired characters in a film today.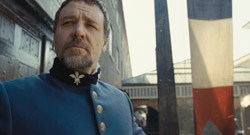 The film's greatest strengths are the source material (those amazing songs!) and the musical performances. Jackman is engrossing as Valjean, transforming from a gaunt prisoner to an elderly recluse before our eyes, singing his guts out along the way. Though her role is relatively small, Hathaway is riveting as Fantine. Her performance of "I Dreamed a Dream" left me emotionally gutted and in awe. Another standout is Eddie Redmayne as Marius (Cosette's love interest when she's grown). The combination of his strong tenor and his moving emotion is powerful.
Helena Bonham Carter and Sacha Baron Cohen are expertly cast as the Thénardiers, the shady innkeepers who care for young Cosette while Fantine works and sends them all her money. They provide needed comic relief without overplaying it or scrimping on the singing. I wasn't as fond of Crowe as Javert. He never really sold me as the rigid rule-follower, especially with his soft, kind of warm-hearted vocals. And Seyfried as Cosette struck me as a bit breathy.
But the biggest detraction of the film is the filming itself. Most of the shots are close-ups of the person singing. While the scenes are beautifully framed and lit, and it's a powerful treatment for the soaring ballads, after a while there's a certain monotony—and a bit of a claustrophobic feeling. I kept wanting to scoot back, to take in the whole scene. I mean, this is a movie set during a war. A movie with huge themes that impact all of society. And in the precious few scenes where we do see the setting and the staging, it is clear the filmmakers crafted something grand. If only we'd been allowed to enjoy them more.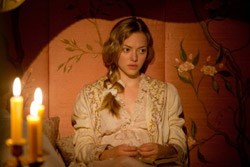 A movie version of Les Mis, as opposed to the stage, could have shown the scope of the poverty and revolution that gripped the streets of Paris. Why bring such a story to the big screen if you aren't going to make an already huge production even bigger? You can see amazing actors, stellar singing, and well-appointed costumes on Broadway or in the West End. A movie on this scale ought to promise, and deliver, something more.
Thankfully the songs and their performers mostly overcome this disappointingly small scope. By the end of the film, as nearly the entire cast is singing perhaps my favorite line from both the musical and the book—"To love another person is to see the face of God"—I was in tears. And grateful for another chance to experience this moving story, these beautiful portrayals of faith, and these amazing songs.
Correction: An earlier version of this review referred to the French Revolution; in fact, the historical setting of the latter part of the movie is the Paris uprising of 1832.
Talk About It
1. Describe Valjean's outlook when he is released from prison. How does that change throughout the film? What are the things that change him?
2. Do you think Valjean should have gone to prison for breaking his parole? What is the balance of grace and law? How do you decide which one wins in any given situation?
3. Has an act of grace from another ever transformed your life?
4. Why does being shown mercy have such a different impact on Javert's life? What does this tell us about his paradigm and his basic understanding of law and life?
5. Why doesn't Valjean tell Cosette about his past? Do you think this is a wise decision or not?
6. If you have seen the stage production of Les Miserables, which do you now like better? If you've also read the book, how would you rank all three?
The Family Corner
Les Misérables is rated PG-13 for suggestive and sexual material, violence, and thematic elements. Inspired by financial hardship, Fantine sells her hair and some of her teeth and becomes a prostitute. The one sex scene isn't really graphic and there is no nudity, but we do see a lot of heaving cleavage from Fantine and the other ladies of the night. The shady innkeepers provide a lot of sexual innuendo and thievery. Violence is perhaps the biggest concern for younger viewers here, as we see many characters shot during a battle scene, including a young boy. That said, there are many great themes throughout the film worth discussing with mature kids.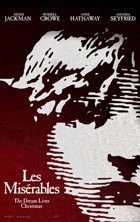 Browse All Movie Reviews By: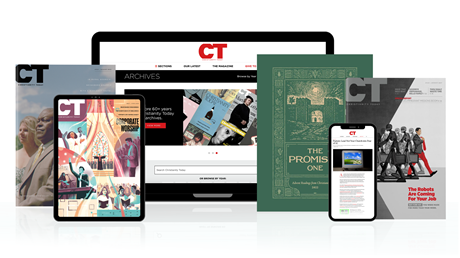 Subscribe to Christianity Today and get access to this article plus 65+ years of archives.
Home delivery of CT magazine
Complete access to articles on ChristianityToday.com
Over 120 years of magazine archives plus full access to all of CT's online archives
Subscribe Now
Les Misérables
Les Misérables