true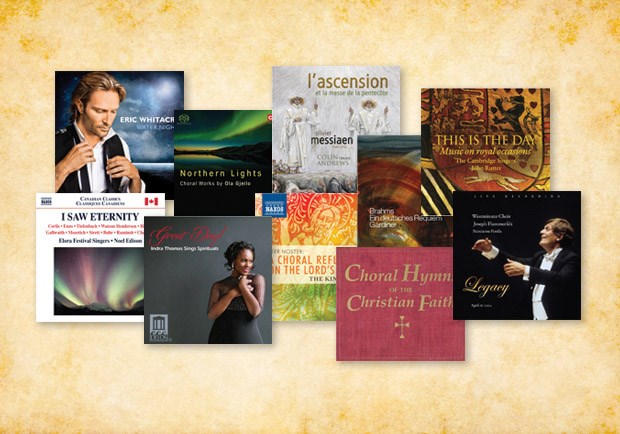 Sacred music continues to thrive in the church and concert halls and 2012 brings a wealth of stellar releases. Here are 10 of the year's best—instrumental and choral, classical and modern, recorded in studios and in cathedrals. There's a little something here for everyone.

John Rutter and the Cambridge Singers, This Is the Day: Music on Royal Occasions (Collegium Records)
For England, 2012 brought a royal wedding, the Summer Olympics, and the year of the Diamond Jubilee. A tribute to Queen Elizabeth II, this is an assemblage of sacred music performed in various ceremonial occasions during her lifetime. A chronological list of weddings, funerals, and other royal events is included in the program notes of this fascinating collection. The Cambridge Singers, along with soprano Elin Manahan Thomas, have recorded some of the most beloved choral works including Brahms' "How Lovely Is Thy Dwelling Place," Durufle's "Ubi Caritas," and Rutter's "I Would Be True" set to an Irish folk melody. The CD begins with the title track, an original composed for the wedding of Prince William and Kate Middleton, with a flowing, lyrical melody in Rutter's trademark style.

Westminster Choir & Joseph Flummerfelt, Legacy (Westminster Choir College)
Commemorating the end of an era in which Flummerfelt conducted the Westminster Choir, this final live concert from Bristol Chapel is worthy of its title. Maestro Flummerfelt, who led the Westminster group for 33 years before retiring in 2004, designed an exquisite concert program with the intention of providing a spiritual connection for the audience. The set offers a perfect balance of sacred repertoire, including three versions of "The Lord's Prayer" (Stravinsky, Durufle, and Davies), and two settings of the "Agnus Dei" (including Samuel Barber's), alongside poetic songs about nature, and a few well-loved folk songs. This outstanding academic chorus's fine singing is on full display in the opening Rachmaninoff sacred settings, an immediate display of their capable richness of choral production. The concert is primarily unaccompanied singing with no applause until the end, making it easy to become swept up in this final tribute to one of America's most-acclaimed conductors.

Eric Whitacre, Water Night (Decca)
Whitacre's second album for the Decca label includes not only choral music for which he is so highly acclaimed, but also features his mastery for writing orchestral works—showcased here by the London Symphony Orchestra. The nine selections here provide a fantastic listening experience. The most emotionally fraught track is "When David Heard," referencing the Absalom's death and David's tremendous grief. Whitacre writes with a perfect balance of choral sound, using a wide range of dynamic singing, all juxtaposed with complete silence—a cathartic expression in every sense. On the lighter side, "Goodnight Moon," a delightful depiction based on the children's book, features his wife, Hila Pittmann, singing solo soprano with string orchestra; it's great storytelling for children and adults. The title track is a transcription for string orchestra using of one of Whitacre's famous choral works, offering a warm, poetic musical expression.

Noel Edison and the Elora Festival Singers, I Saw Eternity (NAXOS)
Praiseworthy choral singing is the highlight here, featuring this Canadian group of 25 showcasing timeless hymns and psalm texts. Lush, warm and perfectly balanced, they sing with remarkable communion with each other. Twelve present-day Canadian composers are represented in the 15 tracks, including a captivating setting of the Nunc Dimittis (Song of Simeon) by Peter Tiefenbach, commissioned by this ensemble and sung with great emotional and spiritual believability. "Let All Mortal Flesh Keep Silence" gets a harmonically rich treatment with fresh contemporary sounds from Craig Galbraith. "Psalm 23," composed for women's voices with piano, is another example of the depth and diversity in this collection. They close with a selection by one of Canada's best-known composers, Stephen Chatman, and his tonally pleasing "Remember," based on a poem by Christina Rosetti.

The King's Singers, Pater Noster: A Choral Reflection on the Lord's Prayer (NAXOS)
The King's Singers take a unique musical excursion through the familiar words and phrases of The Lord's Prayer with this compilation of twenty-five choral works spanning the centuries, including Gregorian chant, early polyphony, early English, French Romanticism, and 20th-century gems. Recorded live at the Cathedral of the Incarnation in Nashville, Tennessee, it's easy to see why this 6-voice male ensemble has become one of the most musically acclaimed performing groups in the world, singing with impeccable intonation and emotion, all unaccompanied. For each phrase of The Lord's Prayer, three or reflections are presented; for instance, "And forgive us our trespasses, as we forgive those who trespass against us" is reflected with John Tavener's setting of "The Lord's Prayer" followed by Purcell's "Remember not, Lord, our offences" and Victoria's Latin setting "Popule meus (O my people, what have I done?)." It's a remarkable concept that works very effectively.
John Gardiner and Monteverdi Choir, Brahms: Ein deutsches Requiem (Soli Deo Gloria)
If you do not own a recording of Brahms' German Requiem, you might want to add this uplifting choral mainstay to your collection. It's filled with some of the greatest emotional romanticism that you'll find, and Gardiner features his sensational Monteverdi singers in a live setting with extremely fine clarity and balance with the orchestra—it's as if you're sitting in the front row of the audience. Sung in German, this masterpiece bears listening to many times over, giving solace to grief and hope to despair. Gardiner incorporates authentic period instruments in the orchestra, further warming the romantic tone, coupled with his fresh approach to tempi, at times brisk. The CD begins with two motets by another well-known German composer, Heinrich Schutz, featuring texts that are duplicated in the Requiem and demonstrating the style that would have influenced Brahms' own writing.

Phoenix Chorale, Charles Bruffy, Northern Lights: Choral Works by Ola Gjeilo (CHANDOS)
Ola Gjeilo, a Juilliard graduate from Norway, is the Phoenix Chorale's composer-in-residence and one of today's top choral composers. He is comfortable with sacred texts from the liturgical church, drawing from many Latin texts from Scripture and the Mass. This is contemporary music that sings with lyricism and dynamic energy from peaceful to fiery. Beginning with "The Ground," the choir sings lush, sweeping lines with string orchestra and piano (Gjeilo himself at the keys) to the text Pleni sunt caeli et terra gloria tua (The heavens and earth are full of your glory. Hosanna in the highest). The most rhythmically driven selection, "Dark Night of the Soul," reflects one's journey from death into heaven. The title track is a sacred reflection using text from the sixth chapter of the Song of Songs. The album closes with jazzy "Evening Prayer," accompanied by tenor saxophone and a fitting prayer: "Watch, O Lord, with those who wake … and give your angels charge over those who sleep."

Indra Thomas, Great Day! Indra Thomas Sings Spirituals (DELOS)
This is an album filled with joy, sorrow, energy, and other various emotions that celebrate the African-American spiritual. Thomas, a soprano, grew up hearing the hymns of the church along with the powerful repertoire of spirituals, and though she made her mark first as an operatic and concert soprano, she clearly maintained her passion for singing these historical treasures. (Fun fact: Before entering college, she sang "What a Friend We Have in Jesus" in the Oscar-winning film Driving Miss Daisy.) The highlights here include Mark Hayes' fiery setting of "Joshua Fit the Battle of Jericho," giving the piano an equal role, and his moving portrayal of "Were You There." H.T. Burleigh's setting of "Deep River" drips with emotion, as does Jester Hairston's "Guide My Feet." The title song, "Great Day," arranged by F.H. Johnson, includes backup vocals and even some hand clapping, and all of it demonstrates the dynamic range of this extremely gifted singer.

Portara Ensemble, Choral Hymns of the Christian Tradition (Reminiscent Recordings)
"Hymn singing" is the emphasis of this new project featuring the Portara Ensemble of Nashville, Tennessee. There aren't many modern recordings featuring traditional hymnody, simply sung, and this two-disc collection fills that need, complete with 30 well-known hymns accompanied either by organ or piano. Recording in a church, the album offers a decent amount of clarity within the ambient room, making it easy to decipher every line of text. Beginning with one of the most ecumenical hymns of all time, "Joyful, Joyful, We Adore Thee" is heard with pipe organ accompaniment, moving from a stanza of unison singing, to part singing, and an organ interlude that builds to the final stanza. Other titles range from well-loved 19th-century gospel hymnody like "Leaning on the Everlasting Arms" and "Blessed Assurance, Jesus Is Mine" to the more modern "Majesty," written in 1977.

Colin Andrews, l'ascension et la messe de la pentecote, Olivier Messiaen (Loft)
One of the great French composers of the 20th century, organist and composer Messiaen (1908-1992) found expressions for the spiritual truths he learned in the Catholic faith, and these remarkable symphonic-style organ suites have become standard literature in all organ studies today. Here, British organist Colin Andrews features two of Messiaen's Mass settings expressing the Ascension of Christ and Pentecost. Listeners will be drawn to the ethereal use of mystery and drama through a combination of rhythms, unusual organ registrations, and marked dissonance, encompassing the entirety of the keyboards. The music takes on a prayer-like intensity depicted with a variety of hues and colorful sounds, all expressing these profound stories of our faith. The Communion setting in "Messe de la Pentecote" brings heaven and earth together in "The birds and the springs," with a variety of gentle bird songs ending with the lowest pedal note and the highest note found on the organ. Andrews delivers a well-executed performance of these French classics on the 57-rank Fisk organ, Opus 126, housed in St. Paul's Episcopal Church of Greenville, North Carolina.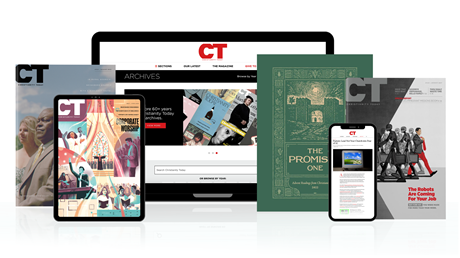 Annual & Monthly subscriptions available.
Print & Digital Issues of CT magazine
Complete access to every article on ChristianityToday.com
Unlimited access to 65+ years of CT's online archives
Member-only special issues
Subscribe
Notable Sacred Music for 2012
Notable Sacred Music for 2012