When Karen Swallow Prior and I identify as book nerds, we're delighted to claim the moniker. When we chat (usually online), she and I use the kind of literary shorthand common among former English majors. Say one of us is deriding a sloppy political argument. One of us might warn: "A little learning is a dangerous thing," to which the other might reply, "I love it when you talk Alexander Pope to me."
So when I read Booked: Literature in the Soul of Me (T. S. Poetry Press), Prior's new memoir that arranges key moments in her life around great works of literature, I felt like I was having a satisfying conversation with a longtime friend.
For the following conversation, Prior and I chose passages from three of the books explored in Booked as springboards for reflections: on the American Dream, on isolation, and on the gifts of ordinary life.
Madame Bovary, by Gustave Flaubert (published 1856)
"I have come to love stories that move breathlessly along, that frighten one. I detest commonplace heroes and moderate feelings, as one finds them in nature."
Grant: As a prolific reader and writer, do you ever find ordinary life and people tiresome, as Madame Bovary does?
Prior: Madame Bovary cured me of romanticism. Truly. I did not realize until I read the novel that I was, like Emma, prone to mistaking art for life, an error that inevitably leads to disappointment in the day-to-day real world. That confusion—between art and life—is all around us.
By God's grace, I can't say I ever do tire of ordinary life and ordinary people. The things I find richest and most satisfying are things like a good book, funny friends, a clean home, work well done, happy dogs and chickens, and a content husband. And a book that took years to write finally complete.
What makes you breathless in your regular, ordinary life?
I run miles nearly every day. That makes me breathless, but not only in the obvious way. The beauty of the changing seasons, the deer and rabbits I encounter, the sunlight, the occasional snake or snappy dog, the feeling of my body working and my mind at ease—these make me breathless.
Has a work of art left you "breathless" recently?
The Tree of Life, a film released last year, left me in awe and in a spirit of worship every time I saw it.
Do women in our culture err on the side of fantasy, like Madame Bovary, or banality - perhaps like her husband, Charles? And what might the success of Fifty Shades of Grey have to do with this?
I've not read Fifty Shades of Grey, but from the reviews and reactions I've seen, it seems like it is just a 21st-century version of the Harlequin Romances: high on fantasy, low on real life. I think banality and fantasy are two sides of the same coin. Those seeking fantasy and not finding it will find banality in its place (as Emma Bovary did).
That coin is the wrong currency altogether for the ordinary, good life.
No Man Is an Island, by John Donne (from Devotions upon Emergent Occasions, Meditation XVII, 1624)
"No man is an island, entire of itself … any man's death diminishes me, because I am involved in mankind; and therefore never send to know for whom the bell tolls; it tolls for thee."
In an age of pervasive "connecting" and "sharing," it seems to me that we are, more than ever and certainly more than Donne in the 1620s, "islands."
Not to wax overly academic here, but the late modern age found itself lamenting the fragmentation of the age (think T. S. Eliot's The Waste Land). The shift to postmodernity is, among other things, a shift toward embracing that fragmentation. So, yes, amid this illusion of connection, we are increasingly, isolated if only because we don't know how to truly connect.
We have so much access to information about death - I'm thinking foremost about the tragedy now playing out in Gaza. How could we handle it emotionally if we truly felt ourselves diminished by each and every person's death?
That's an interesting question, because as different as our world and Donne's might appear to be, it seems he was writing to an audience that, too, was separated emotionally from death. As violent as our world is, and as much as I cannot emotionally process so much death and suffering, neither can I fathom the horrors that were part of everyday life for those living in Donne's 17th century. That's what makes his words so utterly timeless.
Death of a Salesman, by Arthur Miller (1949)
"He had the wrong dreams. All, all wrong."
What would have been the "right dreams" for Willy Loman?
The ones that took into consideration Loman's own passions and gifts, for these are of God's making, not ours. Too often we, like Willy, mistake the dreams and passions of others as our own.
I just finished teaching another of Miller's plays. It, too, is concerned with the American Dream. At the end of our discussion, I surveyed the class by asking, "Do you believe in the American Dream?" There were 12 "yesses" and 13 "no's." I was one of the "yesses."
I thought that was sad. Some of the students said they wanted to believe in it, but didn't think it could be true for them anymore. Others, reflecting the global-mindedness of their generation, couldn't reconcile their Christianity with as narrow a vision as the American Dream.
My life verse is Proverbs 16:9: "The mind of man plans his way, but the Lord directs his steps." I believe in the American Dream in the sense that the unprecedented freedom of this country gives us greater opportunity to pursue achievements that God might permit us to attain. But God's will for us in America is no greater or better than his will for one of his children living under a regime of tyranny. As Christians, there should be no "assumptions" for our lives. Too often, we confuse our assumptions with dreams.
Her.meneutics readers: What novels and stories have most shaped your life?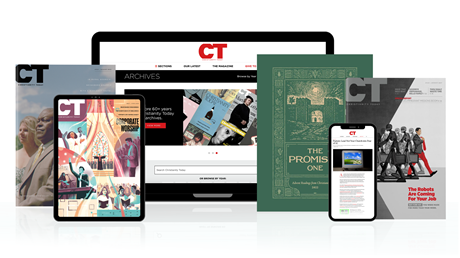 Subscribe to Christianity Today and get access to this article plus 65+ years of archives.
Home delivery of CT magazine
Complete access to articles on ChristianityToday.com
Over 120 years of magazine archives plus full access to all of CT's online archives
Subscribe Now
Soul Lessons from the Literary Classics
Soul Lessons from the Literary Classics