true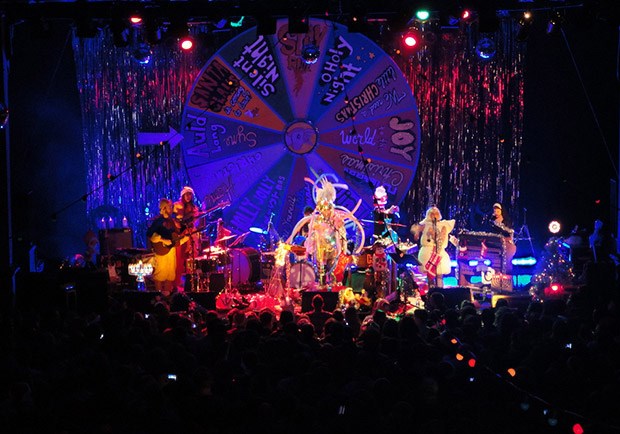 Image: Daniel Baker / Flickr
Indie folkie and mini-orchestra director Sufjan Stevens is in a festive mood. Sort of. He's just released his second 5-EP set of Christmas music in the past six years, Silver and Gold, Vols. 6 – 10, this time in a handsome box set with a booklet, a poster, a make-it-yourself Christmas star, and a sheet of holiday tattoos and stickers. It's the kind of cheeky consumer-driven extravaganza that will provoke legions of his fans to purchase new music. And, because this is Sufjan Stevens, it's also the kind of ironic hipster cultural commentary that simultaneously begs for close analysis of complex, nuanced themes and for the easy dismissal that musical trinkets and baubles deserve.
The basic facts are these: Sufjan Stevens, a musician and singer/songwriter in his mid-30s, has now released ten EPs and 100 songs of Christmas music in a relatively short span of time. To say that Stevens is obsessed by Christmas and Christmas music is a vast understatement. Almost every musical artist releases a holiday album at some point in his or her career. The reason is simple: a holiday album is a safe, conservative cash cow guaranteed to appeal to the hard-core fans and draw in new fans looking for the musical equivalent of comfort food.
Sufjan Stevens, on the other hand, circumvents those expectations at every turn. He unleashes relentless torrents of this music, a dizzying, kaleidoscopic, and sometimes confusing survey of 500 years of the Christmas musical tradition. Silver and Gold, Vols. 6–10, like its predecessor, 2006's Songs for Christmas, Vols. 1-5, is a collection of songs that range from medieval polyphony and arrangements of Bach and Handel choral works to traditional carols done traditionally to traditional carols recast as disco/funk workouts; from reverent meditations on the nativity to the slightest, most shallow holiday confections; from almost unrecognizably strident, discordant mutilations of well-known Christmas standards to startlingly lovely, unsettling originals. Oh, and there's an inexplicable Prince cover thrown in for good measure. That's Prince Rogers Nelson of "Purple Rain" fame, by the way, not the Prince of Peace. Whew. Just what is going on here?
What's going on here, I suspect, is a profound sense of bewilderment and ambivalence. More than any other songwriter working this frozen yuletide tundra, Sufjan Stevens understands the emotional and spiritual melancholy and acedia that frequently accompanies the Christmas season, the numbness that results from an overexposure to the blaring, unrelenting 60-day consumer onslaught that is Hallowthanksmas. He writes songs for people who experience a deep world-weariness when they witness others wearing antlers on their heads, or Santa Claus caps, or a hundred other silly reminders of the cultural joviality that they fail to experience in the day-to-day grind of everyday life. He also understands the relational traumas that accompany the season. These are songs of celebration and reverence, to be sure, but they are also songs for all the orphans, literal or figurative, for whom the schmaltz and forced gaiety of home for the holidays is a painful reminder of everything that real life is not.
It's a wildly inventive and occasionally frustrating roller coaster of emotions and sounds, three hours of schizophrenic holiday fare. Stevens records these songs whenever the whim strikes him, throughout the months and years, with friends such as Danielson Famile, Aaron and Bryce Dessner (The National), and members of The Arcade Fire and Inlets, and therefore it's not surprising that the box set as a whole exhibits a dramatic unevenness. Some of these songs are quite serious, and others represent little more than serious messing around, and were never intended to be taken as anything other than a musical lark. The latter are throwaways and shiny baubles, not all that different from the superficial holiday ephemera that Stevens skewers throughout most of the collection.
But at his best—on his disquieting originals where he is content to be simply Sufjan Stevens rather than the voice of hipster irony—Stevens probes the unsettling conundrums that face anyone who wishes to come to grips with the Xmas/Christmas experience in its totality.
Occasionally, the uneasiness gives way to unalloyed gratitude. "Christmas in the Room," a charming ode to the pleasures of peace and quiet and simply being present with the one you love, reminds us of the simple truths that joy cannot be purchased off the shelf, and that meaning comes from relationships, not things.
Still, the chill of harsh, inescapable Xmas – the tug of war between the Christian ideal of the nativity and peace on earth and the sagging disappointment of crass commercialism and exploitation – is never far from the surface. It's most evident on "Justice Delivers Its Death," a song that borrows its first verse from "Silver and Gold," a bit of pure hokum that Burl Ives croons on a '60s "Rudolph the Red-Nosed Reindeer" Christmas special as Claymation elves make toys for good little girls and boys. But that less-than-inspiring beginning quickly gives way to something dark and somber:
Oh, I'm getting old
Oh, I'm getting old
Everyone wishes for youth
How have I wasted my life?
Trusting the pleasure it gives here on earth
It's a cry of the heart, a groaning not quite too deep for words; a sigh of deep longing for something better and an expression of sorrow for a world that largely misses the point, year after holly-jolly year. And that little bit of holiday cheer gives way in turn to the apocalyptic ruminations of:
Lord, come with fire
Lord, come with fire
Everyone's wasting their time
Storing up treasure in vain
Trusting the pleasure it gives here on earth
That's the danger and the unexpected pleasure of Sufjan Stevens. You come looking for elves and mistletoe, and he thunders like an Old Testament prophet.
He saves the weirdest and saddest and best for last. The twelve-and-a-half minute "Christmas Unicorn," the choral nightmare that finishes the long proceedings, is as strange, syrupy, precious, and disturbing as it sounds, its cloying sentimentality slowly giving way to the contrapuntal chorus of "Love will tear us apart," a deliberate evocation of the song of the same name from post-punk band Joy Division. Here Stevens makes the connection between fantasy and disillusionment even more clear. We live in a bright, loud, make-believe world of talking snowmen and cheery elves, marshmallow fluff snow and tinsel, but it cannot disguise the desperation and hollowness at the heart of the frantic celebration.
It's the most deeply conflicted Christmas music you'll ever hear, the most truthful, and some of the best. It works at 3:00 p.m., when you're looking for that little festive boost to get you through the work day, and it works at 3:00 a.m., when there's nobody there but your darkest thoughts, and when you see the beautiful, broken, glorious, fallen world with sudden and terrible clarity. With any luck, we'll be graced with another 50 or 60 songs in the next few years. They will probably be songs of longing and loneliness, beauty and joy, with perhaps an origami flying reindeer set thrown in for good measure. Chances are, we'll be baffled and moved.
Silver & Gold
ASTHMATIC KITTY
2012-11-13
44.87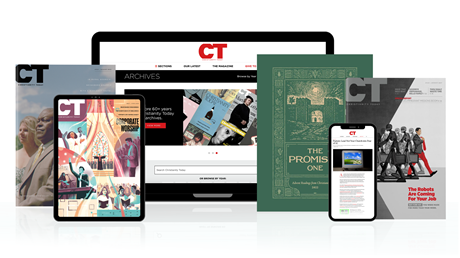 Subscribe to Christianity Today and get access to this article plus 65+ years of archives.
Home delivery of CT magazine
Complete access to articles on ChristianityToday.com
Over 120 years of magazine archives plus full access to all of CT's online archives
Subscribe Now
Sufjan Stevens's Conflicted Christmas
Sufjan Stevens's Conflicted Christmas