Reviews

|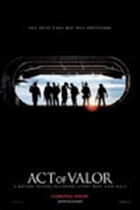 Act of Valor tries so hard to be authentic. From a cast made up of real Navy SEALs, to dialogue filled with military jargon, to a plot centered around the war on terror, the film wants us to believe that what we're seeing truly represents soldier life. In this desperate effort, though, it unfortunately does just the opposite. Focusing so closely on the validity of details, the filmmakers forget almost every valuable component of cinema—like, say, a story, which in the end makes it play more like an ad for the Navy than an actual movie.
Directed by Mike McCoy and Scott Waugh and written by Kurt Johnstad, Act of Valor follows a squad of Navy SEALs as they go on a mission to rescue a CIA agent and stop a group of terrorists from bombing the U.S. In terms of a story, this plot is the extent of it. A voiceover briefly introduces the characters as they prepare to leave their families, but that's it. After ten minutes of contrived goodbyes and trite lines about men and war, the mission begins, and the action follows.
But the film never shows or tells us who these men are and what they think and feel. Are they afraid? Do they feel sympathy for the enemy? Do the killing and death affect them? Questions like these never emerge, but why would they when the film clearly imposes a pro-military, pro-war agenda, asking us to accept its subject as a mere noble and necessary part of life without moral and social implications.
In this, Act of Valor confirms itself to be a sort of military propaganda that depicts U.S. soldiers as pure, selfless, and righteous heroes whom American citizens dare not question or disrespect. Like most propaganda—if not all—the film hardly passes as art. But even if it had a genuine story and complex ...
1