true
Mentored and influenced by two of Poland's greatest filmmakers—Andrzej Wajda and Krzysztof Kieślowski—it's not surprising that Agnieszka Holland would also become known not just as one of her nation's finest, but one of the world's best.
Holland, 63, recently received even further critical acclaim when her latest project, In Darkness, was nominated for an Academy Award for Best Foreign Language film. The film opens in limited release this week, and will go wider in the coming weeks.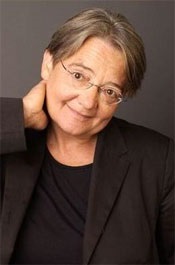 It is not Holland's first Oscar nomination; she was nominated for Best Adapted Screenplay for 1992's Europa Europa, which she also directed. (She lost out to Ted Tally, writer of The Silence of the Lambs, that year.) The veteran filmmaker is also known for such movies as Copying Beethoven (2006) and The Secret Garden (1993), and numerous TV series, including episodes of The Killing, The Wire, and Cold Case.
Christianity Today recently interviewed Holland in Los Angeles to discuss her career in general, and In Darkness in particular. She is diminutive, but has presence. Her wise gaze, her stolid demeanor and her salt-and-pepper, bobbed hair testify to a fierce intellect, strong personality, and deep wisdom.
In Darkness centers on sewer worker and petty thief Leopold Socha, who hides his stolen loot in the sewers beneath the Polish city of Łódź during World War II. When the Nazis invade, Socha stumbles upon some Jews who are hiding in the sewer. Will he turn them over to the Germans, or will he take their own offers of money to keep them hidden?
Socha tells his wife he is tempted to turn in the Jews, justifying himself with the statement that Jews killed Jesus. When his wife informs him that in fact Jesus himself was Jewish, Socha is surprised. Holland says the scene reminds her of a childhood memory of an illiterate nanny who told her "in secret that Jesus was a Jew." Holland tells the story with smiling eyes, mimicking her nanny by putting her hand up to her mouth, not wanting the scandal of Jesus' true ethnicity to reach the wrong ears.
In the film, one character says that God will punish Socha for hiding the Jews, but Holland gets the last word as the end credits roll, beginning with this phrase: "As if we need God to punish each other." Fade to black.
Holland reminds us how the 20th century showed that even without God we can wreak as much havoc, destruction and death as we did (and still do) when burning with religious passion. But instead of thinking about God as peripheral to this story, his absence from the dialogue puts the audience in the shoes of the characters, who hear only God's silence, and who may have felt that God had abandoned them.
"This is much more a people's story than the ones I have told with the metaphysical direction," Holland says. "It has to more do with chance or fate. What was interesting to me was to describe how thin the line is between good and evil, represented by Socha. He can slip either way at any moment. I don't know if you can look at this in religious terms. People survive by caprice in my films—the caprice of God, if you believe in God. But chance plays such a big part that you must ask yourself if it has meaning or is meaningless."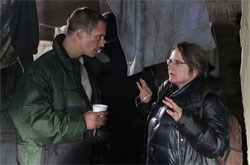 Holland believes the Holocaust holds many more untold stories that can still teach us today. "The biggest challenge to humanity is the fact that the Holocaust is meaningless," she says. "Some recent movies and books try to give the Holocaust meaning, a moral. I do not agree with this. This is why it is such an important experience to explore, because you cannot give it meaning."
Europa Europa deals with the true story of a young man during WWII who must hide his Jewish identity (including his lack of a foreskin), even while he is made to join the Hitler Youth. Her follow-up, Olivier Olivier, features a boy who vanishes in youth to return home as a teenager, but he is changed, different enough to raise the question in his parents' mind about if this is truly their son or an impostor.
Similar in approach to her friend and fellow Polish director Kieślowski, Holland is interested in the topic of faith, but primarily as just another human trait, similar to issues of identity, sexuality, and morality. Characters wrestle with their faith in films like To Kill a Priest, Angry Harvest, Julie Walking Home, and The Third Miracle, which features a priest as the main character.
Holland often wonders what Kieślowski would say about her current work if he were still alive. "I have never been able to find someone like him in the film world," she says. "He was my closest friend." (Kieślowski died in 1996 at the age of 54.)
Born in 1948, Holland does not categorize easily. In addition to being a female director in an overwhelmingly male world (though decidedly not a feminist), she is also a Polish director who has worked most of her career in other countries, partly in exile from Communism. But it is her mixed faith that has given her a personal struggle with identity: her father was Jewish and her mother was Catholic.
"My mother presented my Jewish-ness as something to be proud of, because the Jews were so oppressed, were martyred," she says. "Her vision was that they had been unjustly slaughtered and that we must try to repair it in some way. She not only hid a Jewish family when she was a young girl, but made a pact with a friend that they would marry Jews when they grew up and have Jewish children. And they did." Holland leans forward, with an intent stare: "But it was a very Christian vision, because it was the sacrifice that made the Jews better, their martyrdom. This is a vision I had to change: it's not enough to identify with martyrdom. I identify with the destiny of Holocaust victims, and I have strong feelings of their culture and religion. It's part of me, but it's not something that made me who I am.
"My main subject is identity, and how much choice we have as human beings, freedom of will, and chance," she says. "The religious dimension comes in on the side. [In the film], Socha and his wife's religion is very basic, traditional; popular Polish religion is like that—which means they don't understand doctrine very well. They have some code of right and wrong, but their personal code can be quite different from that of the church."
In her 2002 film Julie Walking Home, one character says that you always take on the religion of the mother. Holland, whose mother was Catholic, was baptized at age 11—in secret, because Poland was under communist occupation at the time. She says she learned about the faith through her nanny and friends.
"At first, all my friends were religious, and I started to read the New Testament," she says. "I just loved it. The Old Testament was too much like fairy tales, but the story of Jesus, which I read as the story of a rebel, spoke to me because of my Marxist education. I stole a book from my father with great Renaissance and Gothic paintings that inspired me. I did not want to spend eternity in limbo, and asked to be baptized. The priest would not do it, so my friend baptized me, so we aren't sure if it counts!"
In her films, Holland says the moral and psychological dimensions of a character intrigue her more than the religious: "My relationship to my faith is reflected in some of my films," she says. "But it varies with my faith. I had a period when I was sure I was a believer; then I had a longer period when I don't think I was. It is a question in my life that is always present. People who are struggling to have deep faith are interesting to me. I am not looking at them from the perspective of the church, but from the perspective of the person. I am intrigued by anyone who makes a decision to follow something that is more important than life or happiness."
Eric David is account and project manager for TakePart.com, the digital division of Participant Media. He has written several profiles for our Filmmakers of Faith series.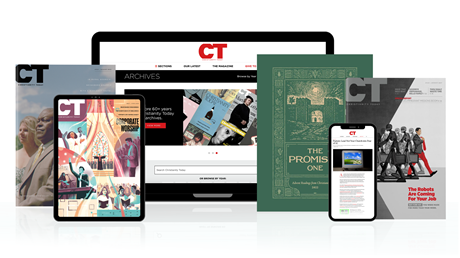 Subscribe to Christianity Today and get access to this article plus 65+ years of archives.
Home delivery of CT magazine
Complete access to articles on ChristianityToday.com
Over 120 years of magazine archives plus full access to all of CT's online archives
Subscribe Now
Oscar Nominee Agnieszka Holland
Oscar Nominee Agnieszka Holland