true
Style: Worshipful indie-folk-rock; compare to Coldplay, Chris Tomlin, Mumford & Sons
Top tracks: "Come Find Me," "Leaning on the Everlasting Arms/Tis So Sweet to Trust in Jesus," "Oh My God"
The David Crowder Band's final studio album opens with the words, "Give us rest / We're all worn thin from all of this / At the end of our hope with nothing left / Oh great God, give us rest." It's an honest plea from a man who almost single-handedly redefined modern worship for the 21st century, which certainly was no easy task. But before stepping away from the microphone for good, Crowder showed exactly why he and his bandmates are in need of a rest, by creating an exhaustingly epic, double-disc album. (Read our extensive interview with Crowder here.)
It's even got an epic title: Give Us Rest (a requiem mass in c [the happiest of all keys]). The album starts quietly, with gentle piano keys over atmospheric synths, but quickly turns to stadium-filling anthems that would inspire U2 or Sigur Ros. The energy levels rise and fall, each new crescendo more triumphant than the previous. And this goes on for a staggering thirty-four tracks. The overzealousness of Give Us Rest is comparable to watching all three Lord of the Rings films in one sitting. It's epic, inspiring, breathtaking—and really, really long. As great as it is, there are times when you can't help but wonder how much more is possible.
Not unlike Frodo Baggins' tumultuous expedition, Crowder trudges through a lot of emotional and spiritual terrain on his last journey. He coos quietly with an acoustic guitar on "Why Me Lord?" but shouts his lungs out on "Oh My God." Styles range from simple country ballads a la Johnny Cash to electronic-tinged rock-outs that Family Force 5 would love. But at the core of this album, it is pure worship.
It's clear from the first track to last that Crowder is singing for and to God. Don't be surprised if you find yourself singing these words from "Fall on Your Knees" at your next worship service: "He spoke and stars came out / He spoke and lightning flashed and thunder broke the quiet / He spoke and my heart, it burst to life / All this mystery divine / Fall on your knees / Forgiven and clean / Forgiven and free."
The music doesn't sound dissimilar to Passion, Chris Tomlin, or Hillsong, but the David Crowder Band has always stood separate from that pack of modern worship groups due to its eclecticism. Crowder himself is still a wild-eyed, crazy-haired Jesus freak, and his band can play anything from keytar or Theremin to scratching on turntables and even a Guitar Hero controller. And this imaginative use of instruments may be what fans miss most, even as they continue singing Crowder's songs in church services for years to come.
Give Us Rest sounds exactly as a "final album" should. It is a Mount Everest of worship rock albums, never to be topped. For over a decade, David Crowder created some of the most creatively inspired worship music in the world, and now he deserves his rest.
Browse All Music Reviews By: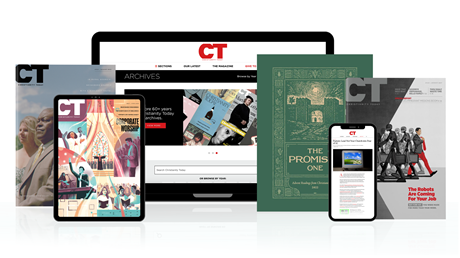 Subscribe to Christianity Today and get access to this article plus 65+ years of archives.
Home delivery of CT magazine
Complete access to articles on ChristianityToday.com
Over 120 years of magazine archives plus full access to all of CT's online archives
Subscribe Now
Give Us Rest
Give Us Rest