true
It'd be easy for Michael W. Smith to kick off his shoes, settle down in a recliner, take long afternoon naps, and read books to his six grandchildren at his family farm in Tennessee. He's 54, has released 24 albums in 30 years (with more than 15 million sold), and won three Grammys and 44 Dove Awards.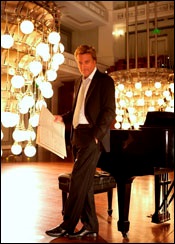 He could kick back and live royally off the royalties for the rest of his life. He doesn't need to make any more records. But he just can't help himself.
In November, Smith released Glory, his second all-instrumental project. And today, he and Provident Label Group release Decades of Worship, a 13-track album that is essentially a "best-of" compilation (though he's reluctant to use those terms) of his most enduring worship songs—from "Agnus Dei" to a newly remastered version of "Great Is the Lord."
We recently interviewed Smith via e-mail to talk about his latest albums, why he loves instrumental music, the state of modern worship, and why he's not at all interested in slowing down one bit.
Glory is your second all-instrumental album, and you've said before that Freedom is your favorite of all the records you've done. Why is that?
When I did Freedom, none of us knew what to expect. An instrumental project isn't very common for our market. But I wanted to do something that wasn't limited to one market. Someone once said, "After silence, that which comes nearest to expressing the inexpressible is music." I think there is a lot of truth in that. Freedom turned out to be the most gratifying record I had done. There was such freedom in just expressing myself musically, without the limits of lyrics or time. When I meet people, I get more comments on Freedom than anything else I have done.
How does the Glory project compare to Freedom?
Glory was an amazing experience, too. I don't think I consciously set out to do this record at this time, but every time I sat down to write, these big symphonic songs came out. After I wrote 30 or 40 of these, I started to figure it out: Another instrumental record was coming. Writing this project was one of the greatest writing experiences I've ever had.
In some ways Glory is a continuation of Freedom because it was influenced by things I love the most—my God, my family, and my country. A couple of tracks are inspired by our military past and present.There are songs inspired by my grandkids. I even did a huge symphony version of "Agnus Dei."
Some will wonder, How can this be "Christian" music without any lyrics?
I think instrumental music does have an intrinsic value. Often, music alone is far more powerful at reaching the soul than any lyric I have ever read. I think our culture has devalued instrumental music, to a certain extent. I hope this record brings people back to a moment of reflection—a moment of silence—just to let the music speak to them where they are.
Your instrumental music is often compared to film scores. Who's your favorite film composer?
I recently got to meet one of my favorite composers, John Williams, in New York City; that was a dream come true. I love his work! I also love Hans Zimmer (The Lion King, Gladiator, The Dark Knight), James Newton Howard (The Fugitive, King Kong) and Ennio Morricone (The Mission).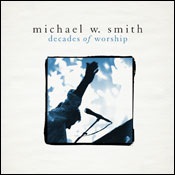 On to Decades of Worship. How did you decide what songs to include?
Jason McArthur, vice president of A&R at my record label (Provident), was really helpful in pulling together what I think is a really interesting project. It's not just a "best of" of my worship projects. He culled through a lot of material to pull together songs I had done on other projects, songs that were a little off the beaten path. So in there with well-known Smitty worship songs are some songs I really love that some fans might not even be familiar with.
Modern worship is as popular as ever, with new worship albums every day. Do you think the genre is changing in any way, for better or for worse?
I think there can be good and bad when something like this takes on a life of its own. I just keep reminding people that "worship" is more than just music. It's more than just what you do before the sermon on Sunday. Worship is a lifestyle and a state of mind and heart.
Some artists write worship songs with the hope that they'll be sung corporately in a congregational setting, while others simply write vertical songs that are not meant for corporate worship. Do you write one way or the other?
I really never write with a "goal" in mind. I sit down to write and really just respond to what comes out. I don't think I'd have much luck trying to be over-calculated with what I write.
Now that your kids are older and flying the coop, how has your own life changed—time with Debbie, time with grandkids, and so on?
I will just say it's a sweet time in life. Debbie and I just celebrated our 30th wedding anniversary. We renewed our vows at a surprise party that the kids and I threw for her; it was awesome. And I couldn't have ever imagined how much fun it would be playing with grandkids. It's a great time of life.
You're well-known for your friends in Republican circles. Have you embraced Tea Party politics, and which of the current candidates are you hoping will win the nomination?
Those are all "loaded" questions! I think my message to people right now is to pray for our country and pray for our President. I'd like to think that we, as believers, are as committed to pray for Barak Obama as we were for George W. Bush.
Looks like a busy schedule ahead for you—a trip to Brazil, a spring tour, a Canada tour, and then a summer cruise! It doesn't look like you're ready to settle into the easy chair and lazy days of retirement just yet!
Well, I love doing what I do. I don't take for granted that this is all a gift. I'm not deserving or worthy of any of it. So I'm grateful for the opportunities God puts in front of me. There's a famous line in the movie Chariots of Fire where Eric Liddell says, "When I run, I feel His pleasure." That's the way I feel about creating and playing music. It feels like what I was born to do.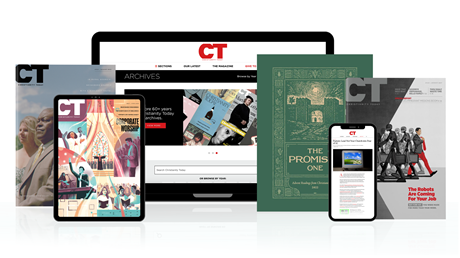 Annual & Monthly subscriptions available.
Print & Digital Issues of CT magazine
Complete access to every article on ChristianityToday.com
Unlimited access to 65+ years of CT's online archives
Member-only special issues
Subscribe
Interview: Michael W. Smith
Interview: Michael W. Smith