true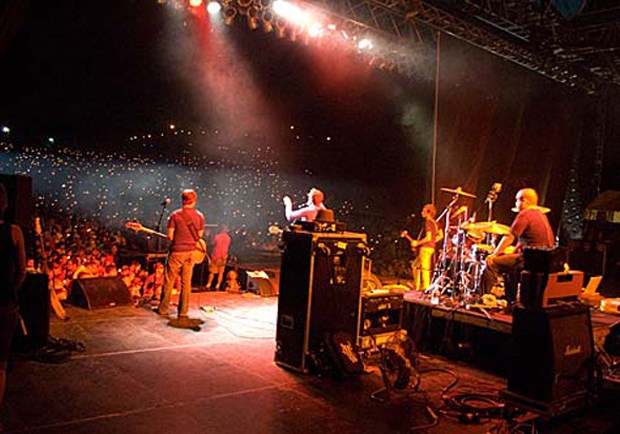 After 29 years, the Cornerstone Festival, being held this week in Bushnell, Illinois, is calling it quits. Sad news for those who believe in the transformative power of faith and art, and particularly for those dissatisfied with sanitized, safe-for-the-whole family, Christian entertainment. This week's smaller gathering is really a post-script to the event that I believe will be recognized by future generations as one of the most significant happenings in the American church in the last century.
Grandiose? Probably. Objective? Probably not. But I'm right anyway.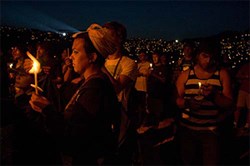 I've been at every single Cornerstone Festival, starting with the 1984 debut when I was just 13. It shaped my concept of ministry and my understanding of important theological concepts. It also introduced me to a world of music that was way too "Christian" for the world of mainstream rock 'n' roll, and way too rock 'n' roll for the mainstream church. Through music, drama, speakers, poetry readings, comedy troupes, film screenings, dance, paintings, and photography, Cornerstone broke open the possibilities for redeeming the arts, both for the purposes of drawing unbelievers and challenging believers.
This annual experience sparked a dream in my heart, and I have been following it ever since. Every aspect of my life has been touched by this community, and after this week, it's as if my hometown is being wiped from the map or my native language is being officially retired. I fully believe the church is witnessing the end of a very important era.
Cornerstone should not be dismissed as merely a contemporary Christian music festival; such events abound from coast to coast, and even on cruise ships, attracting millions of CCM fans. But there has only ever been one Cornerstone, where much of what is heard and said would curl the hair of the average Christian radio fan. And I'm not even talking about the music yet!
There's nothing wrong with Christian music festivals. But when one closes, like Spirit West Coast did this year, others will fill the void. Fans of those events have plenty to choose from. But when Cornerstone closes up shop, nothing will fill its shoes. Many of the surface level fruits of Cornerstone are being replicated elsewhere, but the heart and passion behind the festivalare unlikely to be repeated unless done so by Jesus People USA (the Chicago folks who run the event), or a group of like-minded Christians.
Hippie origins
JPUSA, a rag-tag community of spiritually passionate, culturally engaged disciples, has redefined the concept of contemporary Christianity for thousands in the U.S. and around the world. With roots planted firmly in the Jesus Movement of the late 1960s, these converted hippies and counter-culture types took the account of the early church prescriptively, selling whatever they had and throwing in together for the Kingdom. They spoke the language of their day—which in their case involved lots of hair, electric guitars, an old school bus, and bell-bottom jeans—and went from town to town setting up what they called "Jesus Rallies." Public parks, church parking lots, high schools … nowhere was safe from these radically saved Jesus freaks. They used music, drama and anything else at their disposal to draw a crowd. Then they got out their Bibles. While most communes—Christian and secular—have faded into history, JPUSA is alive and well and now a part of the Evangelical Covenant denomination.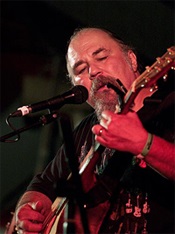 The musical centerpiece of the JPUSA community was Resurrection Band, one of the earliest examples of real Jesus rock. Frontman Glenn Kaiser, almost as passionate about blues-based rock as he was about the gospel, became one of JPUSA's pastors even as his band flourished. Rez Band performed at many of the early Christian festivals. Often relegated to afternoon side-stages, the members of the band, and JPUSA in general, started wondering what it would be like to host their own festival.
The music would be better. The teaching would be more intense. And the point would be to evangelize the unsaved and to spur the saints on to good works and holiness.
Taking the plunge
In 1984, they took the plunge and put together a three-day festival northwest of Chicago, featuring about 30 bands and a dozen speakers and teachers. Officially sponsored by and named after the community's smartly-written magazine, Cornerstone billed itself as "The Festival You've Been Waiting For." In addition innovative artists like Sweet Comfort Band, DeGarmo & Key, Randy Stonehill, Steve Taylor, Daniel Amos, Paul Clark, The 77s, The Altar Boys, and Youth Choir, the fest gave even more promotional ink to the teaching they would bring, as an ad in the magazine made it clear: "In recognition of the need for in-depth teaching, Cornerstone '84 offers seminars led by men and women whose lives reflect the Gospel."
This initial list of speakers included Norman Geisler, George Verwer, and Ron Enroth, as well as pastors and teachers from the JPUSA community. Subjects included foreign missions, urban missions, music ministry, ministry to homosexuals, writing, marriage and family, sex and dating, cults and new religions, ethics, and women and sexuality. That was 1984! You'd be hard-pressed to find a Christian event with that level of teaching today, but for Cornerstone it always came naturally. Eventually the education component of the festival would include over 250 hours of teaching by university professors, authors, pastors, and parachurch leaders each year.
I never saw JPUSA members more excited than in 2003 when they finally got their hero, Jean Vanier, a Catholic priest and founder of L'Arche (an international ministry to people with intellectual disabilities), to speak at the festival's annual "church service." Vanier, a white-haired man who needed assistance to get up to the stage, held thousands in rapt attention despite his quiet, heavily accented voice and the stifling heat of the day. Want to impress the JPUSA crowd? Dedicate your life to serving the least of these.
In 2004, the festival turned down an offer from then-President George W. Bush speak as a part of his re-election campaign. They didn't make a big deal of it; they just said "no, thanks." The Cornerstone folks prefer to make heroes out of people like John Perkins and Jean Vanier.
A call to discipleship
The Jesus People and Cornerstone always existed somewhere to left of mainstream evangelicalism socially and politically, and to the right of many young Protestants theologically. Their defining commitment to what is now called "social justice" goes back to their very beginnings. Their passion for the "least of these" is lived out daily in Chicago's Uptown neighborhood. As a teen, I first learned about apartheid in South Africa through Cornerstone. It was Cornerstone that first told me about abortion, the influence of materialism in the contemporary church, racial discrepancies in our justice system, a shockingly biblical perspective on the death penalty and torture, theological aberrations around the world, and how to develop a consistently biblical worldview that may change where you lived, how you spent your money, how you conducted church services, and how you spoke to unbelievers. The festival has hosted heated debates and has even seen small scale protests (like when the US Navy offered to be sponsors one year). But always, an unswerving commitment to the Bible and a relentless call to personal purity, discipleship, and accountability.
Unlike most festivals that spring from radio station playlists or the felt needs of a particular "market," everything about Cornerstone sprang from JPUSA's perspective—and we the fans didn't even know how badly we needed it until we were there. The day after the fest, when we all struggled to readjust to normal life, they went back to work downtown.Cornerstone was a legitimate and life-changing alternative to the consumer-driven, white-bread, denominationally crippled, corporate church culture that many of us grew up around. But they never spoke a word against my church. They never advertised for attendees to drop everything and join the community. In fact, they often had to talk teens like me OUT of joining JPUSA, assuring us that life in the community was not, in fact, like living at the festival all year. No. JPUSA challenged and equipped me—and thousands like me—to go back to our church, and our community, and act as agents of change. When Kaiser preached purity and holiness to the church, he did so with tears in his eyes more often than not.
'Unsafe' music choices
The music at Cornerstone has always been exponentially more interesting and challenging than the safe CCM at many other festivals. The DNA of Cornerstone would allow nothing less. Although the rock, metal, punk, electronica, hardcore, country, pop, rap, folk, tribal, alternative, Celtic, acoustic, experimental, industrial, theatrical, and jazz music that came through the massive speakers was the most obvious element of the Cornerstone experience, for the organizers music has always been a tool for more important ministry. Their philosophy of cultural redemption led to a far more expansive definition of what "Christian music" could be: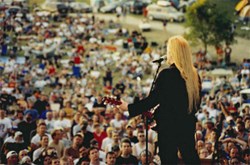 It had to be authentic.
It had to be consistent with a biblical understanding of the world—even if not blatantly "Christian."
It should be really, really good.
The biggest bands at Cornerstone often failed to register in the larger Christian music world. Artists like Charlie Peacock, Vector, Undercover, Kerry Livgren, Tonio K, One Bad Pig, Adam Again, Five Iron Frenzy, P.O.D., Anberlin, and The Lost Dogs drew massive main stage crowds at Cornerstone but were mostly ignored by the mainstream Christian community. There were also artists who, due to a decidedly non-CCM understanding of their role in the culture, would never play a "Christian" festival but would not hesitate to play Cornerstone. This musical ethic came to a zenith in the late '90s when a string of long-time Cornerstone bands broke into the mainstream music scene without significant support from the Christian world. Though hard to quantify, few Christian artists ever "crossed over" without being Cornerstone bands first. Sixpence None the Richer, Relient K, P.O.D., Switchfoot, Mutemath, Sufjan Stevens, Eisley, and Underoath are just a few examples.
It was always hard to count heads at Cornerstone, but the best guess is that at its peak the event drew over 25,000 people from all 50 U.S. states and several foreign countries. It was never the biggest festival. Not by a long shot. Once the event moved to Bushnell, Illinois, in 1991, it was always a bit of a geographical challenge. One artist called it "Planet Cornerstone." Dust, heat, miles of walking, and pressing crowds just added to the otherworldliness of the experience.
As Cornerstone bands crossed over into the mainstream, their crowds often crossed back. Cornerstone definitely drew more non-Christian attendees than any Christian event I have ever seen. One year I was driving former Korn member Brian "Head" Welch to the tent where the teens had their specialized workshops every day. Here is a true veteran of the rock world, tattooed from head to foot, staring out the window of the van asking me repeatedly if I was sure that this was a "Christian" event. He couldn't believe his eyes. "This looks crazier than a Korn concert," he said.
There is nothing like Cornerstone, and unless JPUSA decides to try it again, there won't likely be another. It lost lots of money. There was never a profit motive behind Cornerstone, which may have played a part in its eventual demise. The community pulled together after every loss, finding a way to repeat the experience again and again by working hard throughout the year at their roofing businesses and other ventures. Even when the crowds grew, the organizers took any meager profits and immediately reinvested them into making the event a better experience. For the Jesus People, money—like music—is a means to an end. It's all about creating a space that few other elements within the body of Christ seemed interested in creating. It is a space that is mostly safe for kids to scream their heads off, for thinkers to ask difficult questions, for painters and photographers to display their work for those who have eyes to see, and for seekers to experience a glimpse of gospel living that just might change their life.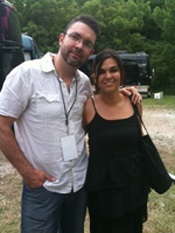 Cornerstone is an anomaly in the history of Christian music, I believe, in the history of the evangelical church in America. Losing this treasure feels a lot like a local artisan closing up shop due to the new Wal-Mart that just opened on the outskirts of town. The music industry is losing a key artist development opportunity. Independent artists are losing out on the only national stage that many of them have ever had access to. Longtime veteran artists are losing one of the only platforms that still honors heritage acts. Young Christians are losing an important alternative perspective on what it means to have a biblical worldview.
I'll be hosting this week's event, and on Thursday, I'll perform with my band, The Wayside, while also acting as an MC and a speaker for Compassion International—an organization I first heard about at Cornerstone nearly three decades ago. It's an honor I do not take lightly. This event has shaped my faith, cast my imagination, given me a song to sing and a place to sing it.
When the lights go down for the last time this week my heart will break. If nothing rises to take its place, I think God's heart will break a bit too.
John J. Thompson is a Christian and gospel music historian, artist, and producer who currently serves as Director of Creative for EMI CMG Publishing and is the founder of Gyroscope Arts and True Tunes Etc. CT also wrote about the Cornerstone Festival here.
Larry Norman and John Thompson photos courtesy of JJT; cover shot and candles photos by Steve White; Kaiser photo by Thomas Wray.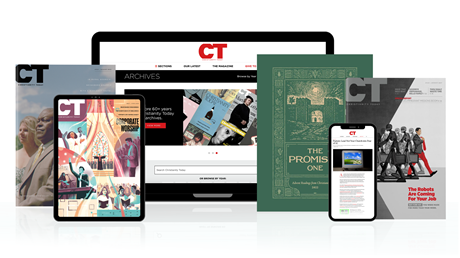 Subscribe to Christianity Today and get access to this article plus 65+ years of archives.
Home delivery of CT magazine
Complete access to articles on ChristianityToday.com
Over 120 years of magazine archives plus full access to all of CT's online archives
Subscribe Now
Goodnight, Cornerstone
Goodnight, Cornerstone