true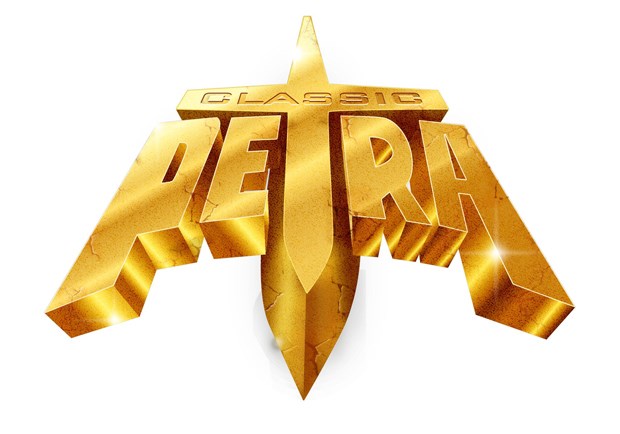 The Christian music community is notoriously bad about honoring its past, so when two Petra albums get the "classic" treatment, it's worth noticing. This year marks the 30th anniversary of that band's watershed 1982 album More Power to Ya, and the 25th anniversary of their hit album This Means War. Both sets, re-releasing today, have been remastered and repackaged for physical and digital release as one of the earliest line-ups of the band rides again.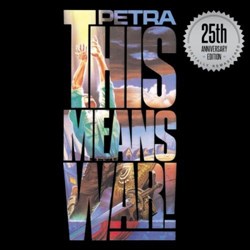 A massive light show, sleeveless "muscle T's" and parachute pants. It was 1983 and Petra was one of the biggest and best "Christian rock" bands in the world. That meant that they sold more records and tickets than about ten other groups, but it was impressive enough for this 13-year-old. Along with DeGarmo and Key, Resurrection Band, Servant, and Sweet Comfort Band, Petra was truly one of the inventors of what would later become known as Christian rock.
By the time I discovered them, they had been around for over a decade and their earliest work was already getting hard to find. With roots planted in the heady times of the late '60s Jesus Movement, Petra were contemporaries of other pioneering artists such as Larry Norman, Randy Stonehill, Keith Green, and Phil Keaggy. Their debut self-titled album in 1974 boasted the impressive guitar work and almost comically bad vocals of founding member Bob Hartman. Elements of Yes, Allman Brothers, and even Cream could be found in the tracks, but the band needed a singer badly. Thus from the very beginning Petra was a rotating cast of characters supporting Hartman's vision of legitimate, arena-quality, mainstream rock.
There was the progressive-folk-rock Petra of the early to mid 1970s (Petra, Come and Join Us), the organ-and synth-heavy arena-rock Petra of the early 1980s with Greg X. Volz on vocals (Never Say Die, More Power to Ya, Not of This World, Beat the System), and the more guitar-driven hard rock Petra that featured former Head East lead singer John Schlitt on lead vocals. I even remember seeing a version of Petra later on that Hartman wasn't even in. Every member was younger than me and seemed like some kind of pre-fabricated thing assembled in a factory. They weren't bad, really, but in the alternative rock '90s they didn't make much sense. But for most people the band's history was divided into the Volz and Schlitt eras—and your favorite probably depended more on your age than anything else.
When I was a kid I dreamed about going on the road with Petra. I wrote them fan letters and wore their T-shirts. I emblazoned my jeans and my folders with their logo. Petra was code. It told people something about me.
I brought non-Christian friends to their concerts and bought a songbook so I could learn how to play "Judas Kiss" on guitar. In fact, if you happened to have the great misfortune of walking into St. Mark's Episcopal Church on a Sunday in 1984 called "Youth Sunday," you would have had the distinct privilege of hearing my best friend Rob and I butcher at least one Petra song in the choir loft. Petra was exactly what I needed. Sure, it was preaching to the choir more than reaching the culture at large, but I was in the choir and I needed a good, solid, simple sermon about being bold, confident and strong in my faith.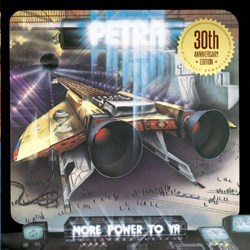 More Power to Ya was released in 1982, when Christian radio was dominated by folk, inspirational, and Southern Gospel music. It was the band's second full album with most of the line-up that I personally consider to be "quintessential Petra": Greg Volz (vocals), Bob Hartman (guitars), Mark Kelly (bass), Louie Weaver (drums), and John Slick (keyboards). They found a formula with their previous album, Never Say Die, that included a worship song, a couple of soft Christian radio songs, and then a batch of legitimate, mainstream ready, arena rock.
Lyrically the band seemed to have given up on the evangelistic tones of their early albums, possibly realizing that their audience was almost entirely already saved. Their songs delivered messages of encouragement, challenge and even a bit of theology for young Christians. The formula worked. By the time More Power to Ya came out, Petra was easily the biggest Christian band on the scene. It became the biggest selling Christian rock record ever just four months after its release. Within a year it passed 250,000 sales on its way to an eventual Gold certification for half a million units sold. They even received a Grammy nomination and positive critical reviews in Billboard magazine. All of this was previously unheard of for a Christian rock band.
The Volz era ended three albums later, after which Hartman recruited John Schlitt, as legit a mainstream rock singer as ever there was, to replace him. He also replaced long-time producer Jonathan David Brown with former Kansas singer John Elefante and his brother Dino, a successful rock songwriter and producer. The new formula debuted in 1986 with Back to the Street and another Petra era was on. This Means War followed in 1987. By then Christian rock was big business and Petra was the clear leader.
Though they weren't the first to use rock music as a ministry tool, Petra embraced the formula and struck the right commercial balance sonically and lyrically for their audience. They became an alternative for youth pastors to mainstream artists like Bon Jovi or Journey. It wasn't about pushing artistic boundaries, or exploring difficult subjects—they left that work for Resurrection Band, Mark Heard, and Randy Stonehill. Petra was a brand that was "safe for the whole family." Like a roller coaster that felt dangerous or thrilling for a moment but had been carefully designed to protect its passengers, Petra was exactly what the growing Evangelical community wanted.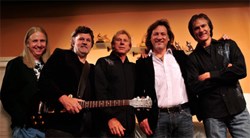 I've always been a big Star Wars fan, and the early Petra album covers capitalized on that with elaborately illustrated flying spaceship guitars. It now occurs to me that Petra is like Star Wars in more ways than one. Petra, like Lucas' films, was built for kids. And those kids grew up. Lucas understood that Star Wars was for kids. When he revisited that galaxy in the late '90s I was almost 30. I took my kids to see the movies. They loved them, but I couldn't get past Jar-Jar Binks. The new Star Wars movies are made for today's kids, and I'm just not one of them.
Petra was a huge part of my childhood, and reliving those days by listening to these old records is like watching the first Star Wars movie. Is it the best movie ever? Did it do anything completely new? Was it the best acting? No. But it was huge in my life nonetheless. Hartman and his rotating cast of accomplices are the Christian rock version of Star Wars—epic in their own way, and a blast to revisit if you were a fan the first time around.
It was a real honor to get to introduce the classic Petra lineup (Volz, Hartman, Weaver, Lawry, and Kelly) at a special reunion show at what turns out to have been the last full Cornerstone Festival in 2011. They capped off a night of Jesus Music by Daniel Amos, Barry McGuire, Servant, Resurrection Band, Phil Keaggy, Randy Stonehill, and others.
You shoulda been there. It was cool.
John J. Thompson is a Christian and gospel music historian, artist, and producer who currently serves as Director of Creative for EMI CMG Publishing and is the founder of Gyroscope Arts and True Tunes Etc.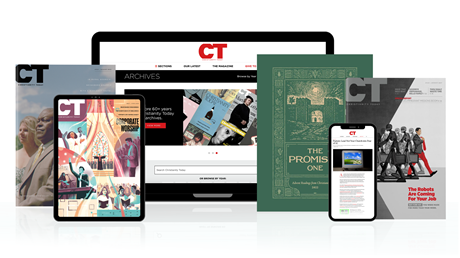 Subscribe to Christianity Today and get access to this article plus 65+ years of archives.
Home delivery of CT magazine
Complete access to articles on ChristianityToday.com
Over 120 years of magazine archives plus full access to all of CT's online archives
Subscribe Now
Petra Meant Rock
Petra Meant Rock